They Always Run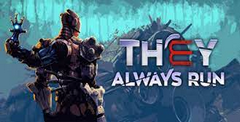 Click the "Install Game" button to initiate the file download and get compact download launcher. Locate the executable file in your local folder and begin the launcher to install your desired game.
In a galaxy where having a third arm lets you catch criminals faster, Aidan has all the right tools for the job. That's the basic premise of They Always Run, an action platformer with parkour-inspired gameplay that will get your adrenaline levels to the top. This mixture of Spaghetti Western and cyberpunk packs a serious punch – three, to be precise.
Featuring some solid 2D platforming gameplay, and an awe-inspiring visual design, this is a game that fans of the Metroidvania subgenre will no doubt love. Perhaps one of the greatest achievements of the game is how it makes you feel like a badass from the very moment you start playing until you decide it's time to call it quits.
See You, Space Cowboy
They Always Run is set at the border of a galaxy, where the law and honest men are nowhere to be seen. You play as Aidan, one of the most ruthless – and therefore effective – bounty hunters around. Your task is quite simple: hunt some of the scummiest criminals this side of the galaxy.
However, catching up with fugitives isn't an easy task: Aidan will have to gather info and traverse perilous locations to find his prey. There's also the issue of criminals rarely being alone, which means that, more often than not, you'll have to be ready to defend yourself in open combat.
When you're not fighting recklessly, stealth will one of your most valuable tools. This is where the game begins looking a bit like Mark of the Ninja: another legendary 2D platformer with freerunning mechanics.
A Narrative Experience
Drawing inspiration from some classics of Western cinema, They Always Run delivers a powerful plot. Together with its intense gameplay, players will get to enjoy a marvelously crafted narrative experience that delivers thrills and twists in equal measure.
Despite being a 2D game, the animation work is superb, giving every character all the necessary expressiveness needed for an effective plot-driven experience. That is, of course, if you're willing to overlook some of the common limitations of the Metroidvania genre.
Some levels are a bit more complicated to navigate than others. Having a solid repertoire of movement techniques is great, but that doesn't help if the levels can sometimes feel downright labyrinthian.
Thankfully, these confusing segments are few and far between, never interrupting the overall flow of the game's plot.
Painted Worlds
Don't let They Always Run simple visuals deceive you: there are some genuine shows of graphics mastery on display here. Everything in the game's world looks like an oil painting, giving the game that old, faded western movie poster feel.
Some segments require you to use your third arm to solve puzzles. During these sections, the camera pans closer to your character, letting you fully appreciate the amount of effort that went into creating the world of They Always Run.
When it comes to the level design, it seems like the developers focused on letting the stages let the art speak for itself. While some sections might look like they come straight from a Super Mario World castle, some others look like a fully realized dystopic Wild West town – and that's just fantastic.
9
They Always Run manages to perfectly balance style and substance, delivering a fantastic 2D adventure that's sure to become an instant classic.
Pros
Beautiful art and character designs
Amazing animations
Fun gameplay and challenging puzzles
Cons
Some levels can be a bit difficult to navigate
Download They Always Run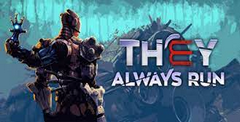 System requirements:
PC compatible
Operating systems: Windows 10/Windows 8/Windows 7/2000/Vista/WinXP
Similar Games
Viewing games 1 to 8