Tony Meola's Sidekick Soccer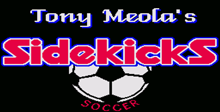 Click the "Install Game" button to initiate the file download and get compact download launcher. Locate the executable file in your local folder and begin the launcher to install your desired game.
In the U.S. it's called "soccer." To the rest of the world it's "football." No matter what you call it, if you've got a SNES, you should try out Tony Meola's Sidekicks Soccer.
Hands down (or maybe that should be heads down), Sidekicks is the coolest game of its kind to date. The graphics are as realistic as any sports game around, including the John Madden and NHL games. From the lifelike movements of the players to the highflying Bicycle Kicks, Sidekicks Soccer is the closest you can get to actually being on the field.
ProTips:
Get on one side of the penalty box and use either Button X or Y to loft the ball to the other side of the penalty box.
Take shots from outside of the penalty box. Use Button X to Loft the ball over the keeper's head.
Going for the World Cup
Sidekicks features 32 teams from cities and countries around the world. You can play alone against the computer, or you can challenge a friend to head- to-head competition.
Other cool options include a 14-game regular season and three tournaments at the City or World level. Fortunately, you can save your game's progress with passwords.
Sidekicks' best features are adjustable team formations and three selectable types of Direct Kicks.
The computer keeper only reacts to shots on goal, so have your player dribble right into the net without taking a shot. However, the keeper will catch on, and you'll only be able to score once using this fake.
The Pele of Soccer Games
Sidekicks Soccer totally blows away the competition. It has the best graphics and the closest ball play of any soccer game around. Sidekicks really kicks!
Download Tony Meola's Sidekick Soccer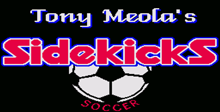 System requirements:
PC compatible
Operating systems: Windows 10/Windows 8/Windows 7/2000/Vista/WinXP
Pentium II (or equivalent) 266MHz (500MHz recommended), RAM: 64MB (128MB recommended), DirectX v8.0a or later must be installed
Game Reviews
Machine: SNES;
Manufacturer: Electro Brain; Sculptured Software
Do you have World Cup fever? The Super Bowl of Soccer is coming to the U.S. in '94, and Electro Brain is betting that Tony Meola's Sidekicks Soccer is just the ticket for soccer-hungry SNES players.
This super fast-paced, 8-meg simulation for one or two players was programmed by Sculptured Software, the company behind NCAA Basketball. Sidekicks features that same Mode 7 rotation, as well as exhibition, tournament, or league play for 96 different teams. It's also easy to learn, utilizing graphic icons for option selections and player ratings. Players are ranked in speed (running), power (kicking), and skill (overall ability) - the icons for speed, for example, are cheetahs, horses, and turtles. Power and skill categories have equally obvious graphics.
Sidekicks brings something new to a crowded field with its fluid scaling and rotation. But its game play is even more of a standout. The pace is frantic, even at Turtle speed - kind of an NHL Hockey on turf. And the constant rotation as teams' trade control of the ball makes it sometimes feel as if you're playing a first-perspective pinball game.
Sidekicks also uses the green-yellow-red light system from NCAA Basketball to encourage an active passing game full of strategic passes instead of long downfield kicks. When you're in possession, the team members in your immediate line of sight have small, colored circles above their heads. A green circle indicates a wide-open player. Yellow or red circles let you know a pass would be difficult to complete.
The wide diversity of scoring options adds a lot to Sidekicks. In addition to just headers or bicycle-kicks you can hook or slice your shot, loft it over a goalie's head, or tap it in with an open man in front of the net.
Defensive play, however, falls a little short. The computer has no offensive game play - its attack usually sputters and stalls. If you play a conservative defense, trying to stay with the ball-handler instead of slide-tackling, the computer won't get many shots. Sidekicks also lacks some fairly common options, such as instant replay and game-save features. Also, it wouldn't hurt to have some cinema screens mixed into the action.
But despite its shortcomings, Tony Meola's Sidekicks Soccer goes a long way toward capturing World Cup fever. Even if you don't spring for those $200 tickets, you might find yourself following the event on TV, joining the rest of the globe watching the world's favorite sport.
This game adds a new and different perspective to the usual home video soccer game, but the game can get very confusing at times. Yet, there are plenty of options to interest veteran video game sports fans.
SNES/Super Nintendo/Super Famicom Screenshots
Other Games by Sculptured Software