Leader Board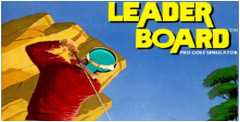 You may have noticed that golf simulations are almost as plentiful on software shelves these days as role-playing adventures, combat flight simulators and greeting card makers. It's tough to stand out in such a crowd, but Bruce and Roger Carver's World Class Leader Board manages to do just that. While there may be prettier and/or more sophisticated golf programs, none are easier to play or more likely to appeal to the typical computerist.
WCLB comes with four courses: St. Andrews, Doral, Cypress Creek and the nonexistent Gauntlet Country Club (the ultimate test for the computer golf fanatic), in addition to a Course Editor which allows users to fashion their own. After selecting a course (Cypress Creek being the default entry), the user enters the number of players (one to four), types their names, sets the difficulty level, chooses a club and starts swinging.
The three difficulty settings are Professional, Amateur and Kids. On the Pro level the simulation includes hooking and slicing, as well as wind effects. The wind is eliminated as a factor on the Amateur level, while on the Kids setting all three factors are missing.
WCLB breaks up the play-mechanic of the swing (except on putts) into aim, power and snap. The user aims the ball by positioning a small cursor located a few yards in front of the on-screen hacker. Pressing the action button, or the corresponding keyboard entry, initiates the swing with successive presses determining the swing's power and snap. A pair of bar-style gauges monitor the power of the swing and its snap--the point at which the golfer breaks his wrists--causing the ball to hook (veer left) or slice (veer right).
Once the ball reaches the green, the program automatically selects the putter and an alternative play-mechanic is used. A straight power indicator replaces the power/snap gauges and an on-screen slope indicator appears, showing the green's tilt, or break. A similar device is employed in Professional level games to show wind direction.
WCLB has great visual appeal. The user's surrogate golfer stands in the foreground in a series of realistically portrayed course graphics. Each new position is speedily redrawn from background to foreground with the hole seen first and any obstacles between the golfer and that hole filled in afterwards. No matter how heavily obscured by obstacles, the user always knows exactly where the hole is and what the ball must pass through, or over, in order to get there.
World Class Leader Board captures the essence of the golfing experience without confusing non-golfers. The excellent instruction booklet helps keep things simple with easy-to-understand explanations of everything from disk loading to strategy. The game is streamlined without giving short shrift to any element of the golfing experience.
WCLB Tournament Disks containing additional courses are also scheduled, for computer duffers with wanderlust.
Download Leader Board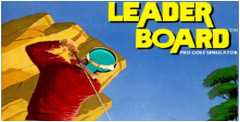 System requirements:
PC compatible
Operating systems: Windows 10/Windows 8/Windows 7/2000/Vista/WinXP
Similar Games
Viewing games 1 to 7