Town & Country II: Thrilla's Surfari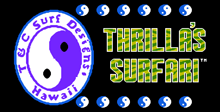 Wazula swiped the gorilla's babe, Barbi Bikini, and dragged her off for a lava bath in darkest Africa. Now Thrilla's on a single-player, surfing and skating rampage to prevent a Barbi barbecue.
Skate jammers who hung eight on UN's T & CI will find this sequel is bad news for posers. This jungle trek is more challenging than the original, and it has three basic game play stunts, which make up the seven side view levels.
Thrilla's skatinging sessions are fast knuckle-crunchers. The moves are basic leaps and ollies, and they're all controlled by one button. Speed determines the style and height of your jump.
In other areas, Thrilla grabs his board and hits a river, or a waterfall, for some seriously thrilling surfing. Rocks, crocs, wasps, and menacing marine wildlife make the going tough and the riding rough.
Next to his board (skate or surf), Thrilla's favorite transportation is a shark. He dives into the deep aboard a fanged fish and fakes on schools of piranhas with a spear gun. The big boss Great Whites can be a pain.
Town & Country's return to NES screens is a pleasant surprise. The action's challenging, but controllable.
The smoothly scrolling graphics and pretty scenery look 8-bit great, and even the sounds aren't bad.
T & C II is tough, but as Thrilla himself sez, "If it swells, ride it!"
ProTips:
Land directly on jungle goons to put them out of commission.
To defeat the Nemesis of the Deep, move to the back of the screen and release a steady stream of spears which will take out the big shark and annihilate his fish fiends at the same time.
Download Town & Country II: Thrilla's Surfari
NES/Famicom/Dendy Screenshots