NFL Quarterback Club '98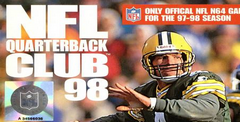 Click the "Install Game" button to initiate the free file download and get compact download launcher. Locate the executable file in your local folder and begin the launcher to install your desired game.
It's no secret that the modest Nintendo 64 software lineup has suffered from a shortage of realistic sports games.
With the launch of NFL Quarterback Club '98 this fall. Acclaim will be the first on the block to give pigskin-starved N64 owners something to look forward to.
All of the requisite NFL teams and players are licensed in QBClub '98, in addition to quarterback Brett Favre's endorsement. Besides guaranteeing that the Packers will have an awesome team in the game, Favre will design some of the offensive plays and will probably have his say when it comes to the game's artificial intelligence.
And speaking of artificial intelligence, the distinguished voice of Marv Albert will commentate during gameplay.
As you might expect, QB Club is a fully 3-D game, and Acclaim promises that it will take full advantage of the N6A's polygonal power. Both the players and stadiums will be 3-D rendered. The players will be animated through the motion capture of Adrian Murrell, the New York Jets running back, while the stadiums will resemble their real-life counterparts.
QB Club's feature list is an extensive one, and early signs show that it will be a very complete football game. There are plenty of Roster Management Options available for avid football fans who wish to try their hand at being an NFL general manager. Teams can be manipulated by the trading, signing or even creation of players. If you wish, you can build your own team from scratch. All of this must be done within the confines of the dreaded NFL salary cap, however. Hopefully, there will be an option to turn the cap off, enabling the creation of killer teams.
There will be plenty of play modes (such as Season Play)-the most original is QB Club's signature "historic sim" feature, which allows you to re-create some of the NFL's greatest moments.
Being the only football game scheduled for release this year, N64 sports fans can only hope that QB Club '98 delivers on its promises.
MANUFACTURER - Acclaim
THEME - Football
NUMBER OF PLAYERS - 1-4
Download NFL Quarterback Club '98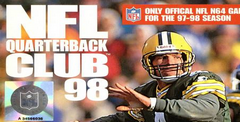 System requirements:
PC compatible
Operating systems: Windows 10/Windows 8/Windows 7/2000/Vista/WinXP
Game Reviews
Quarterback Club's ready to sack vour N64 with an incredible look, great features, and some fun new moves. The only question now is whether it'll have enough gaineplay stamina to win a fourth-quarter showdow n against Madden 64.
Innovations and Interceptions
QB Club's cleats come sharpened with some impressive new moves. Along with doing the usual spins and stiff-arms, ball carriers can dive over piles, receivers can push off comerbacks to gain an advantage, and offensive linemen can purposefully hold opponents to try to open a large running lane. However, QB Club '98's developers still need to fine-tune the smoothness of the overall gameplay (especially the passing game) if they hope to compete with the early favorite, Madden 64.
Gridiron Graphics
Because it's the first high-resolution game for the N64, QB Club delivers details on the field that you've never seen before. For example, you'll see water splashing on the field when players run on wet surfaces, as well as their frosty breath on cold days. And if you're playing on a sloppy field, you'll also notice the players' jerseys will become muddied as the game progresses. So far, the game features over 200 player animations, including sideline catches where receivers pull in passes while keeping their feet in-bounds and wraparound head-tackles where linemen practically rip the helmet off the ball carrier.
Join The Club
In terms of features, NFL Quarterback Club '98 scorches the field with a wicked list of weapons, including 123 authentic NFL teams ranging from the current group of gridiron greats to past Super Bowl champs. You also have the option to create your own team from scratch or to participate in a draft where you pick your entire 52-man roster from a free-agent pool that includes every player in the NFL. To round out these excellent features, QB Club '98 enables you to substitute any player at any position (just in case you ever wanted to see Rice throw to Young for once).
N64 owners, get ready for your first taste of hetmet-smashin' gridiron glory. QB Club takes the field as the first football simulator for the N64 and It has all the right moves and features of a possible Super Bowl contender.
Graphics and Sound
QB Club promises to provide football fans with the most realistic looking and detailed players to date. New York Jets star Adrian Murrell was motion captured to add his unique flair to everything from running to blocking, while each player will be comprised of over 300 polygons giving Sunday zombies lifelike versions of their hometown heroes. "Young to Rice? Yes!" NBC broadcaster Marv Albert will entertain your ear with his unmistakable voice and smooth style as he calls the game's play-by-play.
Features and Gameplay
NFL Quarterback Club '98 features a super-star stat line including all 30 NFL teams, 3D rendered stadiums, over 1500 NFL players, season-long stat tracking (including league leaders), player injuries, and an assortment of penalties. Roster management scores with trades, create-a-player, team creation, and the ability to, roster-wise, start the NFL from scratch, pick a team, and draft your entire 52 man roster. You will be able to use either the D-pad or analog controller to maneuver your players, but the analog will allow you the most complete control as the farther you push the stick, the faster your player will run. Team playbooks are comprised of approximately 500 plays, many of which were designed by league MVP and QB Club cover-boy Brett Favre.
People say:
7
QB Club 98 is the first N64 game with hi-res graphics and the results are groundbreaking. You can see more of the field, and everything looks very sharp. Despite this beautiful look. QBC's graphics do have problems. The player models and animation are very awkward as their arms stick too far from their often disproportionate bodies. The front-end menus, play-call screen and information windows lack a polished look to them. QB Club's gameplay may be fun for the casual sports gamer, but its weaknesses wilt be very apparent to football fans. There are a lot of Al and gameplay problems. with the most annoying being that the passing is way too slow. The ball seems to hang in the air forever during a pass, even when you "rifle" it by holding down the button. This sluggish passing gives defenders too much time to dose on the ball, resulting in a clutter of players jumping up to catch it while standing in a stationary position. That just doesn't happen much in football. The NFL atmosphere of the game is very flat. Marv Albert's play-by-play provides the most lively audio, but partly because of his activities outside the stadium. Otherwise, the mediocre sound effects are sparse. With some gameplay and Al overhauls, next year's QBC could be great as a solid foundation has been laid. This one. however, falls short of the mark.
7
This is easily the best-looking console football game to date. Its hi res graphics are incredibly crisp and detailed. You can even read the names on players' jerseys (although the animations look a little goofy sometimes). I'm not a big fan of football, but, lucky for me, QBC 98 goes easy on newbies. It seems much easier to complete passes than in Madden 64. Football purists may bristle at the lack of realism, but I think the game's still fun.
7
If you want to be awed by the best football game graphics ever, then get QB Club 98. The game Itself Isn't half bad either, but its best point is how it looks. Now let me point out the lows. The passing game stinks. It's too slow, almost always giving the defense a chance to put up double or triple coverage. The play selection is also poor. You can only slide over one play at a time (as opposed to a screen at a time). Great game with flaws.
7
If you're a hardcore football fan, you can take my words with a grain of salt, because quite frankly, I'm a casual player. Now, although some of Quarterback Club's foibles were pointed out to me (bad Al, weird player models, floaty passes, etc.), they didn't affect my enjoyment of QB Club 98 as much as they would a football enthusiast The graphics are amazing and to me. this game is fun to play. Still--rent before buying.
The first generation of Nintendo 64 football videogames has arrived. First there was EA's Madden 64, and then three days later Acclaim released NFL Quarterback Club 98, a solid game with crisp high-resolution graphics, great playability, and yes, officially licensed NFL teams and logos. Everyone is very quick to compare these two games to each other, but I think you should hear the facts about both Madden andQBClub and decide for yourself which Nintendo 64 football game is the best.
At first glance QBClub 98 seems obviously superior because of its beautiful hi-res graphics and the NFL logos. But if you take a closer look, you might be more than a little disappointed. The AI is weak, and even though the graphics are clean and detailed, it's not a very exciting show.
Gameplay
NFL Quarterback Club 98 is a one- to four-player football simulation where you control an entire pro football team of your choice. You coach, manage, and run all the plays in both offense and defense. In Preseason Mode, you choose any two teams and play a single exhibition game, but you can also choose to start a Season, enter a 4-, 8-, or 16-team Tournament, enter the Playoffs, custom Create your own team, or even play one of over 60 Historic Moment games, like the 1981 NFC Championship (Cowboys vs. 49ers), and have your chance to change football history.
All 30 NFL teams are represented, in all of the stadiums (even the newest ones). All of the players are wearing their official NFL team colors and logos (even the newest designs), and all of their stats are accurate, taken from the 1997 roster. There are even real photos of most of the players, available when viewing their stats or sometimes shown during the game as highlights at the bottom of the screen.
Your announcer for the game is Marv Albert, famous for his basketball commentary, and notorious for his personal behavior outside of sports. He does a pretty good job with commentary in this game, but it feels a little robotic at times, and he's always referring to the players by their jersey number instead of their name. I thought only referees did that. At any rate, Albert's commentary is good for gameplay, but I wouldn't miss it if it were gone.
If you like a lot of control, then this is the football game for you. There are menus for customizing almost every aspect of gameplay. You can set the Difficulty Level, Clock Speed, and Penalty Settings, and you can toggle more options like Substituting Players, Injuries, and Referee & Player Animations (the extra celebration stuff). Press the Pause button and you can Call a Timeout, change the Camera Views, look at the Game Stats, and more. Start a season, and you can view the Schedules, Team Standings, Team Stats, Ranking, Injured Players list, and the Season Leaders List. If that wasn't enough, you can also manage your roster: Trade Players, set a Salary Cap, Create a new player, or Sign a Free Agent.
I really like how the developers incorporated the full season aspect into QBClub, so it's not just a simple matter of "pick two teams and battle it out" when you play this game. A nice thing is that at any time during your Season, any scheduled games you want to skip you can let the computer simulate for you. The customization features are awesome, although I think they could be better organized on the screen.
QBClub 98 may be one of the best football videogames ever made, but it's far from perfect. The Artificial Intelligence lacks any noticeable intelligence at all. The defenders run their routes, just like they're programmed to, never really adjusting to quick changes during each play. It's also very difficult to beat the computer, much more than it should be. You could be winning with only a few minutes left, and your computer opponent will miraculously score several touchdowns in a row to defeat you! What are the odds of that happening ALMOST EVERY TIME?! Penalties are often called at very suspicious times too—I usually have to turn off the penalties option, because my guys can't so much as breathe on the secondary without an interference call. There's definitely room for a lot of improvement in this game's AI.
Passing is very slow, even when you throw a bullet. Most passes end up looking like Hail-Marys, since so many players can converge on the ball before it gets to the intended receiver. I'm sorry, but in real football you never see triple coverage as often as you do in this sim.
The controls in QBClub are extensive and tricky, like many sports games. The tables in the instruction booklet help as a quick reference, since the button options are so different depending on the current game situation (pass, rush, dive, etc.). If you have big hands might have trouble with quick button switching, hit the wrong button a lot, and spend most of your time recovering from the wrong action instead of gaining yardage.
There's just not enough time for play selection. You'll have to memorize all the plays, because there is no playbook to refer to. And you can't expect to learn as you go -- by the time you figure out what's going to happen and who the key players are, it's too late: you're called for a delay of game.
One good controller option is the ability to program four audible buttons for quick access to your favorite plays. This is a great idea, but don't use audibles a lot though, because the defense will almost always blitz you, like it knows you might be thrown off guard by quick play changes.
The grunt sounds from the players is a nice touch for gameplay, and a good way to gauge how fast your runner is going. The Intro music is cool and upbeat, but you hear it everywhere except during gameplay, and it's very loud and gets ULTRA-annoying very fast. Wouldn't you agree that most videogames tend to have a similar music style to them? It used to be "Elevator Music" was a big joke. Will there be chuckles now when people refer to "Videogame Music"?
QBClub 98 also supports both the Memory Pak and Rumble Pak controller accessories, so if you've got 'em, use 'em. Be careful swapping them out during gameplay -- do so only at the right time, or you could accidentally delete that custom team you built that's been kickin' ass all the way to the Superbowl...
Graphics
NFL Quarterback Club 98 is the first console video game in the U.S. to display a full 640x480 pixel resolution (the equivalent of most average computer monitors), and it looks incredible. That's four times better than any other N64 game, a resolution that most critics believed couldn't be done without a major slowdown of gameplay. With QBC there's a very high level of crisp, clear detail that stays smooth even at high frame rates. There is a noticeable difference though -- the still-shots look superb but the moving animation can be fuzzy. In any case this higher resolution capability is quite an accomplishment for the console market, and good competition for the hi-res PC CD-ROM game market.
The players in QBC 98 are 3D polygon animations, and they all have very detailed helmets and uniforms, but their bodies look a little out of proportion. The developers have incorporated many other cool details, like realtime shadows and visible breath vapor in cold weather. Oh yes, the weather effects are really nice too—choose from Rain, Snow, Hot, Cold and Windy field conditions.
Probably the best thing in QBClub 98 is the instant replay feature. Zoom in and out from any angle, slow motion, freeze-frame ... You can basically become the ball! It's hands-down the coolest feature in this entire game pak. I replayed one beautiful touchdown dive over fifty times, studying every single detail. When I paused the actual dive, there I was, hovering frozen in mid air, and STILL BREATHING in real time!
The stadiums are very nicely rendered, but besides basic structural differences they all lack any distinct personality (where's the Dawg Pound, or the Cheese-Heads?). The menus and info screens look really good, but they seem to have an incomplete look to them, and I already mentioned I think they could be organized better on the screen.
This game is visually stunning, but it definitely feels like a super strong simulation, not an entertaining show. That's okay for some people, but personally I would rather have a game that combines the TV show and the videogame, to make it feel like a grand televised event where I'M in control of all the action!
If you want some extra fun, try some of the cheat codes. One of them will make all the players the size of action-figures! You're gonna laugh so hard when you see that big giant football land like it's gonna crush your little receiver like an ant!
SIDE NOTE: Brett Farve will be back with Acclaim later this year when he endorses NFL Quarterback Club 99, a sequel that is expected to be even better than QBClub 98, currently the "top selling football game in America". We'll see if the Iguana/Acclaim team has listened to the gamers and learned, and will fix all the problems from this version.
Bottom Line
NFL Quarterback Club 98 has a solid foundation, but many improvements are needed. It's a very fun game, but football fans and all gamers will notice lots of things that need to be changed. My brother likes this game, but it's frustrating for him too, and he's a football videogame master; he knows a good game when he plays it.
The official NFL license really makes a difference, but you have to decide which is more important to you: graphics and logos, or gameplay and Artificial Intelligence. That's what it really comes down to, between NFL Quarterback Club 98 and Madden 64. I truly believe that whichever of these games you play first has the better chance of being your favorite. If you want to be fair in your judgement, rent them both and compare them at the same time.
After several weeks of playing both of these games, I had a very difficult time deciding which one was the best, but for my money, Madden wins, because of the better AI. So what's it going to be for you, brains or looks?
PROS: High-resolution graphics; Official NFL teams and logos; 4-player capability
CONS: Weak A.I.; Fuzzy animation; Difficult controls
Overall score: 80
The N64's first hi-res game, and a very respectable game of American football to boot. Unlike Madden, it has a full NFL licence.
It's got the crucial NFL licence but doesn't quite manage to displace Madden. More for the purists, work at it and you'll reap the rewards.
Two-four-six-eight, who do we appreciate? N-six-four! American sports sims are invariably laden with hidden 'stuff', and Acclaim's gridiron game is no exception.
Cheat Mode
Enter the following codes on the cheat menu screen for the desired result. Correct code entry will be confirmed by a tone (hi, Tone!).
Effect:
Eight downs
Tall, thin players
Expert defence
Strong receivers
Longer dives
Spinning receiver
Top quarterback
Longer jumps
Slow motion
Fumble mode
Repeated fumbles
Short players
Instant passing
Disable cheats
Lousy defence
Lousy offence
Ball tipped when passing
Repeated dives
No tackles
Crawling players
Lousy players
Sledge mode 100-yard passes, kicks, and punts Always tackle
Another invasion of the popular Yank pastime, but hang on a second, this game is bloody brilliant!
Those Americans love their sport don't they? A trip down to the ballpark is like a Sunday ritual involving gigantic hot dogs, a smidgen of face paint, and those tacky hats with the beer cans and straws attached. Okay, so we got that last one from watching The Simpsons, but you catch our drift, American football is bigger than life to them.
Despite the real-life sport of gridiron being a tediously drawn-out affair lasting hours, thankfully it has always made for a better videogame as you can bypass the annoying delays between plays and just get straight down to the nitty-gritty business of throwing balls around and stamping on peoples' heads!
Since the first N64 Madden game, it has become pretty obvious that this console was made for American footie conversions - it just seems to handle them so well. There's no annoying loading times and streaming like you get with CDs, and they look fantastic... and none more so than the NFL Quarterback Club series that Acclaim has been slowly building up to topple the fat Captain Kirk lookalike from his 'King of NFL games' pedestal.
Lard
The game opens with an inviting intro featuring hi-res cheerleaders, all dancing, bouncing and tossing their hair in a seductive manner... hmm, think we'll play on! The game options are as extensive as you would expect from a game of this type, and all of the current NFL teams and player rosters are in place, right down to the names on their hi-res jerseys. Yes siree, everything about this game is in glorious hi-res, and it looks utterly superb - even better than the first Quarterback Club.
From the first glimpse of the padded jocks ambling onto the field, the animation strikes you as being top-notch and the attention to detail second to none. Make no mistake, this game is sleeker than a cheerleader's G-string, and twice as juicy!
The commentary is provided by two no-doubt famous voices in the sport, but you'd have probably never heard of them unless you're a Yank yourself, and we can't remember their names off-hand anyway. But they do provide some mildly amusing quips and jibes that prove to enhance the atmosphere a great deal until the obligatory looping Scratched record' effect comes into the equation after a while.
There are a great deal of plays to try out (all of which can be practised prior to the big natch) and like all other current NFL games, you can pre-set audibles that enable you to confuse the opposition by switching to another play just before you snap the ball. The beauty of American football is that it's as much a game of strategy as it is a general sport, and this game will entertain you on all levels. From the mindless 'set a play at random and see what happens' stance, to the tactical warfare of the power player, NFL QBC '99 is perhaps the finest showcase for capturing all aspects of the sport that we've ever seen.
Helmets
Obviously, the fun comes from going on the offensive and trying to score those all-important touchdowns, which is why ifs always a bummer when you don't have possession of the ball - usually the sole tedium factor of any NFL game. The good thing, though, is that you can just set the play for your defensive line, sit back and read the paper, leaving your more-than-able crew of Goliaths to get on with sacking that goddamn quarterback!
Most of the buttons are used to provide you with a series of evasive moves when you're trying to manoeuvre a running back or wide receiver down the flanks - don't ask us why though, but the first button we always seem to try first is the 'dive to the ground and pretend to be dead' option-, funny that!
Whether you're seriously into the sport or not, NFL QBC '99 provides a fantastic four-player distraction that doesn't require much knowledge to get into and enjoy. In terms of look, sheen and all-round presentation, it is the market leader by miles, and there are enough options to keep anyone engrossed whilst they attempt to stay-up and watch the Superbowl, supping beer and munching corndogs like the chanting, obese legions of real-life fanatics. A stunning sports sim that is well worth checking out!
2nd rating opinion
Playing American football as a videogame is a hell a lot more fun than watching the real thing, and QBC '99 looks very nearly as good as the actual game. Ultra-polished and easy to get into, it's the best Yank footie game by miles.
Acclaim's high-resolution rival to EA Sports' John Madden 64, with the benefit of an official NFL licence. QBC certainly beats Madden on presentation and glitz; as far as the gameplay goes, there's very little to distinguish the two. The choice is between much better graphics or slightly better player intelligence - judging from international sales, people prefer the former.
Nintendo 64/N64 Screenshots
Similar Games
Viewing games 1 to 5