Assassin's Creed: 2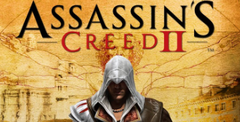 Click the "Install Game" button to initiate the free file download and get compact download launcher. Locate the executable file in your local folder and begin the launcher to install your desired game.
Even though it's one of Ubisoft's best selling franchises, Assassin's Creed II remains to be one of the most popular in the Assassin's Creed series. This series of semi-historical games has improved incredibly over the years, but there's something special about going back here. Maintaining many of the elements present in the first game, Assassin's Creed II could be one of the best in the series. So, what is it about?
About the game
Just like in the first game, the game alternates between past and modern times. We travel back in time to Renascentist Italy, where we'll play as a young man called Ezio Auditore. Starting from the moment he's born, we immediately make a connection with this character and his life. Ezio lives a privileged life with his family until tragedy knocks at their door.
For reasons still unknown to us, the Auditore family is betrayed and accused of serious crimes. These accusations lead to all his family being executed. Ezio escaped this destiny, and now he's out to avenge his family, but the enemy is way too strong. As Ezio makes his way into finding the culprit of the death of his family he'll learn about the big conspiracy. He'll find that things go way beyond his family, as he becomes an Assassin.
Ezio's now pretty much the new starting flame of the Assassins in his search for revenge. He'll also meet historical characters like Machiavelli and Leonardo da Vince, who will become a close friend and ally in Ezio's journey.
As for the modern timeline, we keep discovering more about the modern-day Assassins and Templars. Things get more and more tangled as the search for the Apples of Eden continues. But saying more than this would be spoiling the game, so let-s leave it at that.
Better in every way
The great thing about Assassin's Creed II is that it takes everything that made the first one great and made it much better. While you could argue that the first Assassin's Creed game was lacking variety this one was full of it. Countryside towns, big and beautiful cities, action, different types of missions, customizable weapons and more. New mechanics were implemented, and the parkour mechanics were improved. It only makes sense that they made two more games with Ezio as the main character after this.
Review
Assassin's Creed II is the best example of how to make a sequel right. Removing the unnecessary elements and improving the existing ones. But they didn't stop there, for there are plenty of new mechanics and more fluid gameplay.
Even the story of the game is much better and more personal. We get to understand and care about our main character. Where Altair was distant and mysterious, Ezio is familiar and close. The characters feel much more alive, and so does the world. This is not only a story about revenge, but also a mystery to solve and a huge adventure to go explore.
Graphics and Visuals: This game has a beautiful world-building. Very detailed recreation of historical buildings and places. It's a visually pleasing game with great animations and graphics. The character design and the artistic part of this game are simply beautiful. Just like in the game, this is also a renascence for gaming.

Gameplay: The gameplay is incredible. The popular hidden blade from the first Assassin's Creed is back, but now it's double. The combat feels great, even though it's a little outdated by now, and the same goes for the parkour element. It feels great to explore the cities and countryside towns and that's important in a game like this.

Sound: The soundtrack in Assassin's Creed II remains excellent to this day. Some of the themes like Ezio's Family are still being used in the series. Composer Jesper Kyd did an amazing job with this game, it's probably one of the best soundtracks in gaming history.
Download Assassin's Creed: 2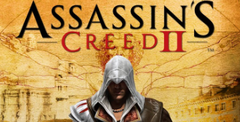 System requirements:
PC compatible
Operating systems: Windows 10/Windows 8/Windows 7/2000/Vista/WinXP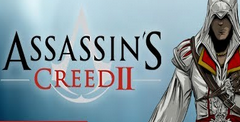 System requirements:
PC compatible
Operating systems: Windows 10/Windows 8/Windows 7/2000/Vista/WinXP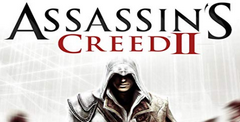 System requirements:
PC compatible
Operating systems: Windows 10/Windows 8/Windows 7/2000/Vista/WinXP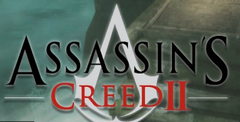 System requirements:
PC compatible
Operating systems: Windows 10/Windows 8/Windows 7/2000/Vista/WinXP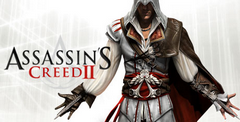 System requirements:
PC compatible
Operating systems: Windows 10/Windows 8/Windows 7/2000/Vista/WinXP
Game Reviews
Quick Tip For the best way to ensure enjoyment of Assassin's Creed 2 book a trip to Venice. I he roof-running escapades of Ezio take place in a remarkable recreation of the famed water-logged city, and former visitors will find their minds summarily boggled at the level of detail. From leaping over into the Doge's palace to deal with its (not over-historically accurate) occupant, to climbing up the Campanile to hook up with Da Vinci and go for a ride in his (historically accurate, in terms of design) gliding machine - it's as if 700 years of European culture had been building up to the point at which it could be included in a videogame.
"When I was younger I went to Venice, and I can remember thinking 'Man. Splinter Cell would be cool here," explained developer Chris Geiler. "But now we're working with it on Assassin's Creed and it's even better.
"We sent some people down to Venice, and to Florence, to take photos and check out the architecture - just to get a feel of how it is at street level. We even had guys go up on the roofs to see what it looks like from up there.
In terms of engine tweaks from former Holy Land adventures, to aid in the beautification of Venice Assassin's Creed II uses the lighting system from Far Cry 2 (strategically timed sunsets were some of this game's highlights) while the chases across Venice's rooftops will be made a little more dynamic by guards who now not only understand the concept of free-running, but are parkour adepts themselves.
Venice culture will into, meanwhile, with that begin with Ezio masquerading as a gondolier, in search of a kill rather than a Cometto, and fancy carnival masks will certainly be prevalent "We really wanted to make it as historically accurate as possible," picks up Geiler as he neatly kicks a guard from the Rialto bridge after a deft swoop of his flying machine. "And the fortunate thing about Venice is that it hasn't really changed in a very long time so all the things you can see in the code today are what it would be like 500 years ago."
And don't you know it but he's really rather right - although stricter historians than I might guestion the probability of such strategic placement of hay carts next to tall buildings in times of antiquity.
Still, if Tuscany and Florence are half as fun to roam around as Venice is, then Assassin's freed 2 could end up delivering something a little more than the cynics are expecting from it.
Playstation 4 Screenshots
Playstation 3 Screenshots
Similar Games
Viewing games 1 to 15