Burn Cycle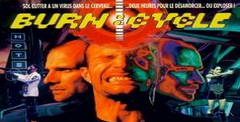 Download Burn Cycle and immerse yourself in a cyberpunk world of intrigue and danger! Solve puzzles, evade enemies, and uncover the truth behind a deadly virus in this thrilling action-adventure game. Enter the virtual realm and play now!
Sol Cutter Has A Lot On His Mind namely the Burn:Cycle virus (a computer virus that people can catch; a spookily cyclical kind of concept when you think about it). Ah well, that's what comes of trying to download Softech computer software into your brain to sell it to a rival company. Don't try this at home kids. Cutter has but two hours to locate the source of the virus and get rid of it (presumably by installing Dr Solomon version 23434 through his left nostril) before his brain gets used for the base of someone's sherry trifle. And how is our anti-hero going to go about freeing his mind? Well, he's going to run around a bit, do some shooting, talk to some people, collect some objects and solve some puzzles. As the great Rolf of Harris would say, "Can you tell what it is yet?".
Why yes, it's an interactive adventure complete with Blade Runner graphics, stomping sci-fi soundtrack and lots of weirdly ambient dream/net sequences. Been there before? Frankly I've been there so often that I've got my own deck chair on the beach.
See me, feel me, crib me
So we've seen it all before but the game is worthy of a second look. After all, it received rave reviews when it came out on CD-i last year - though it wasn't exactly up against stiff opposition; in fact it was barely up against any opposition at all. The world of cd-rom is a lot more competitive, with barrow loads of first-person perspective interactive adventures. (They're in barrows, 'cos that's where people usually chuck them when they realise that there's naff all gameplay and the video sequences are badly filmed, badly acted and take about a month to access.) BurrvCycle makes mincemeat of most of the competition (as it does with most of the characters in the game).
First off the graphics are outstanding - albeit being yet another homage to Blade Runner - while the video sequences are far slicker, quicker and less intrusive than usual. The script and acting are generally strong and - hallelujah! -the cast tend to speak English rather than American.
The puzzles are a mixed bunch. Some of the arcade-style ones are a bit gratuitously tagged on like mini games within a game (shades of ye olde 7th Guest) and can be a tad easy. On more than one occasion I solved one without really having a clear idea of what I was supposed to be doing. However, there are other puzzles and (more often) adventure-style problems that are considerably more taxing - and the race against time means the foot is kept on the tension pedal.
Time for action
If there is a problem or disappointment with Burn:Cycle it's the arcade sequences (aka the shooty bits). Although there's plenty of blood and gore, the fact that you get a laser sight on screen a few moments before an enemy appears tends to take away the element of surprise. Also, as is the way with video-based games, if you go through the same part of the map twice (or thrice) the same person will leap out from the same place despite having had his lower intestine tickled by a laser only minutes before. You wouldn't get that happening in Doom. The limited range of movement is also frustrating. If you're more used to out and out shoot 'em ups, being able to move only in certain directions is a pain. This wouldn't happen in Doom either.
Apart from that the game, although not necessarily a ground breaker, is one of the best interactive adventures I've seen. After a Sk slowish and fairly undemand-ing start it soon gets up to speed. Good pacing, sharp plot and plenty of variety combine to make an outstanding game. AW Above all it has a balding hero mm which in my book is worth an extra 5% any day.
Download Burn Cycle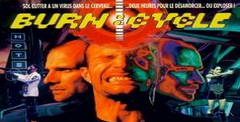 System requirements:
PC compatible
Operating systems: Windows 10/Windows 8/Windows 7/2000/Vista/WinXP
See Also
Viewing games 1 to 9