Baseball Simulator 1.000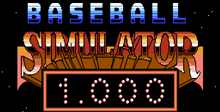 Click the "Install Game" button to initiate the file download and get compact download launcher. Locate the executable file in your local folder and begin the launcher to install your desired game.
Only Baseball Simulator 1.000 lets you play ball any way you want it. It's fully programmable baseball unlike any other game.
Complete Editing
Start with a full team of 12 batters and six pitchers. Then, you decide what kind of team to make. Enter the exact stats you want for a winning team. Use the latest major league stats, make an all-star team, even enter yourself as the star. With six programmable teams, you'll have a whole league of your own.
Intense and Realistic Action
Make a team of quick runners for a fast paced game. Create players with awesome power for an all-out Home Run Derby. Or give your team the hottest hurlers for an intense pitching game. No matter what kind of game you want to play, it's all possible.
Televised Season Simulation
With the Full-Auto Season, you can play out a continuous season and watch your team from game to game. Even individual players can be tracked with full stats and top-10 rankings. Go for the triple crown!
Full editing for up to six teams
Play ball with your favorite major league stars, heroes from the past, fantasy leagues - even enter yourself as the star! Enter team and player names, and all the important stats for your very own team.
A complete, six-team, 165-game pennant race
Play a full length season with six teams, for 5, 30, 60, or even 165 games. Follow the teams and players through the season-monitor their stats, even get top-10 rankings in batting and pitching.
Fully automatic simulation
Simulate a full season based on statistics. The season can be played automatically, while you can enjoy following a team through its games. And by editing team and player abilities, it's a full-auto simulation game.
The hilarious features of ultra play
Add a whole new dimension of fun to baseball with the wacky Ultra Plays. Throw pitches that disappear or speed up in mid-air. Fight back with hits that explode or knock out the fielders. And catch them by leaping hundreds of feet in the air. With the six teams of the Ultra League, you'll play baseball like it's never been played before!
Download Baseball Simulator 1.000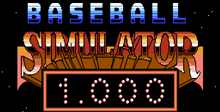 System requirements:
PC compatible
Operating systems: Windows 10/Windows 8/Windows 7/2000/Vista/WinXP
P-200, 32 MB RAM
Game Reviews
Just about anything can happen in the game of baseball. But I don't think balls that cause earth tremors or pitches that catch fire en route to the plate are what Abner Doubleday had in mind when he invented "America's Pastime."
Yet, it's these bizarre occurrences and many other special tricks, that make Culture Brain's Baseball Simulator 1.000 such a kick-it's a great change from the typical baseball video game!
That Championship Season
In Baseball Simulator 1.000 you can choose from any of 18 different teams or you can build a team from scratch.
Face the computer or challenge a friend to compete in a 5-, 30-, 60-, or 165-game season. You can play in four different leagues and games take place in six stadiums.
Building A Better Ballclub
As the manager you build up your team by allocating a set bunch of points for batting average, homeruns, running speed, and fielding ability among your players. Then, you customize your pitching staff by divvying up points for ERA, speed, right and left curveballs, sinking pitches, and stamina. Your managerial responsibilities also include deciding who's right-handed and who's a lefty, and whether your pitchers throw overhand or sidearm.
ProTips:
It's important to have a centerfielder with a high fielding rating (40 or better). He has to cover more ground than any other player on your team.
Give your catcher a fielding rating of 50 or higher; that way he'll catch every foul tip and pop-up for an out.
Ultra Play
If straightforward baseball is a little too mundane for you, take a turn in the Ultra League. Ultra League play enables you to give your hitters and pitchers special abilities. Pitchers can make the baseball practically unhittable with some incredible moves -- causing it to zigzag, spin, fry like a missile, or even explode!
Eliminate one of the power hitters on the other team by beating him with a Fireball pitch. The batter has to leave the game!
Hitters can take several wacky whacks at the ball. The Tremor Hit leaves the opposing defense a little shaky. The Missile Hit can send the ball into orbit. The Bomb Hit is a blast for opposing fielders to catch.
You can stop the computer from using super pitching and hitting! When the computer begins to select a super ability, call Time Out by pressing Start and go to the Pinch Hitter or Relief Pitcher screen. Select Cancel and return to the main screen. The computer no longer has super ability selected.
When you play the Outer Space arena, you can make your right fielder fly through space. When you take the field, hit Start and select Shift. Move your right fielder against the fence. Now, whenever a ball's bit to that side, he'll fly into space to make the catch.
Time Out
The only downside to Baseball Simulator 1.000 is the "skip" feature for league play, which is supposed to create a completed game between two computer-controlled teams. Unfortunately, a skipped game takes anywhere from 5 to 10 minutes to generate.
Despite the lengthy league play, Baseball Simulator 1.000 is good fun. The Ultra play portion of this game, in particular, brings some much-needed originality to the glutted Nintendo baseball scene.
Baseball Simulator 1.000 is a baseball game with a twist. Not only are you given complete control over the teams, line-ups, pitchers and other important aspects of play, you also have the option of selecting from a menu of different stadiums and special leagues where anything can happen! Add to these features a number of other play settings and you get a very different kind of baseball game for your NES!
People say:
7.0
Simulator does something that no other cart has done and that's go beyond your typical sports rulebook. This game lets you throw firey fastballs that burn through player's bats, and take advantage of other special functions. It plays a great game of standard ball as well with good control.
6.0
At first this game looks like another me-too baseball game. The main game offers a simulation which is strictly average and no where near as good as Bases Loaded. If you want to have fun and do some really wild things, BS has an option which turns players into super-humans. It's not real, but
7.0
Forget realism, forget statistics, this game was designed for one thing - FUN! Baseball Simulator has got to be the most unique sports game ever made. I love the special pitches and hits like the fireball and Ninja pitches which cause hilarious reactions. Loads of fun!
7.0
Baseball Simulator plays a good game of standard ball, as well as taking advantage of a special league filled with power-players who possess the most extraordinary baseball skills. The game really excels here, taking advantage of the creative medium that video games are. A very nice game!
NES/Famicom/Dendy Screenshots
Other Games by Culture Brain