Flying Dragon: The Secret Scroll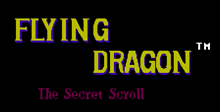 Type: Action
Levels of play: --
Release: 09/01/1989
Difficulty: Easy
Flying Dragon is Culture Brain's contribution to the ever-growing karate and kung-fu game genres. While it shares many things in common with earlier hits like Karate Champ and Kung-Fu Master, Flying Dragon introduces a new form of play where the game actually teaches you the moves you need to know.
With play that progresses through training modes, fighting scenes, and a World Championship competition, Flying Dragon has plenty of chop-suey kicks and martial arts thrills.
People say:
4
Flying Dragon has a very strange look and feel. The colors that are used in the game characters appear washed out, and seem to blend in with the background. The control of the game characters is also lacking. The concept is nothing new, and is further muddled dy a lack of direction.
5
The kung-fu theme of Flying Dragon is overworked. There is no room for an average karate game which this is, especially when comparisons with outstanding titles like Ninja Gai Den are inevitable. While the concept may have been good enough a year ago, it's just not enough to make it now.
5
Flying Dragon is repetitive and not much fun. The control is jerky as well as the scrolling. Besides these problems, however, it is probably my favorite one-on-one kung-fu kick-em-up due to the ease of play and the way the game teaches you how to become more effective in higher rounds.
Download Flying Dragon: The Secret Scroll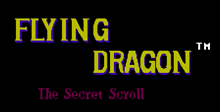 System requirements:
PC compatible
Operating systems: Windows 10/Windows 8/Windows 7/2000/Vista/WinXP
P-200, 32 MB RAM
Game Reviews
You are Ryuhi, a dedicated student of the ancient art of Kung-Fu. But your wise master has been kidnapped, and with him, the Secret Scrolls, which hold the key to awesome fighting skills. Now, set out to defeat the evil Tusk Soldiers and regain the Scrolls. Your goal: The World Tournament of Contact Sports, where you will seek out the evil warriors of darkness.
KUNG-FU SO REAL, YOU'LL BE OUT OF BREATH!
It's the first game to include realistic defensive techniques, letting you thrill to the most authentic kung-fu fighting ever created in a videogame.
With an incredible assortment of moves at your command, you'll feel like an expert fighter, thanks to the support of Artificial Intelligence programming. Here are just some of the fantastic moves you'll master.
Upper Defence
Lower Defence
Cyclone Kick
Middle Defence
Middle Punch
Upper Kick
Lower Kick
Upper Punch
MANY SECRETS AWAIT YOU!
Set forth on a journey to regain the Secret Scrolls and the hidden techniques they hold.
THE POWER OF JUSTICE
Only by completing the mandara seal can you gain its mystical powers and defeat Dargon, the lord of the Tusk Soldiers.
TRAINING SESSION
Start your training at Shorinji, the legendary birthplace of Kung-Fu.
DEFEAT THE SOLDIERS FROM DARKNESS
It's Dargon, and he's transformed into a deadly opponent! You'll need the ultimate move, the Hiryu-no-Ken kick, to knock him down!
YOU WILL BE A HERO!
Fight your way through the World Tournament of Contact Sports. Victory will be in your hands.
NES/Famicom/Dendy Screenshots
Similar Games
Viewing games 1 to 11