Gameboy Bomberman (Poket Bomberman)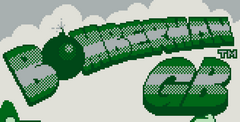 Bombs away! The ultimate party game goes portable with this all-new cart. Using the special four-player tap, you and a few friends can blast each . other to smithereens.
Although the game may be on the small screen, it's really intense--just like the Super Famicom version. The explosions might be a tad difficult to see, but anyone who's ever been addicted to the original will love it.
Download Gameboy Bomberman (Poket Bomberman)
Other games by
Hudson Soft