Chicory: A Colorful Tale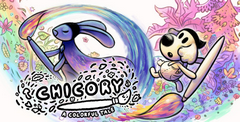 Download Chicory: A Colorful Tale and embark on a whimsical, hand-drawn adventure! Use the power of art to solve puzzles, restore color to the world, and uncover a heartwarming story. Unleash your creativity and play now!
While most games are about violence in some way, games by developer Greg Lobanov have gradually drifted towards more peaceful encounters. Chicory: A Colorful Tale, is a game where the main focus is the artistry of it all. This incredibly beautiful game has no violence in it at all. In this unusual game, the master artist is you. The goal of the game is for you to draw all over, everywhere. If that just sounds like an ordinary coloring book to you, there's a little story behind it too.
Help save the "Wielder"
In the world you find yourself in, the world is colored by a "Wielder" who has a paint brush that colors everything. Chicory is the current Wielder, and is very famous. One day, she disappears and takes all the color of the world with her. You are her janitor, and must take up the paintbrush and color the world back in while you figure out what happened to her.
Clever puzzles
Coloring the world may change things that help you progress through the game. As an example, if you color in a plant it may cause it to grow and allow you to access a part of the game previously unavailable. Later, you may need to erase the color on this plant to shrink it back down, because the tall plant now blocks the access to a path.
Designed for everyone
The developers took particular care to make sure that anyone could play this game—even if you're not a gifted artist. They limited the colors available to just 4 per scene in order to help people feel less overwhelmed, and the game was even designed to be accessible for the blind and color-blind.
This care and attention adds a level of warmth to the game that makes it even better for everyone. The four colors each area comes with are designed to look good together, so no matter what you do with them, the results are going to look good.
Designed for joy
If you think this theme sounds familiar, you're not wrong. Greg Lobanov has developed previous games with very similar themes. His last game, Wandersong, was both his first breakout game and also non-violent. Although Wandersong is about music and Chicory: A Colorful Tale is about art, the two games are very similar.
This game is a fresh, new style of game that looks at an underutilized favorite of the world—drawing. It's completely non-violent, and has even been showcased as a "Wholesome game" by the Wholesome Game Showcase due to its positive nature.
10
The care and detail that went into this game is visible on every level of the game. It's beautiful to look at, thoughtfully designed so that everyone can play it, and yet manages to be non-violent while still entertaining. This is a very difficult balance to strike, but one that Chicory: A Colorful Tale manages to handle perfectly.
Pros:
A fresh new game with original ideas
Entertaining puzzle game
Highly accessible
Cons:
Download Chicory: A Colorful Tale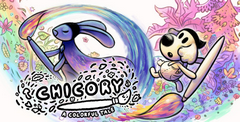 System requirements:
PC compatible
Operating systems: Windows 10/Windows 8/Windows 7/2000/Vista/WinXP
Similar Games
Viewing games 1 to 8