Explorers of the Abyss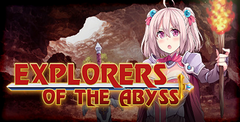 Click the "Install Game" button to initiate the free file download and get compact download launcher. Locate the executable file in your local folder and begin the launcher to install your desired game.
A classic RPG of huge proportions, Explorers of the Abyss features cute, well-endowed anime girls in a medieval fantasy setting. If all that sounds good to you, then, good news, Explorers of the Abyss is the game for you! If not, well, there's really not much else to see here.
Despite its simplicity, there's a certain charm to the game's straightforwardness. Sometimes, simple to understand RPGs like this is just what one needs – and as long as the characters and setting are interesting, one couldn't ask for much else. That said, just how good is the story fueling the Explorers of the Abyss gameplay? Let's find out.
Labyrinthian Dungeons
Much like its gameplay, the plot of Explorers of the Abyss is as straightforward as they come. After being betrayed by a mage, the king of Lescardia falls deathly ill. Furthermore, a labyrinth of darkness appears, and with it comes a horde of deadly monsters.
It will be up to you and your party to stop the monster invasion and restore peace to the kingdom of Lescardia. While most games like this would have your party consist of a knight of some sort, maybe with a rogue and a wizard for support, Explorers of the Abyss goes for a completely different approach.
Ovelia isn't your typical RPG heroine: this cute anime girl and her party of equally adorable companions are a force to be reckoned with. If we had to describe the basics of Explorers of the Abyss's formula, it would be "Dragon Quest meets Hyperdimension Neptunia."
No-frills Combat
Following the example of modern games like Dragon Quest XI, Explorers of the Abyss simplifies its combat to the bare minimum. This is not a bad thing at all, quite the contrary, actually. Many games (especially JRPGs) love to include convoluted UIs filled to the brim with seemingly useless info, just for the sake of creating a false sense of depth. I still have nightmares thinking about Xenoblade Chronicles X's battle UI.
Explorers of the Abyss presents players with a simple-to-understand battle menu, with the options you would expect to see in a game like this. That means that instead of having to focus on Limit Breaks or Chain Combos, players will only have to choose between Attack, Skills, Guard, or Items. Self-explanatory and clean, just like a UI should be.
However, this comes with an unwanted side-effect, and that is the repetitiveness of the combat. Each encounter quickly becomes similar to the ones that came before, and in an RPG, that can become unwieldily boring pretty fast.
Flat World
Unlike the game's heroines, the world of Explorers of the Abyss is surprisingly flat. Everything looks like a demo straight out of some old version of RPG Maker, and in an age of handcrafted sprites in indie games, that's simply unacceptable.
Luckily, the character art in conversations is actually quite pretty. Considering that this is an RPG, and you will be looking at still character portraits for most of the plot, having such great art is a major plus.
8
What Explorers of the Abyss lacks in complexity it makes up with its charming character design. The simple-to-understand gameplay is also a great bonus for players who are looking for a basic RPG, as long as they don't get bored of the repetitive combat.
Pros:
Excellent character design
Backgrounds are nicely detailed during cutscenes
Straightforward combat and clean UI
Cons:
Can get repetitive
Severely dated visuals
Download Explorers of the Abyss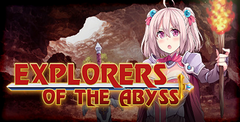 System requirements:
PC compatible
Operating systems: Windows 10/Windows 8/Windows 7/2000/Vista/WinXP
Similar Games
Viewing games 1 to 8