ClayFighter 2: Judgement Clay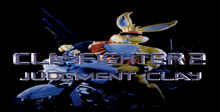 Click the "Install Game" button to initiate the free file download and get compact download launcher. Locate the executable file in your local folder and begin the launcher to install your desired game.
The ultimate Street Fighter parody is back for more in Clay Fighter 2: Judgment Clay. Some of the original combatants have been replaced in favor of the new challengers. and new Bosses have been added. Everything that attracted you to the original is here, and so much more.
An excellent Tournament Mode has been added, as well as all the options which spell out a good fighter on par with Mortal Kombat and Street Fighter.
Although funny and entertaining, Clay Fighter 2 should provide multiple hours of fighting action for you and your friends.
8 Fighter Cofors
CF2 has a selection of eight cofors for each character. This helps in Versus and Tournament Modes.
Prepare for Action
CF2 is an excellent upgrade to the original hit game. Look for enhanced control and options.
Fight-Game Options
CF2 has the usual arrangement of options found in a fighting game, such as time limit and difficulty.
NEW BOSSES
Depending on who you play as, you reach a Boss who is an "evil" version of your character!
THE GOOD
This game is truly a worthy sequel. Unlike other fighting games with a part two, this one's really improved.
THE BAD
The control is a little lacking, although vastly improved over the original version.
THE UGLY
After losing, it kinda looks like what happens when you left your clay on the heater vent as a kid. Shplat!
MANUFACTURER - INTERPLAY
DIFFICULTY - VARIABLE
THEME - FIGHTING
NUMBER OF PLAYERS - 1 to 8
Download ClayFighter 2: Judgement Clay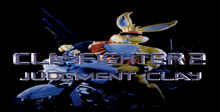 System requirements:
PC compatible
Operating systems: Windows 10/Windows 8/Windows 7/2000/Vista/WinXP
Pentium II (or equivalent) 266MHz (500MHz recommended), RAM: 64MB (128MB recommended), DirectX v8.0a or later must be installed
Game Reviews
Manufacturer: Interplay
Machine: Super NES
EVIL TWIN FIGHTING
No one likes to fight with a nice guy when there is an evil twin just waiting to come out. Check out these codes that will take you straight to the dark-side of all the clayfighters.
Those funny fighters of clay are coming back to a video game screen near you this summer in Clay Fighter 2! The sequel will sport more moves and more hidden special attacks. As you can see, the artists of the game are also at work on some new stages as shown on this page. Among other new features will be better music!
Following The Huge Success Of Clay Fighter, The GameFabrique Editors Went Back to Interplay To See if They Had Any Plans For a Sequel. Here's Their Story...
Our editors have a nose for news. With Clay Fighter still hot we had a feeling that Interplay had a story to tell about a sequel. Not only did Jeremy Airey (the lead CF2 programmer) give us a behind- the-scenes look at some of the models that are being considered as backgrounds for the upcoming CF2, but he also gave us an insight as to how they will make the new game that much better than the first!
EGM: How about a hint as to what we will see in Clay Fighter 2?
Jeremy: Were only going to keep two of the original characters. We will have many more, possibly go up to 10. Maybe even have some secret characters in the game. After looking at Mortal Kombat II and all that secret stuff, we'll go the same route. And we're doing some stuff like Eternal Champions did. This will be really hot!
EGM: When will the game come out?
Jeremy: We're looking at July-August for the Super NES version and June-July for the Genesis game.
EGM: I see you have some models of the new backgrounds (see pictures), how long does it take to make these?
Jeremy: The large Frosty one took two weeks to do, but as we get more experience, we can do about two per week.
EGM: Will any of the backgrounds be interactive with the player as we have seen on some of the other fighting games like Samurai Shodown?
Jeremy: We were trying that with the first one, but it didn't seem to work very well. I don't think we'll do it in this version.
EGM: How about giving the characters fatalities?
Jeremy: We're going to do a lot of that type of stuff. Hidden characters, special codes that do certain things, you know, stuff that will really set CF2 apart from CF.
EGM: What are the specs on the cart? Jeremy: We're shooting for a 16-Meg cart. The music and sound effects will be much better than the first and there will be great voices.
Looking for a fighter that would be putty in your hands? C2's fighters are ready to rumble, and they've got the clay to play with. Unfortunately, the game's graphics and sound have gone soft.
The Goo, The Bad And the Ugly
The first thing you'll notice is that a lot of the original fighters have gone to that big Play- Doh factory in the sky. The only survivors here are Tiny, Bad Mr. Frosty, and the Blob. The good news is that there are five imaginative newcomers, including Nana the banana man, Octo the octopus, Goo-Goo the baby brawler, Hoppy the mercenary rabbit, and Kan- goo the kangaroo.
The old players have improved moves, while the hew players have character- specific moves: Hoppy shoots carrots, Octo uses all eight hands, and CooGoo drools. The combo system is still strong, with a more apparent multihit engine than previous versions had.
Gooey Graphics
Although the hits got better, the hype won't live up to the humor of the first game. The graphics are less cartoony and more 3D, which should be f a plus but isn't. Lots of jagged edges and poorly illustrated backgrounds (especially the boxing ring) combine to make a very dull graphical showing. Even the bosses are just palette- swapped characters.
The sound is somewhat better. Each fighter announces their moves as they do them, which gets annoying quickly. The punches sound solid, and the background music is where it should be -- in the background. There just aren't enough funny sound bites between hits. Where's Blue Suede Goo's 'Watch the hair, baby" when you need it? The gooey controls may also slip out of your grasp. The computer A.I. is quick and deadly, and your reaction time has to be fast. Not all the moves happen when you want them to, though, so a solid investment in a good controller is a must.
Judgment Clay
Fast action and good Combos don't always make for the best fun around. Claymaniacs will definitely want to add this game to their library, as will casual fighting fans. But true-goo gamers might find that MK II is a better bet for the bucks. Clay Fighter 2 is just too sticky for some people.
ProTips:
Always mix up your combinations (punch, kick, low kick, etc.). The computer A. I. works more to respond to a balanced attack.
If you're backed into a comer and you have a projectile attack, use the opportunity to charge for your attack.
Try to keep your opponent in the corners.
The sequel looks like it will blow the first one out of the water.
When you first look at this game, you'll notice that the backgrounds are very detailed. They look like real clay, and they are animated with comical antics of their own. It looks like a lot of detail was put into this one.
Clay Fighter 2 has an almost entirely new cast of fighters, and they should prove to be most bizarre. For example, there is a character called Hoppy who's a gung-ho Rambo-esque rabbit.
If you enjoyed the first game, Clay Fighter 2 is a must-see. The animation of the clay is mind-blowing! What will Interplay will pull out of their hats next?
SNES/Super Nintendo/Super Famicom Screenshots
Other Games by Interplay Productions