CyberMage: Darklight Awakening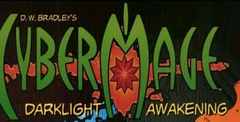 Click the "Install Game" button to initiate the free file download and get compact download launcher. Locate the executable file in your local folder and begin the launcher to install your desired game.
You'd think that a company as big and super as Origin would have jumped on the first person perspective shoot 'em up (or Doom) bandwagon some time ago.
In fact, it's surprising that Origin hasn't applied its not inconsiderable talent to good effect on at least 17 million lookalike products by now and gotten extremely fat on the proceeds (don't mention US Gold!).
System Shock, its earliest foray into the first person perspective world, resisted the temptation to be just another Doom-clone and was actually rather top. Best described as 'the thinking man's Doom', it offered a breath of fresh air to a shotgun weary nation who'd grown tired of wandering around in circles, shooting Tomato monsters. Hopes are therefore very high for Cybermage.
With Cybermage Origin has kept the 'thinking' bit and tried to introduce a little more oomph at the same time. Not only do you get to shoot things with various deadly devices, but you also have a number of destructive spells up your sleeve that you can cast at offending er... offenders.
"So it's like Heretic?" you proffer. Well, no not really. It's being pitched as an 'interactive comic book adventure' which probably means very little, except that Origin can get away with graphics that are best described as 'colourful' and a plot that could quite easily live in Wonderland, with characters to match. If you're expecting System Shock 2 meets Captain Marvel, then you're in for a shock. LucasArts is currently working on a 'comic book style' shoot 'em up that uses the rather excellent Dark Forces engine; it's due out early next year, so if you want more variation on a theme, look in that direction.
Yawn potential
Cybermage is undoubtedly yet another variation on a theme in that it requires lots of running around shooting things and therefore has the potential to be extremely yawny. However, it also requires you to collect things, interact with npcs (non-player characters), drive around and shoot things in a tank and figure out how to escape to safety on the way. In this sense it's more like a first-person version of Fade To Black, but without the fancy graphics.
It is, however, already different enough from your average blast-fest to keep you interested. Quake it ain't, but first impressions are quite favourable. The control system (a mixture of mouse and keyboard) is a bit fiddly at first but soon becomes quite easy to use, the range of weapons and spells is impressive, and the fact that you can climb ladders, log onto systems, crouch, run, jump and look up and down means you'll probably spend more time foraging and exploring than merely firing at anything that does (and doesn't) move.
The strange purple fist thing that sticks out in front of you (well, I presume that's what it is) looks a bit odd, and the SVGA graphics make for a rich (albeit garish) player environment. Enemy ai is already quite competent, and there's some nice animations in there; I think what I'm trying to say is that it's got potential. That's not meant to be patronising, but at the mo' it all looks a little lacklustre and you just can't help thinking that Origin could do a lot better. Time for a team talk before the whistle blows for the start of the second half, methinks.
Download CyberMage: Darklight Awakening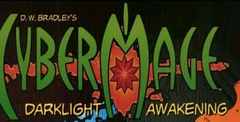 System requirements:
PC compatible
Operating systems: Windows 10/Windows 8/Windows 7/2000/Vista/WinXP
See Also
Viewing games 1 to 13