Devil May Cry 5: Deluxe Edition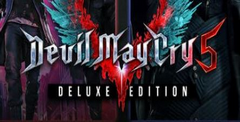 Download Devil May Cry 5 - Deluxe Edition and dive into the demon-slaying action! Master the skills of legendary heroes, face off against powerful foes, and save the world from demonic invasion. Unleash your inner demon hunter and play now!
Devil May Cry 5 – Deluxe Edition is an upgraded package of an already amazing game, with bonus content and some exceptionally cool features. As a part of one of the most exciting hack and slash game franchises ever, this wickedly cool adventure raises the action to the next level, offering incredible combat and creative bosses. Both new and old characters return for another exciting and action-packed experience, featuring a refined combat system that is rewarding for both newcomers and series experts. Even though some of the narrative might get lost in translation, Devil May Cry 5 – Deluxe Edition is one of the best entries in this adored action series.
Main Game Features
Crazy hack and slash action with awesome effects
Three distinct playable characters
Bonus weapons, cutscenes, music, and more
Story
Devil May Cry 5 – Deluxe Edition is set sometime after the events of Devil May Cry 4, with demon-slayer Nero and his friend Nico working under the guidance of Dante. Hired by a mysterious man named V, Dante, Nero, and the rest of the squad head to Red Grave City to defeat a powerful demon named Urizen. Planted in the middle of the city is the Qliphoth, a demonic tree that harvests the blood of civilians for power. During a face-off with Urizen, Dante is defeated and disappears into the roots of the Qliphoth, while Nero and V narrowly escape with their lives. Devoted to finding Dante and destroying Urizen, the pair set off to fight demons throughout the city.
The story in Devil May Cry 5 – Deluxe Edition is pretty complex, especially for newcomers, as it relies heavily on previous experience with the franchise. Although new players might be confused after a few chapters, the overall narrative is still easy enough to follow. Given the fantastical nature of Devil May Cry 5 – Deluxe Edition, there are lots of cool moments, with characters receiving new abilities after defeating major enemies. Although a few characters can be grating after a while, the majority of Devil May Cry 5 – Deluxe Edition's story is interesting and fun to watch unfold.
Gameplay
Overall, Devil May Cry 5 – Deluxe Edition stays true to the rest of the series' gameplay, containing fast-paced, hack and slash combat that's similar to the God of War franchise. The game features three playable characters, including Nero, V, and Dante, with each hero having unique moves, abilities, and weapons. For example, V can cast spells and use his animal companions to cause damage, while Nero and Dante are better for getting up close and personal with their swords and guns. On the lower difficulty levels, you'll be able to survive by simply smashing buttons, but on higher difficulties, parrying and planning are a must.
As you play the game, you'll earn points based on your performance that contribute to an overall style rank. Experience points can be harvested from defeated enemies, while health and other bonuses can be earned through exploration. By saving up these points, players can unlock new abilities and weapons by visiting save statues or Nico's gun shop, further improving their power and strength. In addition to the main story mode, there is also a wave-based survival mode called the Bloody Palace, where you test your abilities against dozens of enemies before a break.
Conclusion
Devil May Cry 5 – Deluxe Edition is an exciting adventure with some cool features, including bonus weapons, music, and other worthwhile extra content. Even when the story becomes confusing, the stylish action remains fun and engaging.
9
With lots of abilities to buy, perfect scores to achieve, and lots of collectibles to find, there are lots of reasons to keep playing Devil May Cry 5 – Deluxe Edition even after you've beaten the story.
Pros
Thrilling combat with lots of depth
Awesome graphics and special effects
Multiple difficulty modes
Cons
A few annoying characters
Plot can be confusing
Some moves are restricted to specific characters
Download Devil May Cry 5: Deluxe Edition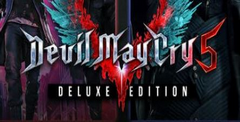 System requirements:
PC compatible
Operating systems: Windows 10/Windows 8/Windows 7/2000/Vista/WinXP
See Also
Viewing games 1 to 8