Earn Your Freedom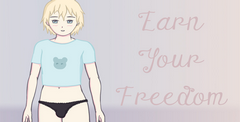 Download Earn Your Freedom and put your skills to the test in a high-stakes escape! Outsmart captors, solve puzzles, and make life-altering decisions as you race against time to reclaim your freedom. Can you break free? Play now!
Earn Your Freedom is a lewd visual novel game that is not for the faint of heart! It is currently still being updated as I write this so take that into consideration when you are reading this review. The game is supported via Patreon so as always if you like what is being offered here, be sure to throw them a couple of bucks.
The Life Of A Working Man
The story that is being told here is quite shocking. The main character is a pretty average 18-year-old dude who because of his father has been kidnapped. If that is not bad enough, he has been taken to a brothel where he is forced to work as a sex slave in order to pay off a massive debt.
Oh, it gets way worse, you see Earn Your Freedom has this poor dude become pretty much everyone's plaything. This means both men and women get to bang this guy and it does not matter if he likes it or not.
That Cool Style
While the plot that is running through the game is pretty brutal. The art is something that is very eye-catching. The characters in the game are very well drawn and if there is some kind of sex that is in your mind, this poor dude is going to have to do it. Hey, it would be great if he was just pleasing women all day, but many of the sex CGs you will see here are woman banging him with a strap on!
The characters look great, but I think it is the way that Earn Your Freedom has a very minimalistic style when it comes to its background art that really makes this a visual novel that stands out. You may think this sounds lazy and who knows background art may be added later. I for one, like this, as it makes the sex acts the real star of what you are looking at. There is a wardrobe system that was recently added which allows you access to more types of clothing.
Fight Or Flight?
The gameplay on offer here is that of your standard lewd visual novel. However, I liked how it is really up to the player in regards to how this guy is going to react. Will you make it so that he fights this and he does not become a "sissy slut" as the game puts it. Or, will you play the game and make it so that he gets into it and he starts to love what he is doing? The game does let you replay scenes you have already done so you can have some fun changing things around.
7.5
I can see why so many people are quite high on this game. I found Earn Your Freedom to be quite interesting, even if it was not to my personal taste in regards to what I look for in a lewd game. The art is fantastic and I think those who love dressing characters up are going to really appreciate what this game offers. It is still in development, but it looks to be moving along at a fairly decent pace.
Pros:
The art is very well done
I liked the minimal backgrounds that the game has
You can choose how you want the main character to play
The wardrobe system in the game is a great idea
The updates look like they happen fairly frequently
Cons:
The subject matter is not for me personally
Not sure if there is an actual end in sight for the development
Download Earn Your Freedom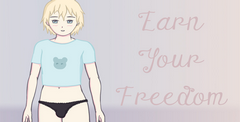 System requirements:
PC compatible
Operating systems: Windows 10/Windows 8/Windows 7/2000/Vista/WinXP
See Also
Viewing games 1 to 8