F-16 Multirole Fighter & MiG-29 Fulcrum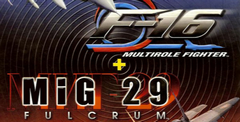 Click the "Install Game" button to initiate the file download and get compact download launcher. Locate the executable file in your local folder and begin the launcher to install your desired game.
Overview
NovaLogic's F-16 Multirole Fighter and MiG-29 Fulcrum are both a thrill to fly. The company is beginning to push beyond the arcade genre and into the area of realism without sacrificing the emphasis on fun. These two titles combine simulation graphics with strong gameplay to produce an immersive experience.
Gameplay, Controls, Interface
Takeoffs in both aircraft are a breeze. In fact, they are so easy that missions might as well start in-air. Just press the thrust key and you are up in one of the 40 single missions. Once the landing gear is up, the immersion begins.
Missions are fast-paced and enemies are plentiful. To mask their presence, pilots can shut down the radar and turn on the IRST (Infrared Search and Track) while ducking behind mountains. Yet stealth is not easily attained, as in NovaLogic's helicopter simulation Comanche 3. Missile avoidance is the biggest challenge, and there is often nowhere to hide. Pilots will be forced to fight or die.
Real-time stats of aircraft losses on both sides are displayed during flight. When the battle is done, a final tally includes the number of hits per weapon. This comes in handy for the self-improvement-conscious pilot.
Multiplayer
Perhaps the most exciting aspect of _F-16 Multirole Fighter and MiG-29 Fulcrum is the fact that virtual pilots can organize squadrons and fight it out on the NovaWorld servers with up to 120 planes, including the F-22 Raptor. Six Deathmatch and six A.W. (Air War) cooperative missions are available. NovaWorld service is free. This offer is quite remarkable, considering the overwhelming problems with internet play in other combat flight games.
Graphics
The graphics in this game go way beyond other flight sims. At 1024 x 768 resolution with Voodoo2, pilots will find themselves still gaping at the scenery as enemies approach. Elements inside and outside the cockpit blend together well and give the player the feeling of being in one consistent world. Landscapes, especially the glacial areas, are beautiful and remind one of the old EF2000 landscapes in Northern Europe.
The "highly detailed interactive cockpit" sports meticulous dials and glass reflections. I enjoyed clicking the mouse anywhere in the cockpit to zoom in on instruments. A quick look at the radar screen could be life-saving. Hopefully, NovaLogic will make the instruments interactive or clickable in future releases.
Audio
From the deep thrust of engines to the gentle raising of landing gear, the full repertoire of sounds came through well. The Russian voice communications in the MiG-29 were subtle, yet immersive. The techno rock theme in the MiG-29 interface proved to be a very well-done and moving arrangement. What did you expect, traditional Russian folk music?
System Requirements
Windows 95/98/NT, P166 (200 recommended) or P120 (with 3Dfx), MMX enhanced (not required), 16 MB RAM minimum (32 MB recommended), 4X CD-ROM drive, Windows 95 compatible card, mouse, Windows 95 compatible sound card, minimum DirectX 3.
Multiplayer Requirements: Windows 95/98, Internet Play: 16 players or up to 128 simultaneous players via NovaWorld's IBS servers (Internet service provider needed), direct serial play: requires null modem cable (up to 2 players), for modem play: minimum 14.4Kbps modem (up to 2 players), for network play: IPX network adapter (up to 16 players), Windows NT Internet Play: 16 players or up to 128 simultaneous players via NovaWorld's IBS servers (Internet service provider needed)
Documentation
Not much documentation is needed past the customizable key commands. Anyone familiar with flight games should be able to jump right in without much preparation. Newbies should study the radar and hud symbology carefully before dogfighting.
Bottom Line
After indulging in F-16 Multirole Fighter and MiG-29 Fulcrum, I am excited to see NovaLogic making forays into the simulation genre with more detailed flight and weapons system modeling. Though the F-16 and MiG-29 fall short of being strict simulations, the multiplayer and graphics aspects will keep them in the air for a long time to come. These titles are fun. I've never seen a smoother-running, better-looking set of games.
Download F-16 Multirole Fighter & MiG-29 Fulcrum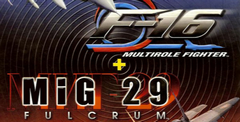 System requirements:
PC compatible
Operating systems: Windows 10/Windows 8/Windows 7/2000/Vista/WinXP