FIFA Football 2003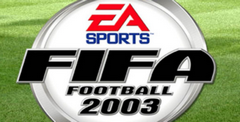 Download FIFA Football 2003 and experience the beautiful game like never before! Compete with top clubs, showcase your skills, and score spectacular goals. Ready to dominate the pitch and become a football legend? Play now!
Australians and girls notwithstanding, we all like football here at PC ZONE. The boss is a long-suffering Coventry fan, Korda is an armchair Liverpool supporter, and new boy Jamie follows Leeds United. And while some might question whether it actually qualifies as football, I myself am gripped by Chester City's magnificent phoenix-like rise to the top of the Nationwide Conference. It naturally follows that we also enjoy a bit of virtual football. However, there are six words you will never hear said together in the PC ZONE office: Anyone fancy a game of FIFA? What you will hear during the frequent moments of mind-numbing tedium is the phrase: Pro Evolution Soccer 2? At this point four grown men will sprint from their desks and gather round a large television set for a lengthy session of the greatest football game ever made. Cue much whooping and hollering, extensive swearing, leaping out of chairs, punching the air and laughing like children. Pro Evolution Soccer 2 on the PlayStation 2 has enraptured us, and yet another version of FIFA seems unlikely to change that.
However, in the grand scheme of things, FIFA comfortably outsells Pro Evolution. This is undoubtedly a triumph of marketing, but also testament to the fact that people do actually like it. FIFA truly is a mass market product, and as such is played by people who would never describe themselves as gamers. The reason we don't generally rate it is because we know better; we are gaming snobs. The average bloke who owns a PS2 and three games thinks FIFA is the business. It looks great, it sounds great, and gives the impression of playing a game of football. I have pointed out to such people that a better game exists, and on one occasion was thanked several months later for my advice. But why should I care? If people want to play FIFA, let them, it's their business.
Stadiums Rock
Those legions of fans have yet another opportunity to line EA's pockets with this seasonal release, coming less than six months after the World Cup version. As usual EA has denounced every previous incarnation, trumpeting this as the definitive all-new version (and you can guarantee they'll say the same thing next year). Following the international shenanigans of the summer, the emphasis here is on club football, with the game featuring 18 of Europe's best teams. Each side comes replete with its home stadium, and as in World Cup 2002, the artists have done a superb job in replicating them. Instantly recognisable to watchers of the world game, the attention to detail is spot on, such as Man United emerging from the corner of the Old Trafford pitch. Admittedly, it's not life or death, but you might as well do it right.
The players themselves look mainly excellent. Beckham's absurd wig is represented in its full glory, as is David Seaman's fireman moustache. The only major blemish is the lack of blemishes on Martin Keown's face, the Arsenal stopper appearing here as an airbrushed movie star rather than the pitted k child-scarer who turns out I at Highbury.
A Less Is More
A Having players in a computer game that look like their real-life counterparts is undoubtedly big and clever, f but the same (if not better) effect can be found by switching on your TV of a Tuesday evening. It's what you do with them that counts, and it is in this area that FIFA games have traditionally been a letdown. The usual criticism is that it's all too easy to score, with matches often resembling basketball rather than the low-scoring sport we know and love. Much of this may be due to the fact that the game is developed in North America, where scoreless games and draws are totally anathema to sports fans. This year though, the executive producer of the game has attempted to drum into the developers that 1 - 0 is a good scoreline. Midfield tussles are commonplace, and it is definitely harder to score, with simply pressing shoot from the edge of the area no guarantee of a goal. If proof were needed, the first game I played was a hard-fought goalless draw, and it wasn't until the third match that I actually managed to open my account.
Complete Control
Goals have to be worked at, and involve intricate passing and a degree of thought. Manually instigated player runs are still in place, as are through balls, and though they often go astray, when it comes off it's a beautiful thing, and does actually resemble football. The sprint button no longer needs to be constantly pumped, offering more control, and it is possible to play some attractive stuff. Set pieces have also been revamped, using a pseudo golf game interface last seen in the much berated Viva Football.
Player characteristics are more pronounced, so, for instance, Ryan Giggs is capable of mazy dribbles, Beckham can whip a ball in and Roy Keane is a nasty bastard. These features are traditionally associated with Pro Evolution Soccer, and if we were suspicious we could feasibly suggest someone at EA has had a long hard look at that game.
Even the half-time and full-time highlights are uncannily similar. Either way, while they have by no means matched it, they have created a very playable game. It looks great, the commentary - by John Motson and cheeky adulterer Ally McCoist - is so good you don't notice it, and the presentation is as glossy as it gets. So hopefully next year's version will build on the progress of this one and will be even more worthy of your cash.
Download FIFA Football 2003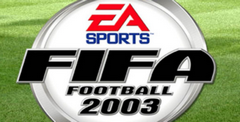 System requirements:
PC compatible
Operating systems: Windows 10/Windows 8/Windows 7/2000/Vista/WinXP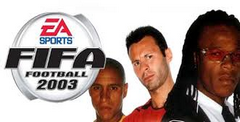 System requirements:
PC compatible
Operating systems: Windows 10/Windows 8/Windows 7/2000/Vista/WinXP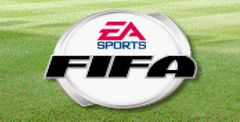 System requirements:
PC compatible
Operating systems: Windows 10/Windows 8/Windows 7/2000/Vista/WinXP
Similar Games
Viewing games 1 to 17