Land of the Dead: Road to Fiddler's Green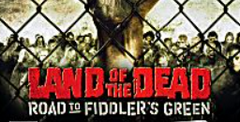 Download Land of the Dead: Road to Fiddler's Green and survive the zombie apocalypse! Battle the undead, scavenge for supplies, and journey to the safety of Fiddler's Green. Ready to face the horror? Play now!
Feel that chill up your spine? If it's because you like survival horror, than you're in for a treat. Land of the Dead: Road to Fiddler's Green is a survival horror that pits you against nature and a hoard of zombies waiting for the chance to eat your brains. This game is older, but it's a classic in terms of zombie games. It was one of the first zombie horrors of its time, and truly defined the genre for other games to follow in its footsteps. Here's a look at what you can expect by playing Land of the Dead: Road to Fiddler's Green.
Escape to safety
This game is based on the popular movie by the same name as the game. You play a farmer named Jack who was caught in the middle of a zombie hoard. The goal is to get him to safety and survive. You'll need to find all the guns in your farmhouse (there are quite a few) and then sneak through a very dark cornfield surrounded by zombies. Once you escape, you'll head to the city where your adventure continues. There's quite a lot of ammunition and other supplies lying around, so you'll have plenty to work with to help keep those zombies away. It's very similar to Left 4 Dead, except for the game is not cooperative.
Standard controls
The controls for the game are fairly normal for a first person shooter. Unfortunately, although they are typical they are also a bit hard to use. If you're in an intense combat situation, you'll want to run away and get distance to line up a shot, because quick shots are not easy in this game.
So-so graphics
While the graphics were normal for the time this game was produced, they're sub-par compared to today's super accurate graphics. If you have a fondness for this era in gaming however, you'll feel right at home with these simpler cg animations. Even considering the era however, there is a definite lack of variation between the different zombies. The game could have been improved with more zombies that look a little more different from each other.
Levels are monotonous
While the game has its good parts (the cornfield is terrifying), after the first level you are seeing almost identical hotels, hallways, and bland details you have to run over and over again. Considering this is a survival horror, it really takes a lot of the chill factor out of the game. It's not terribly scary when you know just what to expect through the whole level.
6
Even for the time that it was created, Land of the Dead: Road to Fiddler's Green has a lot of catching up to do in order to be an exciting game. Sharper controls, more details in the zombies and backgrounds, and a few surprises thrown into the advanced levels could have made this game better. Despite this, its still a zombie horror game that lets you experience what players first got when they wanted a zombie game.
Pros:
Retro game play
Decent storyline
Cons:
Clunky controls
Repetitive levels
Download Land of the Dead: Road to Fiddler's Green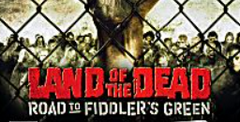 System requirements:
PC compatible
Operating systems: Windows 10/Windows 8/Windows 7/2000/Vista/WinXP
See Also
Viewing games 1 to 8