Laser Invasion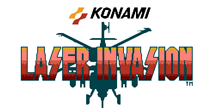 a game by
Konami
Genres:
Action, Shooting Games, Simulation
Platform:
NES
Editor Rating:

5.3

/

10

, based on

4

reviews
Rate this game:
Konami unleashes a combination all-out aerial assault and gut churning ground blitz for your NES. Its name: Laser Invasion. The target: Sheik Toxic Moron and his earth shattering TechnoScorch Missiles.
You'll pilot the Laser Invasion Helijet, an air slicing armor plated powerhouse ready to fire your choice of weapons. You must bank, dive and hover, employing advanced combat techniques against unrelenting waves of airborne enemies.
Then land your bird of prey and charge the Sand Storm Command Center, home of the 3-D Confusion Maze. To get there, pounce on divisions of Pharaoh Phantom tanks, Chiller choppers, and an army of grenade throwing, machine gun toting terrors.
Between battles, your life hinges on your own tactical-decisions. Gather enough skin saving objects, ammo and intelligence and you'll penetrate the Sheik's fortress of doom. But there won't be much time to do your dirty work. So let the invasion begin.
And now zap $10 off LaserScope Voice Command Optical Targeting Headset with in rebate offer inside every Laser Invasion package.
Game Reviews
Last year, Konami released a new accessory for the NES called the Laserscope Optical Command Headset. The Laserscope, which is worn like a telephone operator's headset, can be used with any game that requires Nintendo's Zapper light gun. To aim, you just look through an eyepiece with LED cross hairs. To fire, you just shoot off your mouth - literally. Making any noise into the microphone has the same effect as pulling the trigger on the Zapper.
But until recently, the only advantage of using the Laserscope with light-gun games was that your arm wouldn't get tired. Konami's new Laser Invasion is the first game designed especially for the Laserscope.
The plot of Laser Invasion is routine stuff - you must infiltrate several enemy bases and recover top-secret information to stop a power-mad, oil-rich sheik. Judging from some differences between the story in the manual and the game's actual screens, it appears that Konami took a nearly finished shooter and tried to link it to current events. Almost every assignment requires you to fly to an enemy base in a helicopter, fight your way on foot to the command center, and then enter the mazelike center to gather intelligence or special weapons.
The different modes - aerial combat, ground fighting, and searching through mazes - give Laser Invasion a lot of variety. But there's not much depth to each part. Once you complete the first ground mission, for example, you'll have a pretty good idea of what every other ground mission looks like.
The Laserscope is perfect for the flight sequences, because you can aim your missiles anywhere on the screen, instead of only at targets directly in front of you. When you combine the headset with a joystick (you can also use a regular control pad), you start to really feel like a pilot.
But once you touch down, you might wish you could trade the headset for a trusty Zapper. Because lots of enemies approach from all sides of the screen, you're constantly moving your head to aim. For some reason, the Zapper just feels right when fighting enemy infantry.
Aside from that minor complaint, Laser Invasion is a solid, enjoyable game - with or without the Laserscope.
Konami promised to create games that would take advantage of their new LaserScope's advanced capabilities and this is the first of that series. Don't have a scope yet? No problem, the game works equally as well with the old Zapper. Take to the air and blow away his copters; slice through his ground forces and maneuver through a first-person perspective 3-D maze, protected by killer mercenaries! Constant action for the quick thinkers and fast shooters!
This video game was developed by Konami and published by Ultra Games in 1991 for the NES. The player's mission is to gain access to the Sheik's Sand Storm Command Center, gather the strategic data that will help you to destroy the Sheik's recently deployed TechnoScorch arsenal. But to complete the task, the player needs to have a number of destructive skills: the ability to wage all-out warfare at the controls of the army's newest attack copter - the Laser Invasion Helijet. Also you have to be a very gifted radar-reader, ground-attack artist and a professional in the field of intelligence gathering. Each skill will come into play as you risk your "rutabaga" fighting through the three brutal modes: The Air Combat Mode, the Ground Warfare Mode and the 3-D Confusion Maze Mode. In addition, there is a Helijet Landing Mode.
Starting your assault, you have three to five "rutabages". Every time you get 10,000 points you will be given an extra one.
NES/Famicom/Dendy Screenshots