Livestream: Escape from Hotel Izanami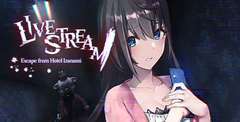 Download Livestream: Escape from Hotel Izanami and experience the thrill of a terrifying escape room adventure! Solve puzzles, avoid danger, and work together with others to survive. Can you uncover the hotel's dark secrets? Play now!
Livestream: Escape from Hotel Izanami is a unique game that captures different elements from many different genres. It's in part visual novel, in part horror, and also has puzzle elements. If you've ever wished you could combine all your favorite game types together into one, this exciting game may be right up your alley.
The game features 3 main characters, Mio, Nana, and Azusa. These girls are online streamers who are visiting a haunted mansion in the hopes of entertaining guests with a spooky time. Things go from a pleasantly spooky time to true horror however, when a pig mascot begins pursuing them. If this sounds familiar, it's exactly the same plot as Creeping Terror, just add panty shots.
Solve puzzles and watch the story unfold
You'll have to use clues to escape the mansion, and then watch as the story unfolds. Most of the time as you walk through the mansion the hallways are silent, but when the pig is pursuing you with his giant knife, he bangs it as he's running. This gives you just a few seconds to decide if you're going to run or not, and where to. If you don't move in time, you're killed and have to start at your last save point. These kills are also the most shockingly brutal part of the game, and act as a jump scare if you weren't already terrified enough by the atmosphere.
Unfortunately, these moments also have a fatal flaw to them. If the pig kills you, you have to go back to your last save point. This means if you get a new item and don't want to solve an earlier puzzle yet again because you died, you have to save a lot. Although this might not seem like much, constantly interacting with the save menu because you're afraid of sudden death can cause some of the tension to break. There needs to be a happy medium, and this isn't quite it.
Short but fabulous visual novel scenes
The developers truly made a special effort in the visual novel sections of the game. Although these sections are very short, the quality of them is top notch. The text shakes to show fear in the characters, and their expressions perfectly capture what they are feeling at that time. Although it doesn't take long for these scenes to play out, they get straight to the point and let you find out right away what is going on in the scene.
Some mildly Ecchi scenes
During the game, there are sections with the characters posed in sexy ways, giving you panty shots and lewd poses. These sections can be as short as you want them to be, but even if you'd like to look a little longer aren't all that long. There's nothing outright hentai about these scenes, but if you'd rather not look at girl panties you can skip these scenes.
7
This is a very well-balanced horror game with a lot going for it. It features beautiful characters, a strong horror element, and enough puzzles and visual novel chapters to keep you entertained. Although some aspects of the game can be tedious, it's overall a solid piece to add to your gaming collection.
Pros:
Very balanced horror game
Exciting visual novel aspects
Beautiful artwork
Cons:
Constant saving can be tedious
Download Livestream: Escape from Hotel Izanami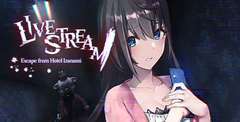 System requirements:
PC compatible
Operating systems: Windows 10/Windows 8/Windows 7/2000/Vista/WinXP
Similar Games
Viewing games 1 to 8