Mario Kart 7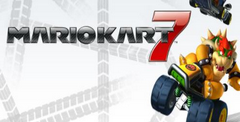 Download Mario Kart 7 and start your engines for the most exhilarating Mario Kart race ever! Customize your kart, unleash power-ups, and compete with friends in high-octane races. Rev up the excitement and play now!
Mario Kart 7 takes a franchise that has staked its claim on the kart racing genre for decades and continues to show off its quality in portable form. This handheld sequel in the beloved racing series adds everything a fan could want, including new tracks, racing mechanics, and power-ups. It's no mystery why Mario Kart 7 is one of the best-selling games of all time, it's absolutely a blast to play. Plus, with a nice selection of both offline and online modes, you can race alone or challenge friends and competitors around the world. While it might lack the flashy graphics or long list of characters from the console games, Mario Kart 7 is easily one of the best portable racing games you could ever play.
Main Game Features
Simple but awesome kart racing
17 popular playable characters
Over 30 tracks to race on
General Gameplay
No matter what version of Mario Kart you're playing, whether it's the classic Super Mario Kart, Mario Kart Wii, or Mario Kart 7, the objective is always the same. Simply cross the finish line before your opponents, while using the power-ups you find on the course to your advantage. The controls are intuitive and straightforward, but there are a handful of tips to help you get moving faster. By drifting around corners, you can build up sparks under your tires, which when released, grants you a speed boost. There are also shortcuts hidden around each course, so take a chance and turn off the route if you're feeling lucky.
Of course, Mario Kart 7 adds plenty of new gameplay elements into the mix, shaking things up more than any other entry in the franchise. For starters, there are 16 new courses, plus 16 remade classics, for a total of 32. While falling in the water was usually bad news in past Mario Kart games, Mario Kart 7 features some courses that are completely underwater, adding a cool new type of racing environment. There are also three new power-ups to try out on your competition, including the Super Leaf, the Lucky Seven item, and more!
Modes of Play
You can enjoy this exciting and family-friendly racing gameplay in a variety of modes, suited for both solo and group play. If you want to enjoy some single-player racing, there are two main modes available, including Grand Prix and Time Trial. There are 8 different cup tournaments to attempt in Grand Prix, ranging from the Mushroom Cup to the Lightning Cup. Each tournament contains four different tracks, and it's your job to win each one. If you want to go for the best time on a certain track, you can do so in Time Trial mode, where you can race against your previous best times.
While you can play the arena-style Balloon Battle and Coin Runners modes solo, these game types are more designed for competitive multiplayer. Mario Kart 7 supports both offline and online multiplayer, letting you link up with other consoles via local or wireless networks. In both of the arena modes, you'll navigate around open but contained maps, trying your best to defeat your opponents by popping their balloons or collecting more coins in each round.
Conclusion
Fun, to-the-point, and always good for a few minutes of solid gaming, Mario Kart 7 is a perfect choice for fans of arcade-style racing titles. It features most of your favorite characters and tracks from previous Mario Kart games while including a substantial amount of new content as well.
9
Although there are a few downsides to this smaller kart-racing package, fans of the franchise will definitely fall in love with this bite-sized classic.
Pros
Addictive kart racing that anyone can play
Colorful graphics and characters
Extraordinary race track design
Cons
Some power-ups feel unfair
Online multiplayer can be laggy
Fewer characters than in other games in the franchise
Download Mario Kart 7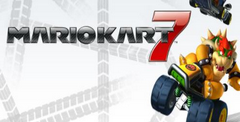 System requirements:
PC compatible
Operating systems: Windows 10/Windows 8/Windows 7/2000/Vista/WinXP
See Also
Viewing games 1 to 8