Microsoft Baseball 2000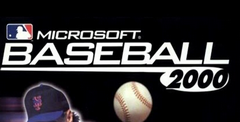 a game by
Microsoft
Platform:

PC

Editor Rating:

8

/

10

, based on

1

review
User Rating:

8.0

/

10

-

1

vote
Rate this game:
Overview
You have the best seat in the house -- right behind home plate about two rows up -- and you can see the whole field from your point of view. The crowd is cheering in your ears and the baseball game in front of you is starting to heat up. It is the top of the 8th inning and the pitcher has pitched a perfect game so far. Two outs and nobody on base; the score has been the same since your leadoff hitter hit a dinger over the left field fence. Other than that, the game has been a pitcher's duel. If he can just make it two more innings we can go home and take a three-day rest. The catcher signals for a fastball and is shrugged off. The man on the mound wants to send in some stinky cheese. Well, so far the catcher has been in control of every pitch the pitcher has thrown, so why not give him a chance to decide? Here it comes, a fat curve ball on the outside corner. As the pitch approaches the plate you notice the batter has turned on it and it is now being driven to the right field wall. The crowd starts to roar and the game is in the hands of the right fielder. He makes a break for the ball and snags it at the wall just before it goes over. Wow, what a play! The no-hitter is still intact. But is it attainable? Maybe we should warm up the bullpen. Nah. Bring it on!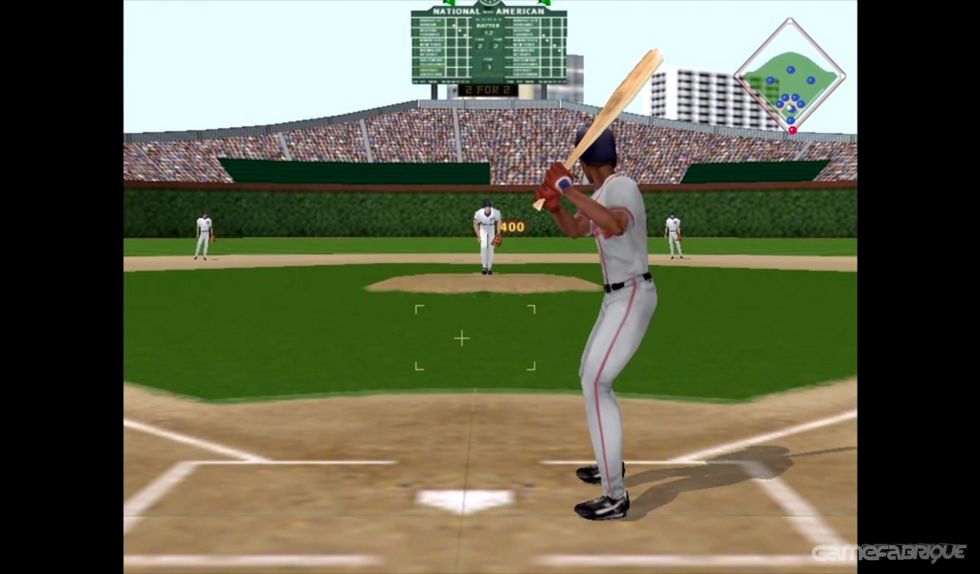 Gameplay, Controls, Interface
I have played a few baseball games in the past that moved so fast you couldn't get to the ball in time to gun anyone down at first. Baseball 2000 has slowed the game down so that the average player will be able to get control of his infield and make a play. It is as if they made the runners lose a step or two. While some of the players are faster than others, I did find that it was almost impossible to steal second base with them. Maybe it was just user error or maybe the runners are just slow, but I know I couldn't get the hang of it. If I could slide with any kind of consistency it would have been nice.
Besides the sliding problem I had, I found the controls for Baseball 2000 to be easy to learn and master. To make things a little simpler for some of us, you also have the option of setting your skill level. While some people will be able to jump right in as a pro, others will want to practice a little first and then move up as they gain more experience. The biggest difference I noticed in skill levels was in how you swing at the ball when you are up to bat. I found the lowest level was far too easy and the hardest level was definitely a major league challenge.
As far as the interface goes, I had no problem getting into a game or season, but it would have been nice to have a button on the startup screen that would automatically load the most current season played. As it stands now, you have to load a season manually which can be a little confusing for someone new to the game.
Graphics
The graphics for Baseball 2000 are the highlight of the game. If you happen to have a 3D accelerator card, you will be pleasantly surprised at the detail of the stadiums and the players. The faces on the players are a tad bit eerie; it looks as if there had been a picture taken of them and then pasted on a body. I would have liked to see a little emotion in their faces when they would strike out or hit a homerun.
Audio
What can I say about the audio? It is a baseball game, so you can imagine that there isn't very much going on as far as music. There are the announcers and the crowd noise, but other than that there isn't anything that really stands out. The crack of the bat and the swing sounded good, I guess.
System Requirements
Pentium 133/50 MMX or higher processor, Windows 95 or Windows 98, 32 MB RAM, 4X or faster CD-ROM drive, Microsoft mouse or compatible pointing device, Super VGA, 16 Bit color monitor, Windows 95-compatible sound board, speakers or headphones required for audio. Baseball 2000 supports force-feedback hardware compatible with Microsoft DirectInput API, as well as AGP technology.
Room For Improvement
The general manager option could use some much-needed improvement. You shouldn't be able to trade a nobody for Ken Griffey, Jr. Let's use a little common sense here. There is also the nagging problem of computer lock-ups and game crashes. I don't mind having a game crash on me every once in a while, but it seemed as if I saw my start-up screen for Windows more than the start-up screen for the game. I tried to narrow the problem down, but the game would crash whenever it wanted to. One time it would die in the 4th inning, the next time it would die in the first inning, and sometimes the computer would take control of both teams and I would have to just sit there and watch them play. Out of the first eight or nine games that I attempted to play, I would say that I finished two of them without a problem.
A multiplayer option would have been nice also. Maybe Microsoft will come out with a patch in the near future.
Bottom Line
Baseball 2000 is a fun game with quite a few bugs that need to be worked out before it becomes a challenge to the other baseball games on the market. If you are on a tight budget and need to play some sort of baseball game on your PC, go ahead and give it a try. Heck, for 20 bucks it can't be beat. Just be forewarned -- most of the Deer Hunter-style games are the same price, so that should be a telltale warning of the kind of quality you are getting yourself into.
Download Microsoft Baseball 2000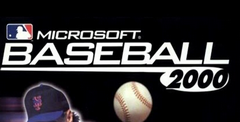 System requirements:
PC compatible
Operating systems: Windows 10/Windows 8/Windows 7/2000/Vista/WinXP