Baseball 2000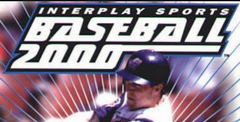 Click the "Install Game" button to initiate the file download and get compact download launcher. Locate the executable file in your local folder and begin the launcher to install your desired game.
After a decent season last year, Baseball 2000 (formerly known as VR Baseball) has made some big strides.. .but so have Triple Play and MLB. To its credit, Baseball 2000 delivers realistic, accessible gameplay and some much-needed new features (including player creation, play-by-play announcing, and fantasy drafts) to back up the game's standard roster of pro players, season play, trades, and so on.
The most obvious upgrade, though, is the graphics, which feature a clean frame rate, motion-captured stances, and signature moves. In the unfinished preview version, however, Baseball 2000 still lacked the glitz power and exhaustive features of MLB and Triple Play, which will likely emerge as the PlayStation leaders unless Interplay pours on the heat in the home stretch.
Download Baseball 2000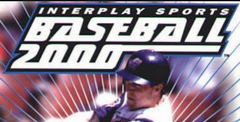 System requirements:
PC compatible
Operating systems: Windows 10/Windows 8/Windows 7/2000/Vista/WinXP
Game Reviews
WHILE A LOCKER room full of improvements make Baseball 2000 a nice step up from VR Baseball '99, Interplay's baseball series is still stuck at third in the PlayStation standings. Solid, realistic gameplay and responsive controls can't make up for this game's bare-bones style.
Long Fly Ball
The latest in what Interplay used to call its VR Baseball series, Baseball 2000 delivers all the basics but none of the bells and whistles of its competition. Beyond the standard features, the rosters include drafts, player creation, and double-switches. The games coolest feature--a pitcher-status screen that pops up to display your pitchers energy, stats, and the location of every pitch thrown--can't be found in either Triple Play 2000 or MLB 2000, and it comes in handy when strategizing.
Sadly, Baseball 2000 lacks features that many gamers will sorely miss. The M.I.A. list includes the ability to move your batters around in the batters box and open or close their batting stance, speed bursts, hard throws, guessing the pitch location for a batting boost, and more. Even worse, some bugs pop up now and then; while they don't cripple the game, they sure are annoying.
Despite these flaws, Baseball 2000s gameplay is realistic and challenging. yet easy to play--and that might be enough for some. The A.I. plays you tough with smart moves like sticking you with, intentional walks at just the right moments. The results a tight, tough, sim-like experience that's far from the action-packed diamonds of Triple Play 2000.
Nice Glove
When it comes to controls, Baseball 2000s fielding, pitching, and base-running are all smooth, responsive, and fun. Batting, however, feels pretty basic without the ability to move your batter around in the box, and some of those aforementioned bells and whistles would've added a lot.
Visually, the graphics sport well-detailed player models, sharp stadiums, and cool animations, like the shortstop cranking powerful throws to the first baseman who's leaning out to make the catch. However, the players' faces are bland--everyone tends to look the same---and some of the animations wig out in weird ways, like when a fielder rotates in place without moving his feet
As for sounds, Baseball 2000 gives you one-man commentary.. .but when you're used to a two-man booth, it sounds quiet Plus, die announcer blows it now and then (but diat happens in all the baseball tides), while the crowd sounds and other effects are basic but effective.
Rental Time
Baseball 2000's sim-style action makes for the kind of ballpark that could appeal to hardcore baseball fans looking for a realistic game, especially if Triple Play 2000's glamorous homerfcst turned you off and MLB 2000 didn't strike your fancy. However, this diamond's definitely still in the rough, and many gamers won't be patient enough to tolerate its shortcomings. Rent it before you shell out for a full-price admission.
ProTips:
L1 is used to increase your base runner's lead off the base as well as to start a steal-make sure you're done leading off the bag before the pitcher throws, or you may accidentally steal when you don't want to.
When your pitcher starts to tire (his energy meter will have only one or two green bars left on the pitcher-status screen), get a reliever going in the bullpen right away.
If your pitcher has a good pitch or location working, don't hammer batters with it over and over again. Mix in some balls that will get the batter looking in a different spot, then serve up your hot pitch.
Graphics
Slick animations and good player models make this ballpark easy on the eyes, but recognizable player faces would've been mustard on the hot dog.
Sound
The one-man commentary sounds sparse in comparison to the two-man booths of competing games, while the in-game sound effects are clean but basic.
Control
Pitching, fielding, and base-running handle naturally and responsively, but batting comes up short with an experience that's too simplistic.
Fun Factor
Baseball 2000 stays two'games back, trailing Triple Play and MLB The sim-like gameplays challenging.and fun, but.it can!t overcome the game's shortcomings and vanilla style.
Last year, VR Baseball '99 arrived late, but it turned out to be an extremely solid baseball sim, held back only by a few amateurish problems and some outdated graphics. Recently, we received an early version of newly renamed Interplay Sports' sequel to VR '99. Baseball 2000. Here's what we think so far.
Baseball 2000 sports a host of improvements over its predecessor, the most notable of which are the Create-A-Player feature, play-by-play commentary by Minor League announcer Sean McCall, a Tournament Mode with fantasy draft, and analog control with Dual Shock support. The graphics are very noticeably improved as well, though at this point in time (80%), the frame-rate in the field is a bit choppy. Hopefully this will be cleaned up for the final release.
Gameplay-wise, Baseball 2000 is just as well-rounded as it was last year, with smart Al, realistic play and a host of stats and options. The attention to detail as far as realism is concerned is obvious--"true" baseball fans will definitely appreciate it. The only potential problem lies in the frame-rate. If the developers can iron out that small but important problem. Baseball 2000 will be well worth checking out when it hits stores in March.
MANUFACTURER - Interplay Sports
THEME - Sport
NUMBER OF PLAYERS - 1 or 2
Similar Games
Viewing games 1 to 18