VR Baseball '97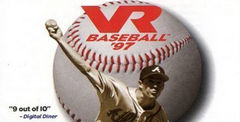 Click the "Install Game" button to initiate the free file download and get compact download launcher. Locate the executable file in your local folder and begin the launcher to install your desired game.
a game by
VR Sports
Genre:
Sports
Platforms:

Playstation,

PSX

Editor Rating:

8

/

10

, based on

2

reviews
User Rating:

9.0

/

10

-

2

votes
Rate this game:
See also:
Baseball Video Games, Download Sport Games
Leading off the baseball season is VR Baseball '97, a game long on stats but rough around the graphical edges. The gameplay's pretty solid, but with offerings such as Triple Play '98 on the way, fans might want to do a preseason scouting report before they make their final decision.
Opening Day
VR Baseball steps to the plate with Exhibition, Season, and Playoff modes; three skill levels; batting practice; and a Home Run Derby set up like the one used in the All-Star game. VRB keeps the rosters stacked with more than 700 real players and up-to-date trades for the new season.
When playing through your own season, VRB keeps accurate stats for each team in 20 categories. VRB also generates All-Star votes based on player performance, which are used to decide who plays in your mid-season classic. Standard options such as create-a-player and instant replay were unfortunately left out.
Swing, Batter, Swing!
VRB features a nice polygonal look. The frame rate, however, is a bit slow, often stilting the action when you're at bat. which can throw off your timing. When you're on the held, redraw problems cause the action to be choppy, creating an uneven flow to most plays.
Those who think commentary during baseball games becomes stagnant after a while will appreciate VRB's minimalist approach. Other nuances, however, such as a stadium vendor and random crowd comments in the background, make it seem like you're actually at the game.
Controlling your players in the field is a breeze, while the pitcher interface makes it easy to throw the heat, curves, and sliders. Even though you can't move your batter around in the box, you can still crush the ball like Belle. Simple base-path control makes it easier to send the correct man to the correct base with less confusion than in other games.
Humm Billy
While VR Baseball '97 is a good title, keep in mind that it's the first of the new season. With more baseball action due out in the coming months, take this chance to rent it first to get your initial baseball fix. You might find that the others are worth waiting for.
ProTips:
Vary your pitches to keep your opponent out of synch.
Take at least one crack at the long ball with your power hitter.
Hunting is a good way to get your lead-off hitter on base.
On a ball hit deep, challenge the outfielder's arm and go for home.
Get in good scoring position by stealing second.
Download VR Baseball '97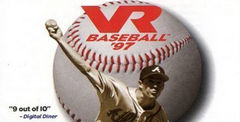 System requirements:
PC compatible
Operating systems: Windows 10/Windows 8/Windows 7/2000/Vista/WinXP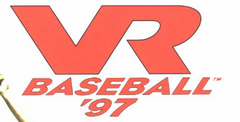 System requirements:
PC compatible
Operating systems: Windows 10/Windows 8/Windows 7/2000/Vista/WinXP
Game Reviews
Overview
Spring is finally upon us. Time again to break out the lawnmower, bug spray and, most importantly, the baseball season. I love the new hopes that this time of year brings and receiving the new crop of video baseball title contenders is no exception. It has been two weeks since I received the first baseball title to step up to the plate, VR Baseball, and I am still smiling about the possibilities.
VR Baseball has quite an impressive background that spans back to last year. This game was initially slated to be released during the baseball season last year but the company decided that the game was not good enough in their eyes to bring to the market. That is quite a novel concept in today's market. Most companies are willing to throw out their crap and hope that they sell enough copies to make a buck or two before the word gets out on how bad the game is. Not VR Sports. This is something that has little bearing on VR Baseball 97 but I think VR Sports deserves a pat on the back.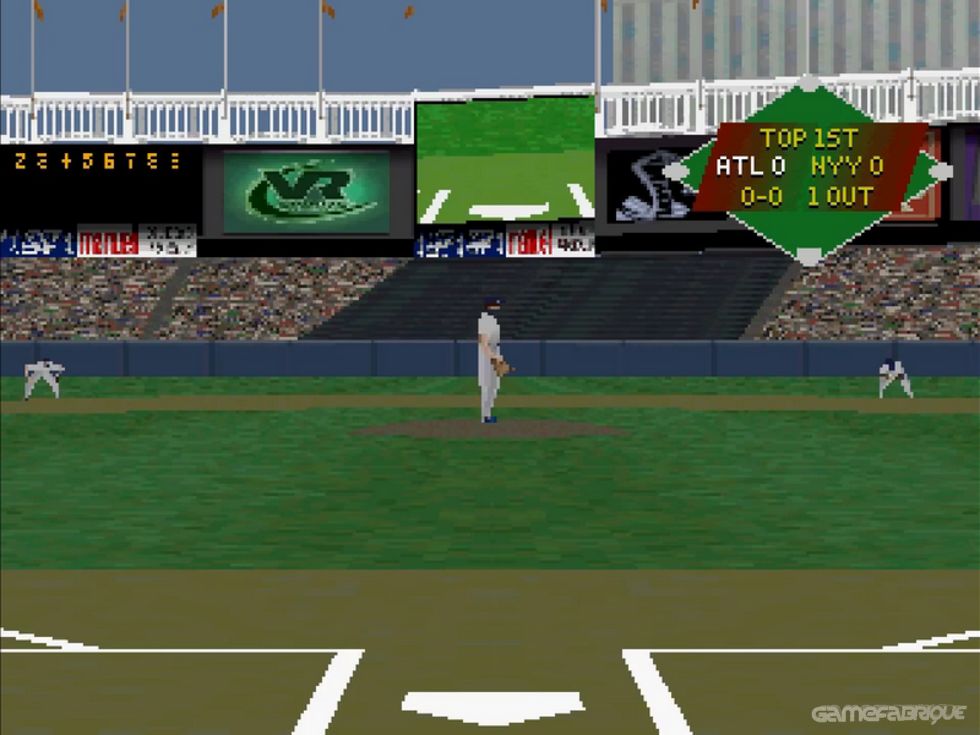 Alright, enough of that. Let's get the lead-off hitter to the plate and see what type of line-up VR Baseball 97 will throw at you. So, without further introductions, batting lead off for VR Baseball is state of the art physics models that create true ball actions and flight. Hitting second is all 28 major league parks modeled in 3D. Batting third, stepping up to the plate is season play, complete with computer generated all-star voting based on the actual players' stats for your season. Batting clean-up is simple batting and pitching controls. Hitting fifth is VR Sports trademarked Virtual FieldVision camera work. Sixth in the VR Baseball lineup is real time stat tracking for season play. Batting seventh is updated uniforms styles, logos, and even the new stadiums for 1997. Filling in the number eight slot is easy fielding controls and rounding out the line-up in the number nine spot is real crowd noise including hecklers, vendors and fans. Let's play ball!
Gameplay
When I first popped VR Baseball 97 into the old Playstation, I was ready to crown this the winner of the baseball wars. I went straight to the Home Run Derby. I picked Ken Griffey and had him hit in Coors field. Having never played this game before, it took me three pitches to hit one out. This could mean one of two things. Either it is too easy to hit home runs or VR Sports did a good job of making the batting simple enough to allow even beginners the ability to pick up a controller and start playing. The answer? A little bit of both. On the positive side, VR Baseball is a breeze to play. Batting is very simple to get the hang of and pitching turns out to be equally as easy. A cool feature in the game is the quick control reminder button which, when pressed, displays a handy reference list of what each button is when hitting and pitching. Now for the bad. I played a couple of exhibition games before starting a season. I thought I might as well get my butt kicked in the early part of the season while learning the game. Well, in my first game of the season and the third game I have ever played in my life, I won 12 to 2. Griffey hit 3 home runs. My point is, it is too easy to dominate. Now, I will say, I was playing on the medium difficulty setting. As soon as I cranked up to the hardest skill level, it did get more competitive but Griffey is averaging about 2 homers a game.
Before I sat down and started to write this review, I went through my usual preparation in my head. I decided that I would try something a little different so here goes. I am going to lump together every complaint I have about the game in one paragraph. First, the game is slow. I don't mean slow from a loading sense but slow in a gameplay sense. Every batter has to walk out from the dug-out, kick the dirt around the plate then will hit. Between every pitch, he has to walk around and kick the dirt. This was neat the first time but after the hundredth time or so, it was just annoyingly slowing the game down. Then there is the pitcher. After every pitch, the pitcher has to slowly walk back to the mound and kick the dirt around. All of these little things start to add up. If they were sped up a little, the game times would be cut in half. My second complaint with the game has to do with the computer AI. Sometimes it is exceptional and other times, well, let's just say it's not too bright. Case in point, the computer hit a double off the wall. Before the runner even got to second, I threw the ball to third. So my third baseman is standing on third with the ball and the runner rounds second and heads to third. Does he notice that the third baseman is standing there with the ball? Hell no. He just keeps running and, of course, is out. I like to win but I also like to win because I am good not because the AI is bad. The final complaint I have is I have found a little tweak in the game. I would not mention this if it only happened once or even twice but I have had it happen four times so I feel that it is worth mentioning. If you hit a ball off of a wall in right field against the computer and the fielder has backed all the way up to the wall to try and catch it, the ball will bounce off of the wall and away from the fielder. Do you think he runs and gets it? Hell no. He just stands there while your guy rounds the bases. If you are lucky, the center fielder will finally come over and pick up the ball. If not, the game wil l have to be reset because the ball just sits there. Let me end this paragraph of complaints by saying that these are fairly minor issues. They are nothing terrible but just a bit annoying.
Let's talk controls for a minute. VR Baseball scores high marks in this category. If you have never played a video baseball game in your life, it will take you about 3 innings before you have completely mastered the hitting and pitching. About 3 more innings and you will have fielding down. By the time the game is over, you will be a veteran. This is a nice change from some of last year's difficult to learn games.
Now that we have the bad out of the way, let's talk about the good. Like I previously mentioned, the controls in VR Baseball are easy as any baseball game on the market. Pick up the controller and start playing. Another good thing is the fact that the game uses the 1997 rosters. I mean that there are players on teams that were traded at the end of spring training. This may seem trivial but to me, it is big. Last year, there were games released almost at the end of the 1996 season that were still using rosters from 1995. This shows me that VR Sports really put forth an effort to make this a very up to date and current game. I would almost bet that they were making player changes up until the night before the disk was pressed. Another thing that strengthens this point is the new stadiums. This is the first year for Atlanta's new stadium and VR Baseball has it. Anaheim and Oakland have both renovated their stadiums and they are accurately represented in VR Baseball. The next thing that is really cool is each team has up to four different uniform styles. The Angels have changed uniforms and logos for 1997, and the designers did not take any shortcuts by using last year's logos. The final thing is the gameplay. It is very smooth and just plain fun. If it were not hampered by the slowing aspects, it would be excellent.
Graphics
The graphics in VR Baseball are a mixed bag. The stadiums are all accurate and look great. The players, on the other hand, all look the same. That's right, Cecil Fielder and Mo Vaughn appear to have lost about 50 pounds, and Kenny Lofton appears to have bulked up. The best part of the graphics is the roving camera angles. It makes the fielding a breeze. There is no sudden changes from angle to angle as the camera follows the ball. There is also a camera angle that lets you see through the eyes of the ball in the home run derby. This is difficult to hit, but it is kind of a neat option.
Bottom Line
For the first of what is expected to be many baseball games to hit the market this year, VR Baseball comes up with a double. There are too many little annoyances to make it to third, but the gameplay is solid enough to keep it from being an out. Is this the best baseball game on the market? No, I still think there was at least one stronger game last year. Is this the best baseball game available this year? I have to say yes, because at the time this was written, it is the only baseball game available for the new season. All in all, VR Sports did a good job on detail-related issues, but I just wish I could play a game in less than an hour. I really want to play a whole season, but I just don't know if I will have that much time.
Similar Games
Viewing games 1 to 10