Monty Python's The Meaning of Life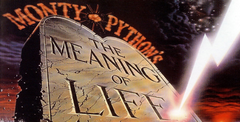 Click the "Install Game" button to initiate the file download and get compact download launcher. Locate the executable file in your local folder and begin the launcher to install your desired game.
a game by
Acclaim, and 7th Level
Platform:
PC
Editor Rating:

6

/

10

, based on

1

review
User Rating:

7.0

/

10

-

2

votes
Rate this game:
See also:
Movie-based Games
Overview
What is "The Meaning of Life?" It is a very twisted version of Myst. This game has the puzzle-solving and exploring attributes of Myst with all the twisted, bizarre, downright silliness of Monty Python. For all Python fans, this game is a must. You are required to find your own answers to a series of questions to progress through the game. The instructions state that since life does not come with instructions on how to live, they are not going to give you any instructions on how to play the game. In this two-CD game, the first CD follows the movie version's phases of life, including Birth, Growth & Learning, Fighting Each Other, Middle Age, Live Organ Transplants, Autumn Years, and Death. If you are a fan of the movie, these phases seem perfectly natural. (If you need a hint, rent the movie).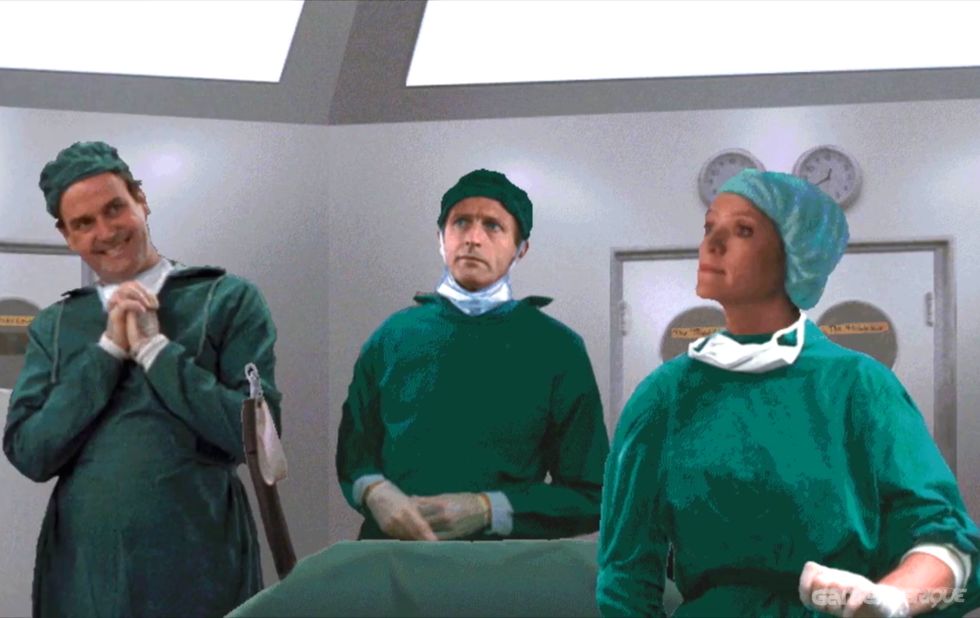 The second CD presents new phases that are not part of the movie, but do fit in with the overall theme of the game: Material, Spiritual, and Dental. These are logical steps in the Pythonesque meaning of life. These new phases are enhanced by the use of bits of Monty Python sketches from the Flying Circus and other movies. Here is where it becomes more difficult to progress through the game, because the storyline departs from the movie. I will leave the rest to your imagination (hey, if the game instructions won't give you any instructions, why should I?). Discovery is what makes this game fun, so don't let this discourage you.
Gameplay, Controls, Interface
This is an easy game to play. It is all mouse-oriented. Your pointer changes according to where it is on the screen. Your hand pointer changes highlights and shape, indicating different choices and options. It will take a maximum of five minutes to get used to how to navigate. Moving around is easy; the puzzles are the challenge.
Graphics
There are two looks to the game. The first is the real-time video that is integrated into the puzzles. The second part makes you feel that you are watching the Flying Circus. The cut-and-paste animation is right on target for capturing the feeling of Monty Python.
Audio
This game does not work without sound. If you do not have good sound support, the charm of this game will be lost on you. Think of watching Monty Python on TV with the sound turned off; you would miss most of the jokes.
System Requirements
This is taken verbatim from the documentation. It was so funny I had to share it. "IBM PC or compatible, Pentium 100 or greater, Windows 95 or Windows NT 4.0. 16 MB of RAM, 256-color display capable of running at 800 X 600. Mouse: Rat, if Mouse is unavailable; Lemming, if Rat has escaped; Chinchilla, if Lemming has jumped off a cliff; Gerbil, if Chinchilla has been caught by surprise in Mrs. Hamster's cage and shot by a jealous Mr. Hamster; Guinea Pig, if Gerbil innocently drops in on the Hamsters to console them and takes an unexpected liking to Mr. Hamster, who, on the rebound from his wife's vile act of adultery, returns Gerbil's affections, and the two run off to Costa Rica to start their lives anew, leaving Mrs. Hamster to contemplate the wages of her sin as she weeps over the pitiful body of Chinchilla, the only rodent she ever really loved. 4X speed CD-ROM drive, MPC-compatible sound card, This thing here, which we list to confuse you."
Documentation
Reading the documentation is a must. Not to play the game, but because it is funny and you will laugh all the way through it. This is the way all documentation should be written. It is fun but still covers the essentials.
Parental Warning
This game is accurately rated "Mature 17+." It is not for kids. At the start of the game, it promises to offend every kind of "-ism" there is at some point, and does a good job of covering this.
Bottom Line
If you are offended easily by off-color British humor, this is not the game for you. However, if you like the general silliness of Monty Python, this is the game for you. As promised, I was offended some of the time but found a lot of great humor throughout the game. Overall, I enjoyed playing this game. You also get the feeling that you never quite find everything in the game, which will prompt you to keep looking. Plowing through this game will bring back old memories and add to your desire to see more Monty Python movies and Flying Circus episodes. If you think that type of thing is too silly, walk away. This game loses points for over-the-top rudeness, which easily makes it worthy of its "Mature 17+" rating, and not keeping closer to the movie version throughout the game, especially on the second CD.
Download Monty Python's The Meaning of Life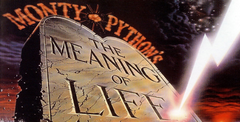 System requirements:
PC compatible
Operating systems: Windows 10/Windows 8/Windows 7/2000/Vista/WinXP