NHL Face Off 98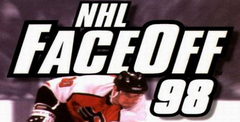 Click the "Install Game" button to initiate the file download and get compact download launcher. Locate the executable file in your local folder and begin the launcher to install your desired game.
a game by
Sony Imagesoft
Genre:
Sports
Platform:

Playstation

Editor Rating:

7.2

/

10

, based on

3

reviews,

4

reviews are shown
User Rating:

9.0

/

10

-

2

votes
Rate this game:
See also:
NHL Games, Sport Games
Sony's sports division is definitely on a big roll right now. It's been proven that they can do the 32-Bit polygonal format quite nicely, and they haven't hesitated to use it in all their new sports games, the latest of which is NHL Face Off 98.
Building on last year's strong points--mainly responsive gameplay, icon passing and applied team strategy-this year the emphasis was obviously put on the new polygonal look. Much the same as GameDay 98, the new Face Off makes the transformation to polygonal players. Keeping the competent gameplay, Al and frame rate while incorporating the new 3-D engine and polygonal graphics isn't easy, but at this point it looks (and plays) like they've done a very thorough job.
We expect all 26 official logos, stadiums, teams and players from the '97 season to be used. Statistical tracking is as extensive as ever with several categories for teams, players and users, including points, assists, penalty minutes, wins, shutouts, etc.
Cool new additions include 3-D fighting with uppercuts, plus pushing and pulling (no ear biting, though). Actual ingame moves such as hip checks, backward skating, drop passes and poke checks, to name a few, have benefitted greatly from the polygonal treatment. A lot of new sound effects have been added in many areas of the game, from fighting to the rippin' organ tunes.
It's premature to say that NHL Face Off 98 is the new king of the hockey sims, but at this point it looks good enough to shut down the current competition.
MANUFACTURER - Sony Interactive
THEME - Sports
NUMBER OF PLAYERS - 1-8
Download NHL Face Off 98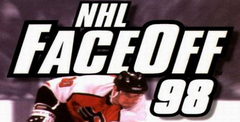 System requirements:
PC compatible
Operating systems: Windows 10/Windows 8/Windows 7/2000/Vista/WinXP
Game Reviews
People say:
7.5
Without a doubt. Sony's NHL Face Off 98 is the fastest 32-Bit hockey game thus far. This 3-D game contains all of the speed you'd expect from a NHL game--and more. The polygonal players are very lifelike, comprised of many motion-captured moves. They are also detailed, including player numbers and names on their jerseys. All of this is accomplished while keeping the control tight and responsive (this has been a issue with many recent hockey games.) Obviously, Sony has an awesome engine at work here. Face Off has pretty good computer intelligence, but unfortunately a few obvious holes blemish it. The biggest problem lies with the goalies, who let too many pucks into the net. Just be prepared for a few cheap and amazing goals (this was a complaint with last year's Face Off, too.) Despite its problems, the gameplay is still fun and feels like a furious hockey match. The biggest shortcoming of Face Off 98. however, is its subpar atmosphere. Any hockey fan will tell you that this part of a game is very important, and here, Face Off fails. The PR announcer Is annoying, the crowd is very lukewarm and the on-ice sounds are boringly average. There just Isn't the feel of excitement on the ice that there should be. Otherwise. NHL Face Off 98 is a great hockey game, but only good enough to rank second best to EA's NHL 98.
6.5
I had high hopes for NHL Face Off 98, but again like last year, they should've just named the game "NHL Al Off" because that's what it feels like. It's far too easy to win, even on the hardest setting, and the game just doesn't seem anywhere near as realistic or exciting as EA's far, far superior NHL 98. I'd like to be a little more nice to the game because it's not bad by any means, but I'm getting tired of the poor Al in many of today's hockey games.
7.0
Wow, talk about cheap Al. Now I don't pretend to be the sports game expert of the universe, but I've played my fair share of hockey games. Playing against the CPU skaters in NHL Face Off was an exercise in frustration. Sure the graphics are great and skating action is fast and all, but the computer opponent jumped on me with both blades, scoring goals at will and knocking me to the ice at lightning speed. I'd recommend NHL 98 instead.
6.5
NHL Face Off 98's action is fast and furious. Just about every sports game gives you loads of options, but I always use the games default settings for the spirit of competition. Since hockey arenas are relatively small, the speed of Face Offs action is a little too fast for their size. Between that, and the camera that views the playfield in a semi-overhead viewpoint, I continually had trouble controlling any kind of offense. What the puck!
The Achilles' heel of Face Off '97 was its mediocre graphics, but in Face Off '98, Sony's at the top of its game, sliding one through the five-hole with outstanding player graphics and slick arenas (the boards visibly shake when players arc checked into them!). Still, gameplay's always primary, and the '98 season looks like another tight race with EA Sports' NHL '98 (see this issue's "Sports Pages" for the review). While this unfinished version largely played like last year's game with a facelift, Sony plans to add key elements like team-specific A.I. in the final phase of development.
The game still blazes by at a blindingly fast pace, and the analog controller handles sweetly. On the features side, Face Off's strategy stacks up poorly against NHL '98, but the game will offer cool touches like calling for passes and head-butts in lights. If Sony pulls it all together with Face Off '98, hockey fans will have a lot to celebrate.
NHL Faceoff suffers from a few minor shortcomings, but Sony sure concentrated on the right stuff for its stellar hockey debut: fast, kick-butt gameplay.
Siren Time
The puck drops into this Faceoff with almost all the right features. Gamers hit the ice in Exhibition, Season, and Playoff modes from four extremely useful views. The action goes down with all the '95-96 NHL teams and players, and you can create and trade players and free agents.
Hockey pros might miss niceties like all-star teams and a shootout mode, but they'll love every second of the fierce, remarkably speedy action. The brick-wall goalies sneer at cheesy shots, and the CPU teams play ferocious D and smart, whirlwind offense. Faceoff s tough, addictive gameplay demands well-planned, well-executed strategies.
Controlwise, your team fires off checks, slap shots, wrist shots, and one-timers with pinpoint precision. Passing and skating handle like a dream, too.
But the lack of fights, holds, drop passes, fake shots, and other pro moves will leave you feeling empty-handed at times. Switching to the key defenseman also occasionally takes too long, which can hang your goalie out to dry.
The Crowd Goes Wild
The strong graphics depict a solid 3D arena populated with smoothly moving players. Little details, like goalies who neatly snap up the puck and defensemen who slyly hook their opponents, make for startling realism. The sprites are a bit small, though, and become too pixelated in the close-up views.
Outstanding sounds keep the adrenaline pumping. Much like FIFA Soccer, the crowd hoots and hollers along with the action during intense moments, but grows silent and boos when you blow it. The other sounds are dead-on. like the energetic organ music that echoes through the rink.
Go, Baby, Go!
When the whistle blows, Faceoff makes Sega's pathetic attempt at 32-bit Saturn hockey look like high-school puck slinging. Next-gen hockey fans should stick with Faceoff-you'll be too busy blasting the puck and checking opponents to notice its negligible flaws.
ProTips:
Don't hog the puck. Only tight, fast passing consistently moves you up the ice.
Change camera angles on the fly to keep the best view of the net.
Passing to a man close to the net for a one-timer is your best chance to score.
If you're losing in the last minutes of the game, pull your goalie-an extra man on the ice can make a game-winning difference.
Similar Games
Viewing games 1 to 7