One Piece Pirate Warriors 4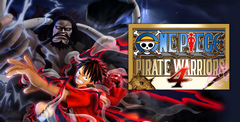 Click the "Install Game" button to initiate the free file download and get compact download launcher. Locate the executable file in your local folder and begin the launcher to install your desired game.
One Piece: Pirates Warrior 4 is the direct sequel to One Piece: Pirates Warrior 3. It is the fourth game in the One Piece: Pirates Warrior series.
Story
The game's story follows the anime story with some familiar arcs being retold. The missions recreate popular moments from the anime and manga. But a lot of popular arcs were not featured. Also, the story arcs featured in the game were shorter than they should be. Some details were left out during the retelling.
The game does a good job of retelling arcs already featured in previous games for newcomers. But this will bore old-timers who will be made to replay scenes that they have already played in previous One Piece: Pirates Warrior games. The campaign mode of the game can be finished in less than 14 hours. This felt disappointing and short, given that the One Piece anime and manga has so much story and content to be explored. The game should have been longer to cover the story adequately.
Gameplay
The game features over 40 characters with more to be added in the form of DLCs. A few characters that were available in the previous game aren't available in this one. Each character has their unique moves. Characters can undergo transformations that will give them new moves. Character moves largely remain the same with the major addition being air combo. You will control several characters over the course of the game, with game missions featuring specific characters. Some characters will remain locked till you finish the campaign.
You beat up group of enemies and after that you beat up the leader of the territory to take charge of the territory. The map is large and there are a lot of territories to conquer. Islands from the anime are well replicated and look just like how they were depicted in the anime. The missions are of a wider variety than previous games in the series.
The enemy A.I is quite poor. Enemies will target you awkwardly. Friendly A.I is also poor with your counterparts doing a poor job of helping you with the battles. You can win battles by merely spamming the same button over and over again.
But overall, the game is fun to play. You will have fun experimenting with all the game characters and running through the game using them. The voice animation is good as the characters are voiced by the original Japanese actors.
Multiplayer
One Piece: Pirates Warrior 4 has multiplayer modes. You can play the story with a friend via split-screen multiplayer. There is another mode that allows you to play some missions with three other players online.
8
One Piece: Pirates Warrior 4 does a good job of emulating the popular anime series. The game leaves room for improvement, but it is fun to play. Whether you are a One Piece fan or someone new to the series, you will enjoy One Piece: Pirates Warrior 4.
Pros
Great reenactment of the One Piece anime series
Enjoyable gameplay
Lots of characters
Cons
Gameplay could get repetitive
The graphics could be better
Download One Piece Pirate Warriors 4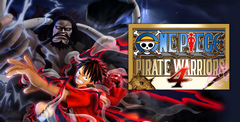 System requirements:
PC compatible
Operating systems: Windows 10/Windows 8/Windows 7/2000/Vista/WinXP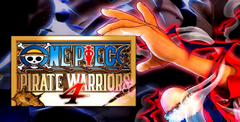 System requirements:
PC compatible
Operating systems: Windows 10/Windows 8/Windows 7/2000/Vista/WinXP
Game Reviews
One Piece Pirate Warriors 4 continues the tradition of bringing the Musou genre to basically any popular Japanese franchise it can. Pirate Warriors 4 basically brings the format to its best yet, and offers fans of One Piece a truly spectacular experience that will certainly reward those who have digested more than 900 episodes of the show, and years of the ongoing manga.
Pirate Brawls
Players can expect a lot of action and slapstick violence in Pirate Warriors 4. Players take control of One Piece's many characters (both hero and villain) as they take down thousands of enemy goons and even special bosses. Just like the anime it's based on, the game revels in its bombastic presentation. Never has the model that Dynasty Warriors created looked this good. This is true even if the game's graphics aren't particularly stunning, as the game's cell shaded and cartoony presentation do much of the heavy lifting.
More Musou
Fans of previously released Musou games, such as any of the Dynasty Warriors entries or its many spin offs like Hyrule Warriors, will know exactly what to expect from Pirate Warriors 4. It's pretty much your standard fair when it comes to a Musou game, but unfortunately that means that the game suffers from the same sort of drawbacks that have plagued the series for many years.
Players can expect visual splendour as they make their way through thousands of enemy forces, pulling off impressive combos and animations as they do so. This is Pirate Warriors 4's bread and butter, and there is a simple pleasure in just mashing buttons and seeing the chaos on screen ensue. The gameplay never feels unsatisfying as players will mow down endless enemies like a pirate superman caught in a bad storm without any grog.
And while the core DNA of the series is unchanged, there are a few new mechanics and features to shake things up a bit. One of the more significant changes is the ability for characters to use air combos. These aerial combos are one of the game's most fun combat sequences to watch, as characters send dozens upon dozens of enemies up into the air simultaneously. Aerial combat also gives characters new movesets, which suits some characters more than others.
One Piece Perfection
Gameplay aside, One Piece Pirate Warriors 4 is one of the best One Piece experiences available to gamers right now. It's hardly a good introduction to those unfamiliar with the series (there are spoilers galore at practically every turn), but for die hard fans who are always ready to enjoy more One Piece content, it definitely provides something special.
There are tons of characters to play as, who all have their own unique feel and ungodly strength on the battlefield. Characters also have their own unique skill trees, which helps to give the game a sense of progression, even when taking down relative armies single handedly.
6
The drawback to all of this is that lots of Pirate Warriors 4 is simply reused from prior games. Many of the game's cutscenes, animations and character models originate from previous entries into the series. This certainly won't annoy those who haven't played the other Pirate Warriors games, but fans many be disappointed at the lack of truly new content.
PROS:
Covers over 900+ episodes of the One Piece anime show
Original Japanese voice cast return to their respective roles
Incredibly fast gameplay with the ability to execute huge combos
CONS:
Not a great entry to the series for newcomers
Suffers from the same drawbacks as other games in the Musou genre
Reuses lots of the same assets as previous Pirate Warriors games
Playstation 4 Screenshots
See Also
Viewing games 1 to 9