Pro Pinball: Timeshock!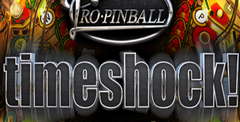 Click the "Install Game" button to initiate the file download and get compact download launcher. Locate the executable file in your local folder and begin the launcher to install your desired game.
a game by
Empire Software, and Cunning Developments
Genre:
Puzzles & Words
Platforms:
PC,

Playstation

Editor Rating:

5

/

10

, based on

2

reviews,

4

reviews are shown
User Rating:

9.0

/

10

-

2

votes
Rate this game:
See also:
Pinball Games
There Aren't That Many Games knocking about that inspire saddoes (Er, better make that aficionados - Ed.) the world over to get all excited and start their own unofficial Websites, brimming over with hints, tips, cheaty codes and suchlike. But Pro Pinball: The Web was one of them. Now we have the next table in the series. And it's better. In fact, it's better in every which way. But before we launch into why...
What's new, pussyface? (Whoa-oh-oa-oa-on)
Basically, the whole game has a 'plot' which is based around a revolving time crystal, set in the top of the table, which spins around and takes you to different time zones, each of which has different objectives and different sub-game sequences. Just by sending balls up ramps and into holes at the right time, you'll find yourself climbing Mount Rushmore, winning a chariot race, or even digging the Channel Tunnel - although apparently the opportunity to later set fire to the opentopped goods trains travelling through the tunnel has been overlooked.
New features include a Challenge mode, in which whatever wonderful multi-ball bonuses you've spent hours setting up for yourself are passed on to the next player if you don't capitalise on them. (Now that will certainly help spread harmony among your chums.) There's a Novice mode that lets the complete morons among us learn more about the table. Like a prominent Nazi leader, you only get one ball, but you're allowed a minimum of two minutes on the table no matter how many times you cock up. And there's a Tournament mode for ninjas, with no random awards or bonus balls.
Anoraks can access a pretend 'operator's menu', which lets you customise game elements and check fascinating facts, such as the average game time. You can even 'test' the lights. Best of all, though, is the return of "The Voice" — voted World's Dirtiest Computer Game Voice of the Year. The way she says: "Don't move! ... Now, lock those balls..." is obviously intentional. But we're suckers for it.
Shine those balls
As I said, Pro Pinball: Timeshock! is better in every way. It looks better - the table can be viewed at up to 1600x1200 resolution in Truecolour if you have the hardware, at which resolution you can practically see your face in the balls. It plays better - the game is more structured, and you have a much better idea of what you're supposed to be doing at any given point. The mechanics are better - you can even trap a ball behind a flipper. It even sounds better, thanks to Dolby Surround Sound and sampled effects taken from real pinball tables. Unfortunately though, Bruce Foxton and Jake Burns are once again responsible for the music. But you can't have everything.
Download Pro Pinball: Timeshock!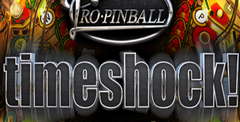 System requirements:
PC compatible
Operating systems: Windows 10/Windows 8/Windows 7/2000/Vista/WinXP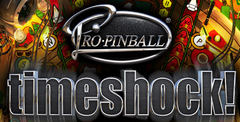 System requirements:
PC compatible
Operating systems: Windows 10/Windows 8/Windows 7/2000/Vista/WinXP
Game Reviews
To Say That The Chaps At Edo Are into pinball is a bit like saying the Pope's a bit religious. In fact, they're totally obsessed with it. Their development hq situated just outside Oxford is crammed with pinball machines, bits of pinball machines and more bits of pinball machines that they've taken apart and measured, textured and probably cracked in their teeth to check the authenticity. Basically, they're all pinball mad.
Pro Pinball - The Web (we'll just refer to it as CThe Web' from now on, shall we?) was clearly the best pinball game released for the pc ever, and it was quickly adopted by pinball addicts all over the globe as the definitive pinball sim. This was largely due to two factors: a) it was very, very playable and b) the developers, all being pinball mad (as we've already mentioned) clearly knew better than everyone else what it is that makes a good table. Some shallow types criticised it for being too samey because there was only one table, but real pinball fans thought this was irrelevant. Accurate ball physics, realistic flipper movement and a classic table design counted for a lot more than five or six tables which were essentially the same, and that was why The Web cleaned up.
Not being anything of a wizard on the flippers myself (suffice to say my scores on The Web were more akin to my yearly income than Paul McCartney's) I just thought it was a nice pinball game. Lead programmer Ade Barritt agrees, but admits that compared to Timeshock! the original game was very basic. I'm actually a bit embarrassed by it now. When you play Timeshock! and then go back to The Web it just feels really primitive. That's why we've basically rewritten everything: the ball physics, the whole flipper thing. That's something we're really proud of now. Previously, the flippers would affect the ball; now the ball actually affects the flippers as well. As far as we can tell this is unique. It's all a lot more subtle now, which means you can do all sorts of different tricks and shots. The balls now spin and actually roll -they can even bounce and hit the glass. It's a lot more realistic.
They're nutters!
As well as overhauling the mechanics of the game, it's also changed a lot graphically. The ridiculously hi-res mode options are still intact, and consequently the table is incredibly detailed. It took over a year to draw, and when Ade tells me that the bulbs have filaments and the microswitches have diodes and wires, I'm not in the least bit surprised that it took so long. You'll need an 8mb graphics card to appreciate this detail in 1600x1200 in 16-bit colour, but the premise is that it's there if you want it.
To ensure that Timeshock! remains the king of all tables, they've also introduced new lighting effects, heaps more animation, drop magnets, a magno save feature, an indulgent new plot based on time travel, a very comprehensive play editor that allows you to fully customise the game, and the option to play on-line against other pinball junkies.
In other words, if you liked The Web. you'll just melt when you get your hands on Pro Pinball - Timeshock! later this year - it's without a doubt going to be the most impressive pinball sim ever (again).
People say:
4.5
We've come to expect a lot of depth and gameplay in the new generation of PS games. Sadly this PC port Pinball sim is surprisingly shallow. Granted it's not terrible--the ball physics are decent and the gameplay and graphics are passable--but the fact that there's only one table is just unacceptable. It seems as if you're only getting about 30 percent of a game with Timeshock. Even more maddening--there's nothing creative about it. Other games, like Hot Shots Golf or Ten Pin Alley for example, have taken their somewhat boring genres and spiced them up with unique graphics, characters and engaging gameplay. Unfortunately, I can't say the same for TS. Beyond multiball and special target hits, there really aren't any exciting gaming moments. Unless, of course, you count getting a tilt penalty--whoopee! Strangely forgoing the option to offer more tables, they include a slide show instead? Granted the rendered scenes (close-ups of the table) look pretty good, but they certainly don't redeem the game. In the end, it comes across as a cheap way to add some substance to an overall slim package. Sorry, we're not fooled. 1 could harp on the sub-par sound or hard-to-read menus as well, but what's the point? There's just not enough depth in this decent but very limited pinball offering.
5.0
Timeshock! does its best to capture the true pinball feel by offering four viewing angles and a realistic physics model. Unfortunately, none of the viewing angles work too well (it's just the nature of trying to fit a whole pinball table on a TV screen). The visual problem is made worse with the overly colorful and cluttered playing field. I also find it difficult to recommend paying money for a one-table console pinball game.
3.0
The single pinball table presented here doesn't seem like a bad game at all. In fact, I'd probably play the thing in real life, if I came across it in an arcade. The trouble with the virtual version, though, is that it's too big and complicated to be crammed onto one screen. None of the four available views does an adequate job of clearly showing the ball's location at all times. And where's the fun in playing if you can't see the ball?
2.5
It's ridiculous that this pinball title only has one board. Granted, if it were the best pinball board on Earth, I might let it slide, but unfortunately, that's not the case. Displayed as a scrolling, prerendered 3D environment, the sole board in Pro Pinball is bland. It has a monochrome light display and small objectives littered throughout the field of play, but those do tittle to keep the game from being incredibly shallow and boring.
Timeshock may be the sleeper hit of the holiday season. On a virtual pinball trip with futuristic flair, you must complete typical pinball objectives such as hitting ramps to warp to different time zones. Along the way, expect multiball situations, an interactive video mode, four styles of gameplay, hidden levels, and more.
The game's biggest drawback is that there's only one table. Fortunately, the graphics and detail on that table are impeccable. Timeshock has great in-game sound effects, but annoying music. The tight controls are configurable. Pinball addicts should definitely give this game a shot. It's a blast.
ProTips:
Leant to successfully nudge the table to bah yourself out of game-ending situations.
Don't forget the litle flipper at the top of the screen: It's the only way you can reach the all-important upper ramp.
Similar Games
Viewing games 1 to 14