Ratchet & Clank: Up Your Arsenal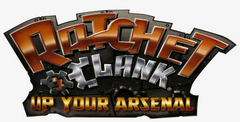 Click the "Install Game" button to initiate the free file download and get compact download launcher. Locate the executable file in your local folder and begin the launcher to install your desired game.
Ratchet & Clank: Up Your Arsenal is the final game in the classic Ratchet & Clank trilogy, an iconic PlayStation 2 series that packs an intergalactic punch. Developed by Insomniac Games, this epic adventure takes everything excellent about the first two games and ups the ante, offering a wider arsenal of weapons and a slew of cool alien planets to explore. Similar in style to games like Sly Cooper and Jak & Daxter, there's a fun and lighthearted balance of gameplay and story. This time, the duo must battle the evil Dr. Nefarious as he uncovers a plot to destroy all biological life in the galaxy. Packed with intense platforming, explosive third-person shooting, and some laugh-out-loud storytelling, Ratchet & Clank: Up Your Arsenal continues to deliver a fantastic gameplay experience.
Main Game Features
Hectic shooting and platformer gameplay
Solo adventure and competitive multiplayer
20 wacky sci-fi weapons to use
Story
Up Your Arsenal starts off with the galaxy-saving heroes Ratchet and Clank enjoying some well-earned time off. Unfortunately, their time of relaxation is interrupted by a sudden attack on Ratchet's homeworld. The pair quickly discover that a new villain named Dr. Nefarious has begun to lay waste to numerous planets as he prepares to overtake the galaxy with his army of robots. As always, Ratchet and Clank swoop in to save the day, but find little explanation in the attack. In search of better answers, they form an unstoppable team of heroes, including many fan-favorite characters from previous games. Their adventure takes them to a variety of colorful alien planets, including metropolitan cities to barren deserts. By utilizing a lighthearted attitude and plenty of humor, the storytelling in Up Your Arsenal is as effective and endearing as ever before.
Gameplay
Ratchet & Clank: Up Your Arsenal continues to provide the franchise's signature mixture of perilous platforming and highly-explosive shooting gameplay. Levels are somewhat linear, leading players through a gauntlet of enemy encounters, platforming challenges, and light puzzle-solving. There are 20 unique weapons to wield, ranging from rocket-launchers to experimental energy blasters. You can also equip some fierce melee weapons, as well as some defensive gadgets to shield you from harm. Weapons can be improved by purchasing upgrades or simply using them in combat, with each weapon having eight tiers of strength to unlock. Up Your Arsenal also introduces vehicle-based gameplay, as well as a few mini-game style sequences. This entertaining mixture of platforming, shooting, and navigation results in a non-stop joyride of action.
The most notable new feature in Ratchet & Clank: Up Your Arsenal is the competitive multiplayer, which lets you and three other friends battle it out in split-screen play. There are three modes to play, including the objective-focused Siege and Capture the Flag modes, along with classic Deathmatch for good measure. You can enjoy the multiplayer madness on ten unique maps, modeled after planets from the single-player story. Multiplayer is also a great place to experiment with every weapon, letting you test out new strategies and guns on your friends.
Conclusion
Ratchet & Clank is regarded as one of the best game franchises of all time, and Up You Arsenal has a lot to do with that. By effortlessly combining a great variety of gameplay genres into one addictive sci-fi adventure, this fantastic title is endlessly refreshing and entertaining. While the story is a bit more straightforward than other Ratchet & Clank games, the memorable characters and levels help keep things engaging. The plethora of awesome weapons and upgrades are tons of fun to unlock, while the competitive multiplayer lets you share the fun with friends.
9
If you're a fan of challenging third-person shooters with lots of explosions, look no further than Ratchet & Clank: Up Your Arsenal.
Pros
Every weapon is worth trying out
Inventive mixture of exploration and shooting
Humorous storytelling
Cons
Multiplayer can feel unbalanced
Slightly underwhelming narrative
Download Ratchet & Clank: Up Your Arsenal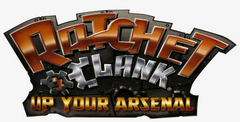 System requirements:
PC compatible
Operating systems: Windows 10/Windows 8/Windows 7/2000/Vista/WinXP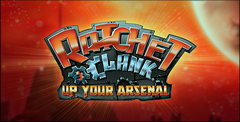 System requirements:
PC compatible
Operating systems: Windows 10/Windows 8/Windows 7/2000/Vista/WinXP
Playstation 3 Screenshots
Playstation 2 Screenshots
Similar Games
Viewing games 1 to 8