Snow Daze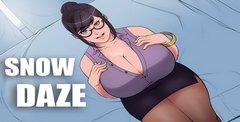 Click the "Install Game" button to initiate the free file download and get compact download launcher. Locate the executable file in your local folder and begin the launcher to install your desired game.
What do you like to do when a snowstorm hits and traps you indoors for a few days? Do you cosy up by a warm open fire and read a good book? Do you get all those household tasks done that you just hadn't gotten around to? Or, do you plot a plan to hypnotise your whole family to have your way with them and have them perform any sexual favour you desire? If your answer was the latter, first of all, consult a medical professional, but in the meantime, you might like Snow Daze: The Music Of Winter.
This game is an interactive visual novel that plays like games such as Katawa Shoujo, Foot Of The Mountain, The Eden of Grisaia or Saya No Uta: The Song of Saya. It's a game that will have you make key choices, meet many interesting characters trapped within the home and it's packed full of X-rated content.
Hypnotic Story
This game is surprisingly well written considering the rather suspect concept for the story. It seems like some sort of weird incestual wish fulfilment for the developer but you can't help but say that they have offered up a pretty cohesive story. The game will offer plenty of twists and turns throughout as Jason tries to keep his hypnotic powers in check and not arouse suspicion of his family. Plus the game has a cavalcade of endings, meaning that there are grounds for several playthroughs, which is a nice touch.
The game will offer about 6 hours of content to get through as well, meaning that it doesn't skimp on playtime either. So players will find plenty of value from this title.
Visually Great
The game also boasts some classy cartoon, hand-drawn visuals that lend themselves to the setting well while staying in line with the more mature content on offer. Plus, if the whole family resemblance thing is the aspect that has drawn you to this game, the artist doesn't hold back. Each character is unmistakably a member of the family, meaning that any sick and twisted incestual fantasy you have in mind is all possible here.
The only aspect regarding the delivery of the game that we had any issue with is the lack of gimmicks or interactive areas to draw the player in. All you do is read the dialogue and occasionally choose responses. That isn't to say this isn't well done, it's just that we think that the game would have benefited from a more nuanced and mechanically rich style of play.
Caught In A Trance
This game may be on shaky ground with what is morally correct in our opinion, but you can't fault the execution. The storyline is great, has multiple branching paths, the characters are well written, the art style is fantastic and the X-rated material is handled contextually and maturely.
7
The only gripe is the dialogue-heavy approach with little else to offer but for many, that will be exactly the thing that they are looking for. In short, this is a great visual novel with more than enough content to keep you busy.
Pros
Visuals are hand-drawn with a great level of detail
The story has multiple endings and is well written
X-rated content is handled well
Cons
The focus on incest will deter a few
The game consists of mainly dialogue with very little interactive segments
Download Snow Daze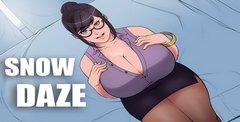 System requirements:
PC compatible
Operating systems: Windows 10/Windows 8/Windows 7/2000/Vista/WinXP
Game Reviews
I hope you are all ready for Snow Daze by Outbreak Games because it's a freaky one. The story follows Jason, teenage musician and sexual deviant. Jason is a freaky boy with an unusually sexy family, admittedly not a situation I'm familiar with but I'm adaptable. Follow Jason as he uses one of the skeeviest techniques in the business to do the business with his relatives. Let's lube up and dive in.
[DISCLAIMER: THIS IS NOT A GAME FOR CHILDREN.]
Gameplay
As a visual novel, this title offers little in the way of actual gameplay. Like Doki Doki Literature Club, Danganronpa, or Stiens; Gate, this game is mostly clicking and reading. That being said, unlike those games there is a considerable amount of sex involved in this one. Jason must make decisions and race against time to enslave his family members, both biological and non, in order to give them a really white Christmas.
There is more to this title than just clicking, as I mentioned, there is a time limit to it. It's up to Jason to successfully seduce everyone in the house in a few days or the hypnotism will wear off and they will likely beat his ass like a base drum when they find out what sort of stunts that he was pulling on them.
Art Style
So, there is obviously an art style to this title, as you'd expect, and, to be honest, its pretty good. The characters themselves are all really well designed and they look both well drawn and outrageously thicc which I cannot complain about. Something that was both a curse and a blessing was that the backgrounds are nearly nonexistent; just a few lines to denote a fridge or a bed behind the action. Although it looks kind of low-res and can subtract from the overall quality, it also didn't get in the way of the action. I wasn't sitting here in a pile of sticky tissues staring at the splendor of the background, I was focusing on the girls.
The Girls
Speaking of the girls, they are all very, very sexy. We all know that incest is probably a bad idea but in the way of taboo desires, this game does very well in scratching that particular distasteful itch that some may be curious about. There are many scenes where Jason engages with sexual encounters with his step-family, a bit weird whatever but that's by the by. There are also, however, scenes where he engages in sexual encounters with his twin sister. Now, its important to remember that this is just a game with fictional, cartoon adults who, to an extent, are consenting.
Conclusion
Also, with all that said, there is an interesting take on the psychological reasonings exhibited by the characters in this title that are interesting to look into. It cleverly covers its bases by ensuring, in some way, shape or form, that "they all like it." Is it gross? Is it weird and sexy? I don't know but maybe you should give it a download and decide for yourself.
7.5
For a game that tackles some unique concepts, it does so with a delightful art style and pretty funny writing. Boner guaranteed.
Pros:
Lovely Art Style
Funny Writing
Scratches a taboo sex itch
Cons:
Consent is not clear
Twincest?
Similar Games
Viewing games 1 to 8