Souldiers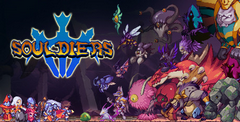 Click the "Install Game" button to initiate the free file download and get compact download launcher. Locate the executable file in your local folder and begin the launcher to install your desired game.
I have to say that Souldiers is one of the most gorgeous looking 16-bit style games I have seen in quite some time. I think there could be 10 Metroidvania style games released a month and I would still not get sick of them! This one here has a ton of charm and personality to it, but as well as being a Metroidvania style of game in terms of its platforming, progression, and visuals. This also has some really awesome looking Soul's style combat which I am a huge fan of too.
We're Not Even Supposed To Be Here Today!
Get that Clerk's reference? Anyway, the plot of Souldiers is actually something that I find a lot of fun. We have a group of brave warriors who have found themselves trapped in this place that is called, Terragaya which is the last step before you move onto the afterlife.
Now, you may think that these guys are trying to get to the afterlife, but they are not. You see they never actually died and now they need to not only get out of here, but also find out why they were transported here in the first place!
Playing With 16-Bit Power
The people who made this game take great pride in the artwork and it is easy to see why. They say that Souldiers has a 16-bit art style and I guess you could say that this is the kind of game you could have imagined playing on your SNES back in the day. However, I feel that they are selling themselves a bit short as this to me has more of a PlayStation era 2D style of game thing about it as the pixel art here is truly fantastic stuff!
Making Your Way Home
As Souldiers is a Metroidvania style of game, you probably have a good idea about what to expect, but the gameplay is actually deeper than you would think. Yes, you have plenty of platforming to do and finding your way. However, there is also a class system where each class has its own strengths, weakness and stats, and so on. There is also a puzzle system at play here too with some pretty tricky puzzles to test your skills with. In typical Metroidvania fashion, your move set will expand as you make your way through the game.
The Souls Effect
The combat in Souldiers is perhaps the thing I am most into. You have a fun melee based combat system in the game. You cannot just go in slashing away like a maniac, there is some skill involved here as you need to utilize your dash and parry moves to make an enemy vulnerable and then strike. You can also get new equipment and upgrades that can help you with combat as well.
8
If you are into Metroidvania style games then Souldiers has to be a game that is on your radar. They have all the things here that make a game of this style fun, but with a combat system that is more robust than what you get in most Metroidvania games. I love the retro visuals and the story is way more interesting than it has any right to be as well.
Pros:
I love the idea of fighting your way back from the afterlife
The progression system here will keep you wanting to move forward
The game has some gorgeous looking retro style visuals
It is going to be challenging, but also a hell of a lot of fun
Cons:
I do feel that you have to be into Metroidvania games to find this appealing
Will some of the enemies verge on being frustrating to beat?
Download Souldiers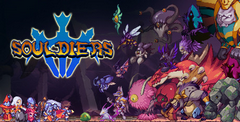 System requirements:
PC compatible
Operating systems: Windows 10/Windows 8/Windows 7/2000/Vista/WinXP
Game Reviews
With a name like Souldiers, are we expecting a game that's as generic as the pun? It's debatable. The title is yet another Metroidvania genre offering retro graphics and a fantasy theme. It's not like we haven't seen that before. But it's always worth looking at these titles as, more often than not, they are surprisingly engaging and deliver some mighty refined gameplay.
Souldiers is a game where players take control of a warrior fighting on the verges of the living and the afterlife. But what are your goals here? Are there any gameplay elements that will stand out in this oversaturated genre? We'll have to battle through the game and find ourselves. Let's enter the world of Souldiers.
For Death and Glory!
So what's happening in the world of Souldiers? Well, that's an excellent question. Honestly, the narrative and lore behind the universe proved slightly confusing with this living vs. dead idea. We seem to establish that the game is set in Terragaya, the land between life and death, or some limbo. You'll be wielding your noble sword to escape and return to your home kingdom.
But it's games like these where the gameplay is more important than the narrative. Let's start by saying the pixel artwork, fluidity, and beautiful visuals are the significant positives of the game. The aesthetic may be more trendy in recent indie games, especially Metroidvania. Still, there's no denying it looks fantastic. So now we move on to the integral mechanics of Souldiers.
It is a combat-based game, where players will fight through each level using a flurry of class-oriented skills and combos obtained along the way. It looks nice, and it's certainly ambitious. But boy, is it frustrating. The problem with Souldiers is that the battle experiences aren't as seamless as players would like. Yes, they need to be challenging, but not how the game currently finds itself.
The numerous bugs, unintuitive approach, and frustrating controls hinder Souldier's recent experience. There's a lot of room to make some fixes and help players achieve more fluidity in tackling the difficulties of gameplay. Right now, it's hard to progress each level, not because of the tricky gameplay but because there are too many technical obstacles.
A Valiant Effort
There's a lot of ambition and effort put into developing Souldiers. Still, the reality is that the game feels disjointed at the moment. Players can unveil the title's potential with an exciting narrative, a beautiful world to explore, and character progression that can create diverse approaches. However, the game is bogged down by bugs and glitches that make the game frustrating to play.
6
There are too many great competitors in the genre to say that Souldiers currently has a place. Games like Hollow Knight supersede what's on offer here. But that's not to say there's room for improvement with the title. A few patches and design reviews here and there, and Souldiers might stand up as a decent title!
Round-Up - Pros & Cons
Pros:
Combat is entertaining
There's flexibility in class and character progression
The pixelated artwork is beautiful
Cons:
Numerous bugs and glitches throughout the game
Gameplay feels disjointed
It follows many indie game trends that are now a bit tired
Similar Games
Viewing games 1 to 8