Star Wars: X-Wing - B-Wing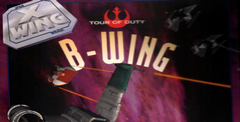 Download Star Wars: X-Wing - B-Wing and join the Rebel Alliance in this iconic space combat simulator! Pilot the versatile B-Wing starfighter, engage Imperial forces, and turn the tide in the battle for the galaxy. May the Force be with you, and play now!
It's rumoured they are going to make three more Star Wars films. Prequels, if you like, to the first three, which actually were, as any Chewbacca buff will tell you, episodes four to six of the epic fairytale that is Star Wars. Now, I don't want to be a killjoy. I don't want to shoot the X-Wing down before it's hyperspaced, as it were, but three more films detailing the youthful exploits of Darth, Obi Wan, Yoda, a baby Luke Skywalker, minus -and this is a big minus - Han Solo, Chewwy and Princess 'Two Brown Croissants As Liar Muffs Hairstyle' Leia, doesn't strike me as much fun. Or very interesting. See, we know what's going to happen. We know Darth will be lured to the dark side and Yoda will cop it, aged nine million, in a swamp with Jim Henson's hand up his backside. What more is there to tell?
Nevertheless, X-Wing will go from strength to strength, embodying all our fantasies about trench runs and space combat. This latest addition is B-Wing. It has the dual task of linking the storyline to Rebel Assault (jaws dropping on cd-rom machines all over the country) - that is, the Rebels' escape to their new base on Hoth - and introducing the new alliance ship, glimpsed in Return Of The Jedi and now rendered in full 3D Xwing-o-mation.
B-Wing is a one-disk upgrade, which is easily installed into your existing xwing directory. As well as providing the 20+ missions of Tour V, B (as we call it) comes with a Top Ace pilot, resplendent with medals from Tour iv (Imperial Pursuit) as well as several historical missions.
The new missions are not particularly remarkable. The B-Wings start off as prototypes which have to be protected from marauding Imperial scum. After a few standard X-Wing missions, you take the helm and lead the revolutionary new design into true combat, protecting the beleaguered fleet on its way to Hoth.
Why it's called a B-Wing is anyone's guess. It's shaped like a crucifix and the bit you would hold (when warding off vampires, lying prostrate before God etc.) folds up to make it resemble a deadly, state-of-the-art tent peg. Frankly, I'm embarrassed to fly this daft spaceship, but what it loses in aesthetics, it gains in all-round combat prowess. It has the X-Wing's firepower, the Y-wing's shield and hull strength, the A-Wing's speed and the looks of Yoda's penis - it's a winner against all Imperial vermin. Its power consumption is large and juggling of power-levels is needed. I can't say I noticed the subtle variation in handling characteristics, but the missions are tough and the three cut scenes (with guest appearances from Luke 'Kid' SkyWalker and Princess 'We fancied her then, but don't now' Leia) provide some incentive.
Download Star Wars: X-Wing - B-Wing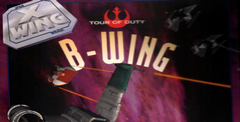 System requirements:
PC compatible
Operating systems: Windows 10/Windows 8/Windows 7/2000/Vista/WinXP
See Also
Viewing games 1 to 7