Super Baseball 2020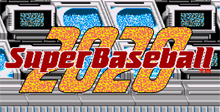 Click the "Install Game" button to initiate the free file download and get compact download launcher. Locate the executable file in your local folder and begin the launcher to install your desired game.
Put away the baseball cards, recycle the sports pages, and trash those Major League score books. Super Baseball 2020 by Tradewest presents robotized, bionic baseball in a fast-pace SNES sports game that dishes out the basics -- pitchin', hittin', and catchin -- and that's all.
Play Robo-Ball!
Super Baseball's setup is simple. You can play in two leagues, each with six teams. In singleplayer games, you take on the computer in a league championship on your way to the World Series. Two players just play a single-game contest. The computer's just average competition, so two-player games are where the action is. Super Baseball's bright, colorful, nicely animated graphics hold their own in any league. The sounds hit about 220. Although the swish of the bat and the thunk of metal connecting with the ball sound good, the incessant techno rock soundtrack belongs in the Minors.
Be a Hitter
The draw in Super Baseball is its high-powered offense. You play with a behind-the-batter perspective. The diamond is familiar, but fair territory is humongous! Foul territory is reduced to a modest piece of turf surrounding the batter's box. To further juice the "O," long balls ricochet wildly off the stands!
ProTip: Swing slightly ahead of the pitch.
Despite the firepower, this is more than just a hitter's game. You can use the directional controls to pull mean sliders and curves. Fielders can make slashing dives and outrageously high, rocket- powered leaps into the air. However, video baseball vets may not like the feet that the computer automatically positions fielders for pop-ups, fly balls, and soft liners. The game's controls put on a workmanlike performance turning them into sure outs.
Computer batters have a weak spot. Whether your pitcher is a right-hander or a left-hander, move to the far left Of the mound. Now, pitch at any speed, but press Left or Right to make the ball break slightly across the edge of the plate.
If your opponent powers up a batter, be mean and pull an intentional walk.
Better practice your base-path technique. Learn to run back to the bag. On defense, practice rundowns.
Get a jump on a ricocheting ball. Press the directional pad toward the area where you think the ball will land.
What's the Count?
Super Baseball isn't much for stats. Individual Earned Run Averages and Batting Averages are about all you get. Playing baseball for big bucks takes on an entirely new meaning in this game. Hits for extra bases and outstanding defensive plays pay cash, which you can use to add power to batting strokes or strengthen pitching arms.
The Old Ball Came
Super Baseball 2020 has sci-fi personality, but ultimately it's still a plain old-fashioned ball game. It's to video game baseball what softball is to hardball -- a good game, but the competition is what you make of it.
Download Super Baseball 2020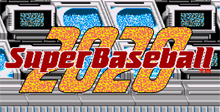 System requirements:
PC compatible
Operating systems: Windows 10/Windows 8/Windows 7/2000/Vista/WinXP
Game modes: Single game mode
Player controls:
Up, Down, Left, Right - Arrow keys
Start - Enter (Pause, Menu select, Skip intro, Inventory)
"A" Gamepad button - Ctrl (usually Jump or Change weapon)
"B" button - Space (Jump, Fire, Menu select)
"C" button - Left Shift (Item select)
Use the F12 key to toggle mouse capture / release when using the mouse as a controller.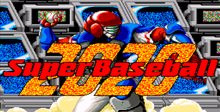 System requirements:
PC compatible
Operating systems: Windows 10/Windows 8/Windows 7/2000/Vista/WinXP
Pentium II (or equivalent) 266MHz (500MHz recommended), RAM: 64MB (128MB recommended), DirectX v8.0a or later must be installed
Game Reviews
Baseball heads into the future. The year 2020 to be exact. Now men, women and robots compete in an interesting twist to the old baseball theme.
The players can be outfitted with special armor that enhances their batting, pitching and fielding. Robots are the real stars of the show but break down very easily.
The basic premise is simple, but you'll find a few twists. It's much harder to hit a home run and the fields have interesting additions like crackers that explode on contact!
Baseball bots are 'bout! Electronic Arts has brought Super Baseball 2020 to the Super NES for some good old American fun! There are two leagues each containing six teams a piece. All of the teams excel in some aspect of the game. The robots may be more fun to watch, but the really strong players are humans; a human with armor is nearly invincible! Make a good play to win money.
People say:
6.0
This is an interesting variation on the old sports scene that is sometimes successful and sometimes not. Graphically, it's excellent with very fluid movements and excellent voice digitization. However, the game is very difficult, and it isn't very easy to execute the plays! Baseball fans will probably find interest in this.
8.0
Good job, EA! This is probably the closest translation from the Neo'Geo version yet. The graphics are very clean and the animation isn't too shabby either. The game plays a bit differently because it's harder to hit a home run. but the robotic players don't have much of a problem with this. A good change of pace for baseball fans.
5.0
Like most NG translations, Super Baseball 2020 turns out to be an average game. The graphics have remained basically the same (lacking some detail) and some of the sound is still intact. The game play is alright, but suffers when you try to rob a home run It's almost impossible to time a high jump and catch it.
7.0
This has a neat twist on the old baseball theme. The idea of robots and power-up options are a nice touch. However, the graphics are nothing special. The outfield characters could use a bit more detail but the sound is decent. The plays are a little difficult at first, but once you get accustomed to them it plays okay.
Thank you for making 2020 Super Baseball. I have not been able to stop playing since I first brought it home. 2020 Super Baseball is the game sports fans have been waiting their whole lives for. The gameplay and graphics are simply incredible. The true scaling and rotation in 2020 Super Baseball make Nintendo's Mode 7 look like child's play. The graphics and motion make you feel like you are at the ballpark. But graphics presentation is only half the package. Baseball 2020 offers so much more than a "regular" baseball game. The addition of landmines as the game progresses makes a routine fly ball an adventure. The jump zones on the warning track give a new meaning to the term "a leaping catch". Change pitchers, pinch hit, steal, bunt, and construct new players, it is all here. Baseball 2020 also gives you much more. Each player has individual ratings in several categories. You can ricochet hits off of the walls and barriers, make diving catches, and listen to the incredible sound. Too bad Nintendo and Sega, Neo-Geo has proven once again that it is the real deal.
Those of you who are familiar with the Neo-Geo know that 2020 Baseball is one of the best baseball games on the market. Now a wonderful translation of this fine game of baseball is heading for the Super NES. Very few elements from the original have been taken out, so this translation is as close as you can get. A few of the voices are missing, but all the sports fun is still here! When there is a special play, the camera zooms in on the animated sequence! To add to the excitement, land mines are placed in the outfield! Your players can be male, female or even a robot! Is 2020 Baseball the future of America's favorite pastime? Who knows? But you can play it now.
In the year 2020, and baseball is king in America, as well as in the rest of the world. Sound a little far out? Well, thanks to Electronic Arts, it's not. The NEO∙GEO smash arcade hit, Super Baseball 2020, has been converted to the Genesis and it packs all the excitement of the original.
Cyber Baseball
Super Baseball 2020 is a stadium-rockin' one- or two-player, 3/4 overhead-view baseball game. The basic baseball mechanics are essentially the same as the real thing, but there are major changes in the players, the fields, and the ground rules, which jack up the action considerably. The first noticeable differences are the Robojock lineups. You get 12 teams, which include all-male, all-female, and all-robot squads, as well as some mixed-player teams for balance.
Next, the speed and power of all the players are pumped for premium performance. A Turbo Speed button enables runners to rocket down the line, and lets sluggers bash towering 900-foot home runs!
The field configuration has evolved to make the most of the high-powered offense. Fair territory has expanded to include most of the playing field and most of the stands.
ProTips:
Beware of Cracker Land Mines, especially in the late innings of a game.
Catch the opposition by surprise by bunting your way on base with a slugger.
Last, but not least, you play for money. Now, before you start thinking some things never change, know that every Hit, Run, and Put Out earns you quick bucks, which you can cash in for power-ups and other game-winning goodies.
Keep Your Eyes and Ears on the Ball
Super Baseball offers smooth-flowing graphics that are colorful and generally well animated, except for some slowdown when multiple players chase a ball. The slick, animated sequences include Strike Outs, Home Run Trots, and rocket-assisted leaping Catches.
The sounds are well above par, even though the technorock music gets repetitious. You can hear the whiff of a swung strike, the crack of bat-on-ball, and the digitized voices of umpires calling strikes and outs.
In a close game with a tying run or a go-ahead run on second base, nail a batter. It may cost you $2000, but it also sets up a double play.
Who's in Control?
As in normal baseball, control is important, and you get nearly total control here. You can check swing, waggle pitched balls on their way to the plate, and steal bases. However, you don't control defensive positioning or outfield play. Most pop-ups to the outfield are automatically caught, requiring no fielding skill on your part anyway. At least this feature works well within the context of the game, and it's a plus for beginners.
Striking out a batter earns a quick Grand. However, when you use the 'bots, each pitch bums fuel, so keep your pitch count down.
Robots run on fuel, so when your robo-pitcher shows signs of wear, replace 'em.
A Brand Slam
Super Baseball 2020 is a nice diversion from typical, statistics-oriented baseball games.
It offers all the thrills and chills of traditional baseball, with some great new twists and outrageous two-player action. In the year 2020, baseball is super!
In the year 2020, sports have taken on a whole new meaning. Human players can no longer thrill an audience like before. There was only one thing left to do. Have super cyborgs replace humans!
It seems that more and more Neo-Geo titles are being ported over to the Super Famicom. 2020 Super Baseball is the latest to make the transition.
Choose from a wide assortment of cybernetic teams and prepare yourself for the hottest cyborg action ever seen. Your players can be powered up to enormous limits, giving them the capability to jump to the sky and run at super speeds. With each move of your players, there is an animated display showing them in action!
The future of baseball has made major changes in the way it's being played. The playing zones have been rearranged to accommodate a more offensive approach. Men, women, and even robots play in the same league and sometimes on the same team. Humans use playing armors to enhance their arm strength, hitting ability, and fielding skills against the all-robot teams. There are even "Stop" areas in the field that literally stop the baseball from rolling or bouncing around!
Sega Genesis/Mega Drive Screenshots
SNES/Super Nintendo/Super Famicom Screenshots
Other Games by Electronic Arts