Super Bomberman 3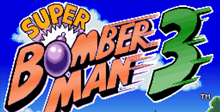 Click the "Install Game" button to initiate the free file download and get compact download launcher. Locate the executable file in your local folder and begin the launcher to install your desired game.
Super Bomberman 3 is an old strategic maze-based game released all the way back in 1995. It was a very fun game to play back then, and it continues to deliver even today, so definitely consider downloading it for yourself. The 16-bit graphics are sure to bring out some nostalgia. Now, let me go over a few features of Super Bomberman 3 to give you a better idea of what you can expect when you boot up the game for the first time.
Classic Bomberman gameplay
Much like its predecessor and virtually every other game in the Bomberman series, including the most recent Super Bomberman R, Super Bomberman 3 offers classic maze-based gameplay that many of us know and love. If you're never played one of these games before, I'll quickly explain.
The aim of Bomberman is to place bombs downs in strategic places around a maze-like map to try and kill enemies. Bombs explode and shoot out fire in multiple directions shortly after being placed, and anything that gets caught in the blast dies. This means you have to be aware of your surroundings and react quickly if you want to survive and be victorious. Power-ups are also available in most Bomberman games to give you a helping hand. I hope this explanation makes sense! Next, I'll talk a bit about the two game modes available in Super Bomberman 3, starting with the story mode.
Saving the world from Bagular
The story mode in Super Bomberman 3 sees you pitted against Bagular, an evil alien who is seeking to destroy the world with the help of enemies known as the Five Dastardly Bombers. These foes act as bosses, and once you defeat them all, you'll be able to face off against Bagula himself at the end of the game. The whole story can be played in co-op mode, too, so be sure to take advantage of that if you have a friend you'd like to play with!
Multiplayer battle mode
Aside from the story mode, Super Bomberman 3 also has a multiplayer battle mode where you can play against your friends. Choose from a range of maps and characters as you compete against up to 4 others to see who will be victorious. This mode is great fun and definitely one of my favourite parts of the game.
9
Super Bomberman 3, though old, is a game that is still incredibly fun to mess around in even today. Beautiful retro graphics and simple gameplay are most of what this game offers, but that's all it really needs to offer because it doesn't need to be complicated to be fun. Overall, I'd highly recommend you download Super Bomberman 3 and try it out for yourself. Don't miss out on this retro classic!
Pros:
Story mode has a decent length and features a bunch of cool cutscenes
Graphics are vibrant and nostalgic
Multiplayer mode available
Cons:
It'd be nice to see more than just two game modes. A challenge mode or something similar would've been nice
The graphics and soundtrack are both very outdated, so if you prefer modern games you may not enjoy this one
Download Super Bomberman 3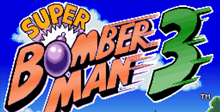 System requirements:
PC compatible
Operating systems: Windows 10/Windows 8/Windows 7/2000/Vista/WinXP
Pentium II (or equivalent) 266MHz (500MHz recommended), RAM: 64MB (128MB recommended), DirectX v8.0a or later must be installed
Game Reviews
Few video game series has left the legacy that Bomberman has. This adorable exploder has been a regular on games consoles across the board, and part of what helped to really solidify Bomberman as a video game was 1995's Super Bomberman 3.
Released on the Super Nintendo, the third iteration of the series provided a highly enjoyable gaming experience for up to five players at any one time. While it was released in Japan and across PAL regions, Super Bomberman 3 never hit the North American market. To many, then, it is a hidden gem.
And what a gem it is! Super Bomberman 3 is one of the best games of the series, and delivered exactly the kind of high-octane fun that fans of the series were looking for.
Five-way fun in typical Bomberman fashion
Part of what makes Super Bomberman 3 so fun is the introduction of up to five players in the one game at once. This was quite an innovation for the SNES, and it played a key role in helping to establish Super Bomberman 3 as the best of the series up until that point.
While it does scale back a fair amount of the additions made in games like Bomberman '94, Super Bomberman 3 does a fine job of keeping the classic spirit of the game alive. The addition of new characters and a cutscene-heavy story mode, though, helped to ensure that Super Bomberman 3 stood out from the crowd.
In terms of games it would be similar to, Bomberman has always had a bit of a unique feel to it. Not many games manage to pull off the same style and theme as this title. It could, though, be compared BlastZone! And Dynamite Jack, two slightly more modern iterations on the same theme.
A well-loved part of the family (9/10)
While Super Bomberman 3 did not get the North American release it probably deserved, it did provide a highly enjoyable gaming experience for those who did get to play it. The visual style was a pretty big departure from the original games, with more simplified visuals compared to the more bombastic Super Bomberman 2. Less is more here, though, with a very crisp visual style that still looks good today.
The addition of five players over four meant that you avoided that 'fifth wheel' problem of someone sitting spectating in a group setting. On top of this, the actual story – while somewhat thin in terms of plot – at least added a bit more dynamism to the story mode experience. The story retains the usual charm of Bomberman and Black Bomber setting out to deal with the antagonists, and it keeps that friendly, mid-90s storyline going right until the end.
9
Overall, Super Bomberman 3 was a major success for the series and the only thing that held it back was a lack of a NA regional release.
Pros
Excellent gameplay with a simple, easy to follow style making it less complex
Simple but impressive visuals help to make Super Bomberman 3 easy to play even now
Five player battle mode was a major iteration at the time, increase from four players
Cons
Story is a touch basic, but what can one expect from a 90s Bomberman game?
Lack of North American release meant Super Bomberman 3 is not as celebrated as it should be
The five evil bombers that wreaked havoc on SB2 have been resurrected by Dr. Buggler! Pack your pockets full of time bombs and get set to blast them again!
In the latest sequel, B-man can be joined by Louie, a kangaroo-like animal that lets him skip over bombs, kick bombs and even take a hit. Better yet, two players instead of just one can participate in the Story Mode!
Bomberman '93 has all of the action packed puzzle gaming you can handle! Included is a five simultaneous player option and incredibly good graphics!
Place the bombs in certain spots to blow away enemies, uncover power-ups and find the exit to the next level. Collect items to expand your explosions and give you invincibility! It's a blast!
SNES/Super Nintendo/Super Famicom Screenshots
See Also
Viewing games 1 to 2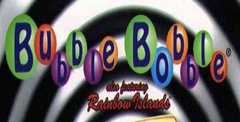 Bubble Bobble
The dinosaur stars of Bust-A-Move 2 return in an updated version of their first game.