Super Off Road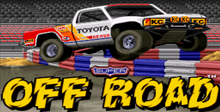 Click the "Install Game" button to initiate the file download and get compact download launcher. Locate the executable file in your local folder and begin the launcher to install your desired game.
Picture this. It's Friday afternoon. You're stuck on the freeway in a two-mile back-up, you can't find any good tunes on the radio, and you're running out of patience. No problemo! Stomp on the gas pedal and ride over or around them in your four-wheel drive Toyota pickup.
Eat Dirt, Suckers!!!
If you've ever entertained such free-wheelin' fantasies, here's an SNES game you've just got to check out! Super Off-Road by Tradewest is the spitting image of its arcade big brother. You and your bad mini-pickup truck take on some of the meanest dirt tracks in America -- there are 16 different courses with 64 configurations.
The goal of Super Off-Road is to finish in first, second, or third place. If you do, you win prize money. You can then spend that cash on things to help you win more races such as Nitro Fuel Units, better Tires, Shock Absorbers, and faster Acceleration.
Mickey Rules
There are four drivers in every race, up to two can be human. One of the computer racers is the world famous Mickey Thompson. Thompson is the king of the dirt track, which is why he has an almost unlimited supply of Nitro Fuel Units.
ProTips:
Save one Nitro for the end of the race. Keep dose tabs on the leader -- especially if he has a big lead. When the leader is about to cross the finish line, hit your Nitro to blast by any vehicles near you and into a better finishing position.
Being bumped from the rear is as good as using a Nitro -- especially if the truck smashing into you is using a Nitro at the time.
Drive, He Said
Super Off-Road is one of those easy-to-leam, racing action games. The game-play will remind NES owners of the classic RC Pro Am but with much better graphics and sound effects.
Put the pedal to the metal and get down to a retailer -- you can bet Super Off-Road will move fast!
Download Super Off Road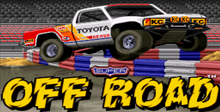 System requirements:
PC compatible
Operating systems: Windows 10/Windows 8/Windows 7/2000/Vista/WinXP
Pentium II (or equivalent) 266MHz (500MHz recommended), RAM: 64MB (128MB recommended), DirectX v8.0a or later must be installed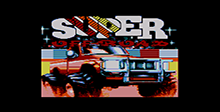 System requirements:
PC compatible
Operating systems: Windows 10/Windows 8/Windows 7/2000/Vista/WinXP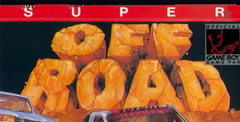 System requirements:
PC compatible
Operating systems: Windows 10/Windows 8/Windows 7/2000/Vista/WinXP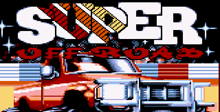 System requirements:
PC compatible
Operating systems: Windows 10/Windows 8/Windows 7/2000/Vista/WinXP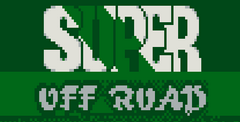 System requirements:
PC compatible
Operating systems: Windows 10/Windows 8/Windows 7/2000/Vista/WinXP
Game Reviews
People say:
4.0
Super Off-Road was one of the best games in the arcade and on the Super NES. In fact I've enjoyed this game on every format it's been on, except this one. Why is it so choppy? I mean, the Lynx is an excellent system, but this doesn't impress me at all. The controls need work, especially when you press the control pad while your car is flashing. It's too bad. I was really looking forward to this title. Not very good at all.
4.0
What happened here? While the game has decent graphics and most of the features from the arcade, the game plays so poorly and the movement of the trucks is incredibly choppy. The power-up items for the trucks are cool but you really don't notice their effects, except for the nitros. If you're just dying for a new Lynx game and there's nothing else out there, this one is OK but don't; expect anything super.
3.0
There isn't a whole lot to say about SOR. The only thing that comes to mind is how badly it suffers from poor game play. It's so riddled with choppy scrolling and animation that it hampers your ability to control steering. Using the nitros only makes it worse. And once you fail to place in the first race, it's hard to be competitive since you didn't earn any prize money to upgrade your truck. It's for hardcore fans.
4.0
For a racing game, Super Off-Road really disappoints. I was never a fan oLthe other versions of this one, but I found the perspective disorienting and the game play unresponsive. I was also annoyed by the blurring of the graphics--it was hard to see what was coming and exactly which vehicle was mine. The Lynx system can surely do better than this! These racers on portables never really worked.
Some mud-slinging road race action is shifting gears and landing in the palm of your hand. Take this four wheeler for a spin. You should be familiar with these tracks. They've been around the block a few times.
# of players: 1 TO 4
Difficulty: Hard
Available: March 1994
No. of Levels: 32
Theme: Racing
This is a really good translation of the arcade classic. Super Off Road is graphically fantastic and just plain fun to play. The purpose of the game is to try and place first in as many races as possible. While Racing, you earn money to better your 4x4. Between races, you are given the option to buy items such as: nitros, engine (make the truck go faster), accelerator box (make the car start from a dead stop quicker), tires (make tighter turns) and shocks (keep the truck from bouncing as much). The more of these items you have on your truck, the better it will run allowing for more speed.
Racing doesn't get much rougher than Super Off Road, and the Game Gear version is no exception! See if you can hold it steady through all eight levels of all-terrain excitement.
After a grueling race, hit the Speed Shop for massive upgrades. Drop in nitro or soup up the engine for speed. Add new shocks or tires to improve your control and see if you can survive this savage race to the finish line!
People say:
5
This game also plays very closely to the other versions that inspired it. The game is more difficult to follow on the Game Gear, due in large part to the small size of the screen. Beyond that complaint, however, the game play seems more repetitive on the portable and not quite as exciting as other versions.
6
Super Off Road was hard to see in the arcade, harder to see on the TV, and now even harder to see on the small portable screen. After a while it does get tough on the eyes and I found I just couldn't play the game for very long. The truck controlled well and was faithful to the arcade game, but it was just too small.
4
This translation of Super Off Road was never meant to be. The console version suffered from tiny cars running around a tiny stationary track. The portable is even tinier. The game is too hard to play be cause of the sprite sizes and isn't very fun. The eye strain is too much and keeps the game play to a minimum.
5
I wasn't too impressed with this display of portable power. The details of the original just aren't there! In fact, some of the hills and bumps are so poorly defined, it becomes hard to really tell what strategy to use. The colors are vibrant, though, and that's a plus. If it's not one thing, it's another, guaranteed.
Have some serious off road fun - the portable way! Super Off Road for the Game Gear has all of the fun of the arcade version, but it has been perfectly shrunk down.
Although the size is reduced, the fun sure has not been. You race around a variety of complex dirt tracks and hope to place in the top three. Depending on your place, you receive prize money to power-up your race truck!
Do you think you have what it takes to challenge Ivan Stewart?
Drive in one of the toughest races you will ever experience! Super Off Road will test your driving skills with some of the nastiest bad boys to ever drive a 4 x 4 truck. Wind through bumpy mud tracks in a road race to the finish. Collect Nitros to boost your power and put you ahead of your opponents. When you win a race you can increase your top speed, get better tires, buy more Nitros and many other parts so you can win the next race with ease. The more races you win, the more credits you get toward purchases that will increase the power of your truck. Try to get either first, second, or third place or you will not qualify for the next races. It's racing action at its best, so gear up for the long haul! Just like the great arcade version!
As you race, try to lap the other players. Use your Nitros wisely, as they can only be used once.
You loved what it did for you on SNES and arcade mud tracks, and now you can win cash and prizes in the Genesis version of Super Off Road. One or two players make haste and make waste on dozens of four-car pedal-to-the-metal tracks. Graphics are sharp, music is hot, and the engines are revved. Feel the need for speed!
Get ready for some serious Super Off Road action at home. Tradewest has faithfully reproduced the popular arcade version for Super Nintendo players. Take on a large variety of tracks as you race against three other opponents. Hop up your truck with the money you earn through racing and finishing in the top three. An excellent home version with smooth graphics and a superb soundtrack too!
People say:
7.0
Although this game has the look and fell of the arcade hit down pretty good, there really isn't a lot of diversity in the action, ultimately slowing down the long-term enjoyment of the game. The music is incredible, though, and fans of the arcade version should have a great time.
6.0
Super Off Road in the arcade was OK but the cars were small. The S-NES version is a good conversion but the cars are still small.The player control of the car is very good and keeps a player going even if most of the tracks are basically the same. Unbelievable music!
7.0
Super Off Road has the coolest music of any SNES game. The graphics are detailed, but are small. The game play is OK and fast paced. The game is very intense and you'll find that winning the race can be a lost cause. Again the music really rocks with awesome digitized 5ths.
7.0
Surprisingly enough, Super Off Road is an excellent translation of the smash hit coin-op! Slow-down isn't an apparent problem here, and the graphics are crisp. The new tracks offer a better challenge for experienced players. Sadly, it's nearly impossible to finish first.
Get down and dirty in a racing game for all offroad trucking fans Most racing games put you on a well-maintained track with expensive race cars. But for hard core rugged racers, there is nothing like bumpy and rough terrain. After each treacherous level you'll be awarded a cash prize according to the place you finish in, along with any money picked up during The cash can be used to upgrade your truck with enhancements or saved for future races. The driving action is fast, especially with nitro assist, as three other determined drivers all fight for the finish line!
This arcade based hit will thrill even the steeliest of video game drivers. Grab the wheel of your souped-up four wheeler. Bump and grind your way up, over, and hopefully across the finish line.
SNES/Super Nintendo/Super Famicom Screenshots
Sega Master System Screenshots
Similar Games
Viewing games 1 to 6