The Mystery of the Druids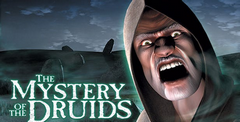 Click the "Install Game" button to initiate the free file download and get compact download launcher. Locate the executable file in your local folder and begin the launcher to install your desired game.
a game by
House of Tales Entertainment GmbH
Platform:
PC
User Rating:

8.0

/

10

-

2

votes
Rate this game:
See also:
Visual Novel
We've come across a number of stupid names in our time, but few are certain to turn off the British gaming public more than Mystery of the Druids. They may be a fascinating subject, but druids are forever associated with Spinal Tap jokes and the more beardy end of role-playing games. The mere mention of the word 'druid' will get you laughed out most pubs, and possibly even beaten up. Which is a real shame, because this is one of the best old-style point-and-click adventures we've seen for ages. And despite having a title that is impossible to take remotely seriously, it's probably the best non-humorous example of the genre.
These Aren't The Druids You're Looking For
I've always said adventure games are only good if they're funny, but German developer House Of Tales seems to have other ideas. While its closest gaming relatives are Broken Sword and the Blade Runner game, Druids is far superior to both.
As the New Scotland Yard murder detective Brent Halligan (sounds more like an American porn star than an English policeman), you are given the task of investigating The Skeleton Murders. All that has been found of the victims is - you guessed it - their bones, dumped in forests by what turn out to be modern-day druids, hellbent on completing some sinister ritual to enslave mankind. It's a case that leads you on a quest through England. France and, eventually, to the past.
All the usual police detective elements are here, from the unnecessarily irate chief of police who can only communicate via shouts, to the department colleagues who don't really like you that much. Poor Brent is considered to be an incompetent fool, but luckily for him Scotland Yard only seem to have two murder detectives on their books.
Unlike so many other adventure games, Druids steers away from the well-trudged film noir style and themes and instead opts for well-lit areas and situations closer to A Touch Of Frost than The Maltese Falcon.
Like all the best cops though, your methods will have to be a bit unorthodox: how about drugging a homeless man so you can steal his meagre alms so you can make a phone call? Of course, nobody in adventure games ever thinks of going to a cash machine.
Detail
There's so much stuff to look at that some scenes - like museums and libraries - are almost multi-media experiences. If you have the time and inclination to click on everything, you might even learn a thing or two. There is also plenty of background information on the characters to be found, adding to the layers of detail so often lacking in adventure games.
The acting isn't quite top drawer, but it's more than adequate and the dialogue doesn't feature any dodgy German translations. The actors are so incredibly clearly spoken that they sound like the ones who record Learn To Speak English In Only Ten Days language courses for foreigners. But despite being a serious game, it's not entirely up its own arse (unlike othertitles I could mention) and there are enough light-hearted moments to stop it from falling flat on its face. The gameplay is made more varied by the fact that you actually get to control another character later on, a female anthropologist. But don't go confusing this with a Resident Evil or Alone in the Dark type of adventure - this is far more difficult.
Paranoid Druid
This is by no means an easy game, and I'd advise beginners to stay away. You have the freedom to go where you want and are not nudged constantly in a certain direction. So while all the puzzles are quite logical, the openness of the gameplay makes getting past certain points almost impossible without some external help.
You will spend ages trying every object in your inventory with every object in the scenery only to realise three weeks later that you missed some small detail. But getting stuck is part of the joy of adventure games, and at least the puzzles don't rely on some warped internal logic.
But there are a few problems which make matters even more difficult. It's not always clear which things can be picked up and which just looked at. There's loads of stuff lying around and it's all too easy to miss a vital object. There are different zoom levels in certain areas; whenever you see a magnifying glass you can take a closer look. But even if you can see a particular object at one zoom level, the mechanics of the game may require you to only use or pick it up at a different, predetermined viewing level.
Each dialogue tree is nonlinear and has plenty of choices. But this means it's possible to finish talking to someone, thinking you've exhausted all the possibilities, and only find out later that choosing one question and not another meant that you missed out on the most important clues. You end up having the same conversations three or four times to make sure you've got all the information you need. The game seems to be divided into two parts (not necessarily coinciding with the Past and Present). It gets much more sinister later on, switching from a mild episode of Jonathan Creek to the last half hour of Hannibal. You witness some gruesome scenes and the puzzles become even harder. One of them can even end in the death of one the characters - and so the end of the game - if you don't time things properly.
But if you relish the thought of spending endless nights muttering "I'll just try this...'' and miss the days when solving a puzzle was a real challenge that ended with you looking through cheat books in HMV, you'll feel right at home here. Just don't tell any of your friends you've bought a game about druids.
Download The Mystery of the Druids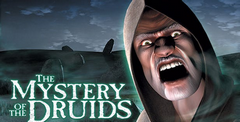 System requirements:
PC compatible
Operating systems: Windows 10/Windows 8/Windows 7/2000/Vista/WinXP
Similar Games
Viewing games 1 to 7