The Sims: Livin' Large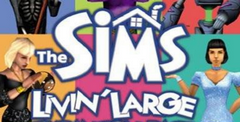 Click the "Install Game" button to initiate the free file download and get compact download launcher. Locate the executable file in your local folder and begin the launcher to install your desired game.
Overview
The Sims is a very different game. I've been a fan of SimCity since the original version -- I love taking control of a whole town, building it from the ground up and tearing it down with a disaster or two. The Sims takes things one step further, giving you control over a single family. You get to decide what they do for a living, how they spend their free time, and who their friends are. You build their houses, decide on the decor, and buy the furnishings. The only limits are the variety of objects available for our Sims to interact with. With Livin' Large, Maxis adds a suite of new furnishings, gizmos, and toys, as well as five new career paths and even objects that can alter the personalities of your virtual family.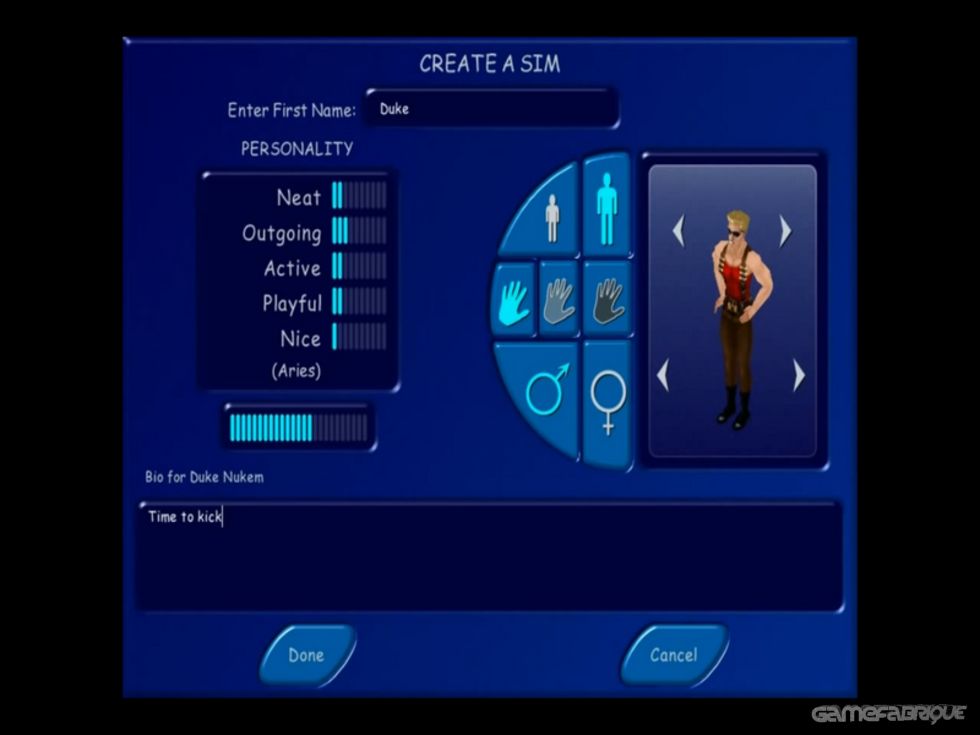 Gameplay, Controls, Interface
Livin' Large is strictly an add-on; it requires a copy of The Sims to be installed. The add-on consists mostly of new objects and activities for your Sims, but there is one other very nice addition: one limitation in The Sims was the single neighborhood available to play in -- Livin' Large expands this into five. Each is completely separate, families in one neighborhood can't interact with those in the other four, but the expanded space allows you to experiment with different game options or, better yet, allow several players to have separate games on a single machine.
With over 100 new items to interact with, Livin' Large provides tons of new opportunities to improve (and ruin) the lives of your family. Included in the new objects are completely new decor styles with new floor and wall styles, new windows, and new furnishings. Build a medieval castle complete with a suit of armor or an overly tacky Vegas-style love nest. The new options range from brooding candle-lit embrasures to gleaming art-deco furnishings. Several fan sites have had add-in textures ever since the original release of the game -- in creating their add-on Maxis had to compete with some very talented amateur decorators. They have done so in style.
The heart of the new features is the wealth of new objects. Almost all of the new objects provide new ways for your Sims to improve their happiness ratings or their job-related skills, but do so with a twist. For example, there is a telescope that will help improve your logic skills with use, but be careful, while you're watching the skies they are watching back. Sims who gaze too often may be visited by aliens with personality altering results. Other objects such as voodoo dolls, a bumbling genie that rarely gets his spells right, a chemistry set that creates a variety of mood-altering potions, and a clown who'd depress Shirley Temple all add to the fun.
There are also new objects of the more mundane variety. From new chairs and sofas to updated kitchen appliances, there are great new possibilities for pampering your family. The most impressive item is a household robot that will take over the cleaning, cooking, gardening and repair chores, freeing up your Sims to play with all their new toys. Fitting in with the new tacky Vegas decor there's even a vibrating bed, which allows adult Sims to "play" underneath the covers.
In addition to the new objects, Livin' Large adds five new career tracks for your Sims. Try your hand as a hypnotist in the Paranormal track, goof off as a golf caddy on the Slacker career path, or rock your way to stardom as a budding musician. My favorites additions are the Hacker and the Journalism tracks. Watching my Sim family lose several thousand dollars to replace a computer seized by the police was hilarious, and when I got my first promotion in the Journalism track (to Game Reviewer) I just about bust a gut laughing.
System Requirements
Win95/98, P233 or faster, 32MB RAM, 4X or faster CD-ROM drive, 175MB hard drive space for saved games, a high color capable 2MB PCI or AGP video card with a DirectX 7 compatible driver, a DirectX 7 compatible sound card, and a mouse. You will also need to have a copy of The Sims installed on your computer.
Bottom Line
If you're a fan of The Sims and you don't have a copy of Livin' Large yet, you need to drop everything and go get it now. The additions to the game are well worth having -- I found myself even more addicted than ever after just a few minutes playing. My wife pokes fun at me for spending so much time playing a game that is basically a computerized paper doll set, but I'm hooked and I'm hoping that Maxis puts out more add-on packs that match the quality of this one.
Download The Sims: Livin' Large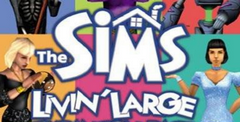 System requirements:
PC compatible
Operating systems: Windows 10/Windows 8/Windows 7/2000/Vista/WinXP
Similar Games
Viewing games 1 to 6