Tower Princess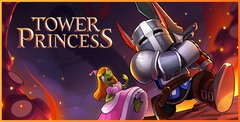 Click the "Install Game" button to initiate the free file download and get compact download launcher. Locate the executable file in your local folder and begin the launcher to install your desired game.
Tower Princess is a charming 3d rogue-like platform adventure game that may not be perfect, but I still ended up having a great deal of fun with it. It is the kind of game that I think might be a hard sell at full price, but if it had a bit of money knocked off it during a sale, I would 100 percent say give it a try. If you enjoy fantasy stories, dungeons and dragons, dragons' lair, and stuff like that, you will probably get a kick out of the style that the game has too.
Saving The Princess!
There is not a ton of plot running through Tower Princess, but what is here does have a great deal of charm. The basics are that there is this evil dragon that just does what he wants and part of that is taking each royal heir that he comes across. Well, you want to prove your worth so you pick a princess and then head into the dungeon to try and save her and slay the dragon!
Dragons Lair!
The gameplay of Tower Princess is quite interesting. It is a rogue-like style game so the enemy layout and each run will never be the same. You have to do a fair bit of platforming in the game and this may sound like an out there comparison, but it kind of reminds me of the 3D Dragons Lair game that came out in the early to mid-00s for the original Xbox. The core controls feel fine, but some of the platforming can be rather cheap. It is often like you have to be at the very edge of the platform you are standing on to make the next one. The problem is, you very rarely have the time to plan or fully get ready to make a jump that takes real precisions. As platforming is a major part of the gameplay, it can become a problem.
It Is Dangerous To Go Along, Take This!
As, Tower Princess is a rogue-like style of game, picking the right weapons before you head into the tower is pretty vital and a huge part of the fun. You have a decent variety, but I am more of a sword kind of guy so I tend to go for melee-based weapons and just run in and start hacking and slashing. There are projectile based weapons, but I had a hard time with these. Overall, the combat may be repetitive, but I still enjoyed killing everything in sight!
Far, Far Away Land
As far as the presentation of Tower Princess goes, I like what they have done here. It has a kind of cell-shaded thing going on which again brings me to my comparison of Dragons Lair on the original Xbox, but this is way brighter. I like how it has a lighthearted take on the whole fantasy genre and the little animations that the various princesses do are a lot of fun and give the game a lot of personality.
7
I had some real fun with the time I spent playing Tower Princess. It is a little on the short side right now and I will be honest and say that it has a kind of "early access" feel to it. However, there was something that kept me wanting to have just one more run to see if I could do any better. I liked the premise of the game, the bright visuals and the gameplay can be fun, even if it is a bit rough around the edges.
Pros:
I got a kick out of the saving the princess style story that it told
The visuals are fun as well as nice and bright
There is a decent selection of weapons that you can use
It feels like a bit of a throwback to the days of the PS2 and original Xbox
Cons:
The platforming can verge on being more frustrating than fun
There is not a great deal of content here, you can probably get to the end in around 4 or so hours
Download Tower Princess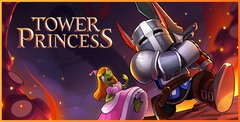 System requirements:
PC compatible
Operating systems: Windows 10/Windows 8/Windows 7/2000/Vista/WinXP
Similar Games
Viewing games 1 to 8