Vegas Stakes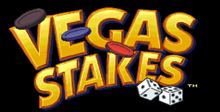 Vegas Stakes delivers Roulette, Craps, Slots, Poker, and Black Jack in true Casino style. Everything's here except the smoke.
Vegas Stakes is all about atmosphere. Graphics, sound, and even the game play set you right in the middle of a Las Vegas casino. Although the music is repetitive, you couldn't ask for a more loungy melody. The graphics are well detailed, with faithful renditions of craps tables, slot machines, and more.
ProTip: Don't try to bluff in Poker. Only a strong hand will take the pot.
The manual lays out the game rules so clearly that even first time gamblers will rule the roulette wheel. The games aren't watered down, and experienced gamblers will feel right at home.
Turn the Wallet in to the office, and you might be rewarded with $17,000!
Let's face it, if life's a crap shoot, this is a good place to practice.
Game Reviews
Like Championship Pool, Nintendo gives casino life a great video game feel - and your adventures don't just stop in the gambling den! The incidents in the casino add much humor and great variety!
Vegas Stakes is a video game developed by HAL Laboratory and originally released in 1993 for the Super Nintendo. The player in the game go to Las Vegas to gamble and try to win $10 million at different casinos, where the player gambling in Craps, Roulette, Blackjack, Poker, and Slots.
The Game Boy version is compatible with the Super Game Boy, and features borders which use artwork from the SNES version.
SNES/Super Nintendo/Super Famicom Screenshots
Similar Games
Viewing games 1 to 2