Bust-A-Move '99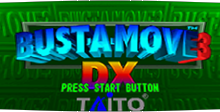 Click the "Install Game" button to initiate the free file download and get compact download launcher. Locate the executable file in your local folder and begin the launcher to install your desired game.
With new challenging game modes (such as bubble puzzles) and the always fun head-to-head competition, this latest installment of Bust-A-Move is as addicting as ever.
Control is simple and easy: You match up different colored bubbles using one button and the directional pad. The games graphics are vibrant--in fact, the backgrounds are sometimes a little too bright, making it difficult to position your bubbles. Bust-A-Move 99s other little flaw is its music, which sounds like an out-of-tune marching band. Fortunately, you'll easily forget the disappointing music and average graphics thanks to Moves fun gameplay--especially in two-player mode, where only the better bubble-buster comes out on top.
Exploding bubbles may not sound fun at first, but once you start, you'll find yourself busting a move all night long.
ProTips:
Bust combos to gain more points and a faster completion time.
Improve your skills by playing in Bust-A-Move's Challenge mode.
Download Bust-A-Move '99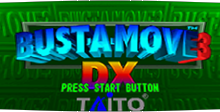 System requirements:
PC compatible
Operating systems: Windows 10/Windows 8/Windows 7/2000/Vista/WinXP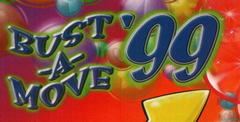 System requirements:
PC compatible
Operating systems: Windows 10/Windows 8/Windows 7/2000/Vista/WinXP
Game Reviews
People say:
1.0
Should you buy Bust-A-Move '99 for the PlayStation? Yes, Definitely, Without a doubt. That is, if you fall into each and every one of these categories: You don't own Bust-A-Move 3 AND you don't own Bust-A-Move 4 AND you are a die-hard crazy psychopath Bust-A-Move fool AND you can't find a copy of Bust-A-Move 4 anywhere (and you've looked everywhere) AND you feel you'll never, ever EVER find a copy of Bust-A-Move 4- Get the point yet? You see, BAM '99 is a repackaged BAM 3 with a couple of very trivial additions, like extra puzzle stages. I know Acclaim isn't the type to milk older titles or licenses, but Money talks, I suppose. Anyway, this is not a good deal at all - Bust-A-Move 4 (the one I think you should be getting instead, in case you couldn't tell by my inferences) has everything BAM '99 has and more. BAM '99 is missing the pulley action, the vibration and the better graphics. None of those features are mind-blowing, mind you, but why settle for an inferior chapter of a series that is already very similar from installment to installment? Basically. I can't come up with a single reason to recommend this title (although it is "value priced" at under $30). At least the N64 BAM '99 offers a four-player mode,. This version offers next to nothing. Spring for BAM 4 instead.
7.0
It's tough to criticize any of the Bust-A-Move games, as they're all so damn playable. BAM2 is stilt a classic, and if you're happy with that (or BAM 4), you can probably stick with it. But if you're an absolute maniac who wants more, BAM '99 has plenty of new stuff to offer. It's a shame there's no multitap support to duplicate the N64's four-player mode, but there are plenty of new puzzles and special bubbles to liven things up.
3.0
Unless you're a Bust-A-Move nut bent on collecting every game in this repetitive series, there's no reason to buy BAM '99. Yes, it is priced less than Natsume-published BAM 4, but it's also a big step backward, feature-wise. BAM 4 offers better graphics and some cool twists on the series' formula, while BAM '99 looks and plays like the same, same If you crave new puz2les and have $30 to bum, BAM '99 is for you.
6.0
What's up with the barrage of BAM games lately? BAM is pretty fun and all, but do we need like 50 of them in a span of six months? OK. so maybe I'm exaggerating. Still, BAM '99 isn't much different from the other versions in the series. In fact, it doesn't even have the cool four-player mode that's in the N64 version. The PS does have this thing called a multitap, you know. If you own other BAMs, don't bother with this one.
People say:
8
Two Bust-A-Moves turned up for review this month, and although at first look they're pretty similar, it's ironic that number three (99) seems to offer a bit more than number four. There's a fairly justifiable argument that there wasn't actually anything wrong with Bust-A-Move 2, and that messing with any of it is just a waste of time. I was actually a pretty stoic supporter of this line of thought until about 2 a.m. the other morning when four of us sat down and played BAM 99 for hours on multiplayer. Many of you surely have played four-player games in the past...and it's pretty damn fun. The only problem is that it squeezes all four play windows into a horizontal line along the middle of the screen, which is a bit strange. It bumps the resolution up to do this too...and while it looks impressive, I think the "traditional" four corners approach might have been friendlier. On a small TV (even a 20") it's a bit flickery and it can be difficult to see the difference between orange and yellow bubbles. It's not just multiplayer that's improved, though. The singleplayer "puzzle" games are pretty complex. It doesn't have the combo system of BAM 4, but it has new bubbles that can trigger chain reactions, and it also requires you to do some fancy bouncing to complete puzzles. Definitely better than BAM 2: AE.
7
The Bust-A-Move games haven't improved much through the years and have offered nothing but minor upgrades. That is, until this one. Bust-A-Move 99 is really BAM 3 in disguise, but with one very nice exclusive feature: four-player simultaneous play. While it's not the most exciting four-player mode in the world (once you're out. it may be a long time before the other players finish), it's definitely a nice addition to this aging series.
6
Don't just stand there--bust a move...again... with the same cute characters and bouncy Japanese feel, along with a few new game-play changes and modes. The new character-unique garbage blocks make things tricky and the four-player multiplayer mode is a blast--although you'll need to play it on a TV bigger than a 20" to avoid ruining your eyeballs. At first I thought this one was more of the same, but it's pretty decent.
6
It's really impossible to dislike a Bust-A-Move game, and this one does pack enough cool new stuff to warrant its purchase if you already own BAM 2. The characters and their garbage blocks liven up the multiplayer aspect--as does the exclusive four-player mode. Of course, if you're still happy with BAM 2, you may want to pass on this installment and hope Acclaim eventually licenses BAM 4 and brings it to the N64.
Bust-A-Move '99 is an improvement over Bust-A-Move: Arcade Edition, featuring more play modes, crisper graphics, and plenty of fun for puzzle fans everywhere--even if it is a bit rough around the edges.
The best part about BAM99 is its gameplay. The simple premise of matching different colored bubbles to pull off huge combos is both easy and satisfying. BAM99's graphics are sharp and colorful, but busting a move on the four-player mode's miniaturized screens will make your eyes sore. Worse yet, the game's musical tracks are an annoyance (it's best played with the music turned off). Even with these minor flaws, Bust-A-Move '99 provides undeniably addictive gameplay. Fans of the series and newbies alike should check it out.
ProTips:
Sometimes stalling your next shot will lead to your opponent's demise.
Master bouncing bubbles off walls. It will help you get past subbosses faster and easier.
Nintendo 64/N64 Screenshots
Similar Games
Viewing games 1 to 6