Diner Dash 2: Restaurant Rescue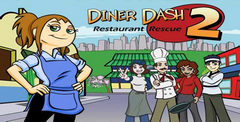 Click the "Install Game" button to initiate the free file download and get compact download launcher. Locate the executable file in your local folder and begin the launcher to install your desired game.
Diner Dash 2: Restaurant Rescue is the celebrated sequel of a beloved franchise from PlayFirst. It sees player take control of Flo, an extremely overworked diner owner and seemingly the only person who knows how to run food in the city. If you love a fast-paced game with straightforward but challenging gameplay then this is going to be a delightful dish for you. Let's dig in.
Gameplay
This game is a considerable amount of pointing and clicking, I'll be real with you. That being said, that's not all there is to it. Taking control of Flo, its your objective to jump into the restaurant scene and keep all the customers fed and happy, keep the establishment clean, and deal with whatever other challenges that might come along. It requires nearly constant close attention to everything on screen and an understanding of time management skills.
Things may seem easy at first but my goodness do they pick up. You may only be serving a handful of people in the first few levels but as tables increase and they are ordering more and more things, you will quickly see exactly what this game has to offer in terms of challenge.
Diner Dash 2 is pleasantly clever on what it actually requires Flo to do. When the dishes need to be done, this is something that actually only requires a click from the player and is completed instantaneously. There is no need for the action to stop or slow down in anyway, complimenting the games pacing. Games like Hotel Dash, Cake Mania and Cooking Dash all embody the general vibe of this title, but none hit the mark quite like it.
Story
There didn't have to be a story for this game, the dev's could have chalked it up to "this is just how it is, deal with it" but they didn't, they gave us a little more than that and we're grateful. Flo must push back against the super capitalist Mr. Big, a greedy landlord, who wants to turn a bunch of local restaurants into some kind of mega-food-plaza which will likely put everyone out of business. Flo, the only person with any waiting experience, must assist multiple venues with their customers so they can all earn enough money to off his business plans and pay him back.
Visuals
The game has simple graphics, a little low poly, but everything is clear enough to see and the action is easy to follow. For a game that prides itself on just how fast paced it is, this art style accents it very well. It's colorful and well formatted but occasionally the screen can get a little full up in the later scenes, admittedly that rarely effects the gameplay itself but it can lend to a somewhat overwhelming feeling.
There are four total restaurants that Flo is helping with and each of them have their own theme and layout. Each restaurant's design perfectly accents its theme without being too crowded or stereotypical.
10
For a classic title that's got some years on it, this is without a doubt the finest game of its genre. Give it a go asap.
Pros:
Fast paced gameplay
Great level design
Cons:
Download Diner Dash 2: Restaurant Rescue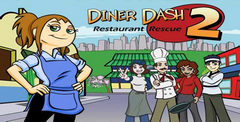 System requirements:
PC compatible
Operating systems: Windows 10/Windows 8/Windows 7/2000/Vista/WinXP
Game Reviews
Diner Dash 2 Restaurant Rescue is a frantic and fast-paced puzzle game that is great if you are looking for a game that is going to test your multi-tasking skills. It is the kind of game that on the surface looks very, very simple. However, this is a game that may start out nice and easy, but that difficulty really does ramp up as you progress through the game.
Flo, Like The TV Show
In the game, you play as a good-natured young woman called Flo. Flo is a bit of a whiz when it comes to making restaurants work so she has decided to help out her friends. Her friends are being bullied by a jerk who is raising their rent in an effort to kick them out! Flo is having none of this and is willing to roll up her sleeves to help them make as much money as they can. The plot of Diner Dash 2 Restaurant Rescue has a lot of charm to it and in all honesty, it is more than I was expecting.
From Page To Screen
Graphically, at first glance, this may not seem like a game to get excited about. I think the presentation really does grow on you. The story is told vial these comic book style panels which I really liked. Overall, the game's graphics are nice and clear and the various characters you deal with are animated well and have little "tells" so you know how they are feeling.
The soundtrack is kind of just there, but it is the sound effects that grab you. As well as having visual clues to how they are feeling. You can also use your ears and listen so you can get an idea of what a customer wants as well.
The Customer Is Always Right
It is the gameplay of Diner Dash 2 Restaurant Rescue that makes it such an interesting game. You have four restaurants that you need to play through, each one being a different kind. People will arrive, you sit them down, take their order, collect the check, and then deal with the dirty dishes. It sounds very easy, but it gets harder and harder as you progress through the game.
Certain types of customers like certain types of "service" a family may need a highchair, a group of jerks with phones need to be sat away from everyone else. You even get bonuses by sitting people wearing the same color clothes in the same area. There is a lot to juggle here and the game does a great job of starting off slow so you learn the mechanics. However, things get very hard towards then end and it does walk the fine line of becoming more frustrating than challenging.
Going For The High Score
The mode where you help your friends is great and it offers some even more challenging extra stages for you to do once you complete it. You do also have an endless mode which is just what it sounds like. You are using all the skills you have learned to try and go for an epic high-score!
I think that Diner Dash 2 Restaurant Rescue is a pretty solid puzzle game. It is a game that looks easy and at first, it is, but man does this game get super hard! I liked the challenge, but I can see some people getting frustrated and not finishing the game. While it does have some charm, I must admit that I would probably never play this over Overcooked!
Pros:
I thought that the story had a lot of charm to it
The comic book style storytelling is fun
The game is very challenging
It teaches you the basics very cleverly
The endless mode is rather addictive
Cons:
The later levels can be more frustrating than fun
I do feel games like Overcooked offer a similar, but more fun experience
Similar Games
Viewing games 1 to 8