Minecraft: Story Mode Season Two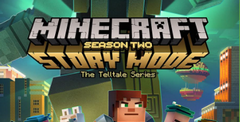 Download Minecraft: Story Mode - Season 2 and continue the epic, block-filled adventure! Join Jesse and friends as they face new challenges, uncover secrets, and save their world. Craft your own story and play now!
a game by
Telltale Games
Platforms:

XBox 360,

PC
Editor Rating:

9.3

/

10

, based on

2

reviews
User Rating:

9.4

/

10

-

7

votes
Rate this game:
See also:
Simulator Games, Open World Games, Action Games, Action Adventure Games, Puzzle Games, Pixel Art Games, RPGs, Quest Games, Game Mods, Minecraft Games, Games Like Terraria
The blocky story of Jesse and his pals continues in the long-awaited Minecraft Story Mode Season 2. In the same vein as previous Telltale Games adventures, this new season ups the ante in terms of narrative quality and quantity, bringing the charming world of one of the most popular games ever made to life once more.
A major triumph over the first season's narrative shortcomings, Season 2 comes in all guns blazing, delivering a much more concise and interactive experience than before. While some of the humor still falls flat on its face, the much-improved character development and the new free-build sequences turn this into a Minecraft experience you won't want to miss.
A Blocky New World
Minecraft Story Mode Season 2 continues the tale of Jese and his friends, as they deal with the aftermath of the Wither Storm. Now that they're famous heroes, our protagonists find that the life of a super celebrity is more complicated than they ever thought.
Much like The Wolf Among Us and the rest of the Telltale Games classics, Minecraft Story Mode is an interactive fiction adventure where the player has to choose dialogue options to progress the story. However, since this is a Minecraft game at its core, some changes had to be made to the Telltale formula.
Building and crafting, two of the most important parts of the Minecraft gameplay loop, are present in Story Mode to some extent. Additionally, action scenes are handled through quick time events, forcing players to react fast if they want to succeed. Finally, there are also many mini-games in which players need to use logic and problem-solving skills, such as searching for hidden items or deciphering riddles.
As with other Telltale games, these mechanics give players plenty of control over how their adventure unfolds. There are no strict linear paths; instead, the player can make decisions that will affect how the story plays out, what quests they pursue, and what consequences they encounter along the way.
Fun and Games
Contrary to The Walking Dead, Minecraft Story Mode has always had a more childish feel to it. This is due to its colorful aesthetic, its cartoony graphics, and the fact that the main characters spend most of their time playing and goofing around. Although the visuals have improved from the first season, the overall design looks very similar to the original Mojang game.
While some other Telltale Games won't shy away from graphic violence, it's clear that that was never the plan for Minecraft Story Mode Season 2. After all, this is Minecraft we're talking about: a game where it's virtually impossible to show violence in any capacity.
That doesn't mean that there's anything terrible about the plot of Minecraft Story Mode Season 2. On the contrary, the lack of violence allowed the writers of the game to think outside the box, delivering an amusing experience that manages to pull off some genuinely emotional moments.
Still, some of the humor in the game remains questionable. While some jokes land well, others fall flat and end up feeling forced and juvenile. In a game that's clearly aimed at a younger audience, this is more than passable.
10
Minecraft Story Mode Season 2 elevates the Telltale formula, expanding the world of Minecraft to shiny new heights and delivering a genuinely emotional adventure that's perfect for young players.
Pros
A more concise narrative and gameplay experience than the first season
Tons of Minecraft easter eggs and cameos
Great branching story invites multiple playthroughs
Cons
Some of the jokes don't land
Minor performance hiccups
Download Minecraft: Story Mode Season Two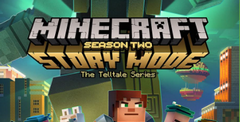 System requirements:
PC compatible
Operating systems: Windows 10/Windows 8/Windows 7/2000/Vista/WinXP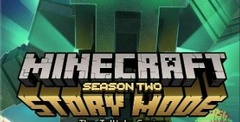 System requirements:
PC compatible
Operating systems: Windows 10/Windows 8/Windows 7/2000/Vista/WinXP
Game Reviews
Minecraft: Story Mode Season Two was a game that I did not expect to ever get made, but I was glad it did. I played the first game with my son who became very attached to Reuben the pig and if you have played the game, you know how that went down! Anyway, TellTale Games had nailed this formula up to this point so I was very excited to see what they had cooked up for another game set in this universe.
Just Let Me Live In Peace
The story that Minecraft: Story Mode Season Two tells takes place after the events of the first game. Our hero Jesse is just trying to live the good, quiet, and safe life in Beacontown, but a new threat arises in the form of, The Admin! The Admin attacks and leaves the town in tatters, but Jesse vows to make things safe again and heads out on a quest to stop The Admin once and for all.
Look, the story is fun and has a lot of charm to it. If you liked the tale that the first game told, I have no doubt you will enjoy this one too. I actually think that The Admin feels like a much better and more dangerous villain than The Wither Storm from the first game.
Does It Really Matter?
If you have played any game from these guys, be it The Walking Dead, Batman, Guardians of the Galaxy, or whatever, you know what Minecraft: Story Mode Season Two has in store for you in terms of the gameplay. You control Jesse and you move around interacting with people and objects and you get to converse with people and make various choices. The choices can move things in a certain direction, but I never felt like any of them truly mattered. Still, it is always fun to at the very least have the element of choice in a game, like you can make a difference to the way things unfold.
Fighting For What Is Right
There is combat in this game and I think it is one of the biggest improvements from the first game. You can now use this didge roll move to get out of the way, but you also have a stamina system to. The combat now feels more fleshed out and makes you think about what you are doing rather than just spamming an attack. I liked this and thought it was a good step forward for the series.
Crafting Is What We Do!
Minecraft: Story Mode Season Two also features crafting in the form of the three-dimensional grid that you have to play with. This is really cool and something you make at the start of the game can be seen multiple times. There are a few times you have to use this crafting stuff and I think it works really well and makes you remember that you are playing a game that is set in the Minecraft universe.
Minecraft The Movie
One thing the two Minecraft TellTale games do not get the credit they deserve for is the way the story unfolds. These games look fantastic and they feature some amazing voice acting, I always play as the male Jesse because Patton Oswalt is just amazing in this role. The game looks and sounds so good that I think an actual Minecraft movie would have a really hard time competing with what this offers.
8.5
While I do not think that this game has that gut-punch with what happened to the pig in the first one (although it does come close in act three). I feel that overall Minecraft: Story Mode Season Two is a better game than the first. The story feels bigger, things are tighter, combat is better, and overall, the game was an experience that I had a great deal of fun with. I am not sure it is like other TellTale games where I would go back and play it again, but try different things. Still, I had a very fun time playing through this tale!
Pros:
I really do like Jesse as a character
I think the big bad in this game is pretty neat
Combat feels deeper now
Crafting stuff and actually seeing it in the game is cool
Cons:
Some of the choices do not feel like they matter
It does not have the replay value other TellTale games have had in the past
More Pixel Graphics Games
See Also
Viewing games 1 to 16