Disney Magic Kingdoms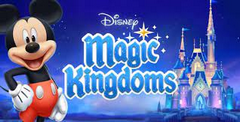 Disney Magic Kingdoms is the kind of game that should be a 10/10 for me! I am a huge Disney fan and I am a huge fan of theme part building style games and this one merges both those things together and it has that Disney charm all over it. There are many good things about this game and for a while, I was pretty addicted to it and checking in every single day! However, like most other "free to play" games. I did eventually hit my limit with this and decided that I had well and truly had my fill.
My Pal Mickey!
The plot of Disney Magic Kingdoms is something that I think is a lot of fun. The Magic Kingdom has had its magic stolen by the evil Maleficent thanks to a spell that she used! We now need to build up this part once again by making sure that the guests are happy and that there are always new characters and attractions being added to the park. I like how the quests in the game are based on a particular character's movie that they are from.
So Much Disney!
One of the most impressive aspects of Disney Magic Kingdoms is just how many different Disney franchises are in this game. Mickey, DuckTales, Peter Pan, Toy Story, Zootopia, Sleeping Beauty, Nightmare Before Christmas, and even Star Wars are all here and that is just a few of them! There have to be over 50 different Disney franchises that are showcased in this game in some way or another.
Could Have Been A Real Gem!
If you have played any other type of free to play tycoon style of game, Disney Magic Kingdoms is going to feel very familiar with you. You need to get new attractions for your park and you need to send various Disney characters out on new quests. You do this by clicking and then waiting. Like most other games of this style, there is an in-game currency in this game you do stuff with gems and elixirs that you earn by playing. If you run out of gems, you have to wait for a timer to run down for the quest to be completed or you can spend money on more gems to speed things up. I cannot stress enough how much I hate this! Just let me pay 20 bucks for the entire game instead of this horrible practice. I like the gameplay here and think it has a ton of charm, but this practice is one that I hate.
A Truly Magic Kingdom
While the gameplay lost me pretty quickly, the presentation of Disney Magic Kingdoms is truly amazing. It has that Disney quality you would expect and I like how they mash all the characters and attractions together. It even has voice acting in the game that sounds very authentic too! It is bright, and colorful and one of the things that kept nearly sucking me back in was the special events based around a particular Disney movie that would often give exclusive rewards!
6
If Disney Magic Kingdoms was a 20, heck even 30 bucks game and they did away with all that free to play crap, I would probably score this at an 8.5/10! It is a fun builder style of game that has great presentation and it does capture the fun Disney spirit. However, due to its free to play offerings, it also captures the greedy corporate side of Disney as well and while I had fun with the game once it lasted, it eventually became a chore to sit and wait for things to happen.
Pros:
I like the Disney style the game has
It features a ton of Disney characters and franchises
The presentation is fantastic
I thought the main story and the little quest stories were a lot of fun
Cons:
It always has its hand out wanting money from you
Some of the wait times for stuff to happen are ridiculous!
Download Disney Magic Kingdoms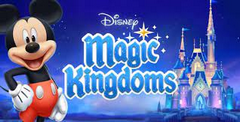 System requirements:
PC compatible
Operating systems: Windows 10/Windows 8/Windows 7/2000/Vista/WinXP
Similar Games
Viewing games 1 to 8