Pocahontas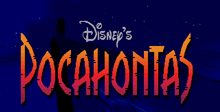 Sega Genesis/Mega Drive Screenshots
Other games by
The Walt Disney Company
I missed out on this game back in the day and i really missed out, This is a supurb puzzle game with some unique concepts and features which make it stand out even now, But sad it has only four levels, It only took me two and a bit hours to complete, But well worth download because i will certainly would recommend this to all, And i know i'll play it again someday for sure...

Hey there! this game is a lot of fun, but I'm having a tad of trouble earning the wolf spirit. Any help or suggestions would be appreciated! Definitely download this game! the graphics are so pretty!! Not sure if anyone noticed though, when Pocahontas walks by flowers, they bloom!! =D

Well to get the wolf's skills you'll need to beat it in a race to the cave, Or though it can be very tricky when it comes up to the cliff that is to far apart to land on the other side the tree should help you make the jump, But be fast!.