Elana Champion of Lust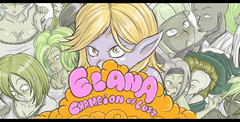 Click the "Install Game" button to initiate the file download and get compact download launcher. Locate the executable file in your local folder and begin the launcher to install your desired game.
Elana Champion of Lust is a Patreon funded visual novel game that is divided into chapters. This is a game that is made by a very small team and this is actually their first game. They have created something pretty special here and in playing through the game, it is one of those games that is very hard to talk about as it is the kind of game that I feel you have to play rather than read about in order to see what it is all about.
The Incarnation Of Lust
The premise of the story here is awesome and something that I got way more invested in than I thought I would. Elana Champion of Lust is set in a strange land where a king along with his sorcerers has taken away the lust and passion of the people who live here and as a result society has really started on a downward path. Thankfully, the incarnation of lust was never destroyed and now it has called to one called Elana to bring lust and passion back to the land.
The game is episodic and from what I know there are five chapters that complete the story. The story is very, very well written, and something that is easy to understand, but it also has many twists and turns so I would advise watching or reading as little about the game as possible.
Like A Book Come To Life
I have to say that as far as the visuals go, Elana Champion of Lust is one of the best looking visual novel lewd games that I have ever seen. This game has a look that makes it very unique compared to other games of the genre. Rather than go for an anime or a CG look like the majority of them do, this one has a style that makes it look like a high-end storybook that has come to life.
It has some very interesting animations too which help bring things to a whole new level. This is the kind of game that looks so good, that the people behind it need to try and make an actual physical artbook. The XXX content in the game is also great with many different species getting it on in all kinds of ways. My only complaint in terms of the presentation of the game is that at default the music is way too loud!
I'm Bringing Sexy Back
It would be so easy to say that Elana Champion of Lust is just a visual novel game that sees you reading the story and making the odd choice here and there to move it in a certain direction. While there are aspects of that here, you also have to solve puzzles, manage items in your inventory, and even battle bosses as you try to bring passion back to this land.
You can get hints in the game, but I did find myself getting lost and having to look up a guide online which is something I have done in other games of this style. I was pretty surprised at just how much gameplay there was in this game.
9
I had a great time with Elana Champion of Lust and I hope that the people behind the game are going to be mainstays in the world of lewd games. The visuals are truly amazing stuff in-deed and make the game stand out from the crowd. As far as an actual game goes, what they have done here is great. While you do have the usual visual novel stuff going on here, you do have other gameplay elements too such as item management and puzzle-solving to keep you busy.
Pros:
This is one of the best-looking lewd games I have ever played
It is like a book (an XXX book) that has come to life
There are many interesting characters
The story was very engaging
I liked how there was a lot of things to keep you busy
Cons:
The game is split into chapters
I wish the people behind this game would make an artbook!
Download Elana Champion of Lust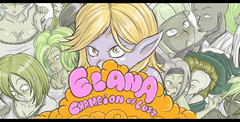 System requirements:
PC compatible
Operating systems: Windows 10/Windows 8/Windows 7/2000/Vista/WinXP
Similar Games
Viewing games 1 to 8