ESPN NFL 2K5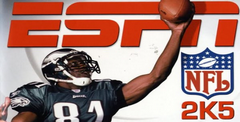 Download ESPN NFL 2K5 and experience the excitement of professional football! Choose your team, develop your strategy, and compete for gridiron glory in this critically acclaimed sports simulation game. Are you ready to go for the touchdown? Play now!
Its rare that a game takes the title of being the best of its kind. Most franchises will break out into all-out war if you were to try and suggest entry X is better than entry Y – each installment will have devoted fans. However, ESPN NFL 2K5 is a bit of an exception to this rule. I couldn't say for certain that each and every fan of the NFL franchise would agree, but at the very least a majority would say NFL 2K5 is one of the greatest games of the NFL 2k series. Not only does it have unique features of its own that make it special, but it borrows some of the best concepts from related games, like NCAA 2004. Even since its release, it has consistently stayed with the minds of NFL game fans to this day.
Build a Franchise
NFL 2K 5 is not only an in-depth experience but is also presented in an equally fleshed out manner. The new additions to Franchise mode create a well-rounded, believable progression that has improved a lot since it debuted.
This isn't as integral to the gameplay, but they've given the player greater control over free agency/offseason operations and player contract negotiations. Contract negotiations are extensive – its not that they were bad in previous releases but being able to tweak and adjust nearly every aspect of contracts is much more fulfilling. Additionally, a new VIP system has been added which could completely change the way you approach playing.
It essentially tracks your tactics each game, stores them, and creates a VIP profile of you. It then reproduces an AI that plays exactly like you do, or even your friends (or other players during online play), by utilizing the same approaches you or they would. It makes for an intriguing challenge instead of the usual computer difficulties. Especially for 2004/2005, this feature was an incredible step forward for AI in sports video games. Online play has been improved since the last 2K release and plays smoothly overall. The Crib area has some quality of life updates, along with the new celebrity phone, where you can play against big names at the time.
Rise to the Top
With all of these new and likable improvements outside of the actual gameplay, it was no surprise that the football experience was more refined than ever. For those of you looking for a difficult challenge, this might not be the best game out there. The default difficulty makes everything just a bit too easy for my liking, although All-Pro/Legend provides a decent challenge. I'd say that this is ideal way to play the game to get a realistic experience.
Bottom Line
Aside from that, the tackling is better (read: less broken than last year), defense is intuitive with the ability to tackle the QB, and even changes to how audibles work thankfully. As far as graphics and sound design go, they've been improved since previous titles and look/run pretty well on the PS2.
9
This was an impressive step forward for the NFL 2K series and absolutely rivals the likes of Madden titles. Its an experience that is worth every minute you put into it and has plenty of new features to get acquainted with.
Pros
Refined tackles/defense
Crisp sound and lighting
Tons of RPG features/variety in Franchise mode
Cons
Passing better, but can be hard to control
Little change in the Draft process
Framerate can dip heavily
Download ESPN NFL 2K5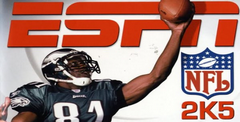 System requirements:
PC compatible
Operating systems: Windows 10/Windows 8/Windows 7/2000/Vista/WinXP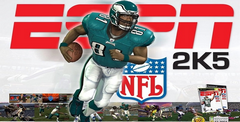 System requirements:
PC compatible
Operating systems: Windows 10/Windows 8/Windows 7/2000/Vista/WinXP
Playstation 2 Screenshots
See Also
Viewing games 1 to 8