Eye Toy: Groove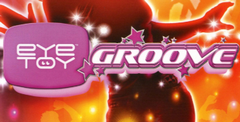 | | |
| --- | --- |
| a game by | SCEA |
| Platform: | Playstation 2 |
| Rating: | 7/10 |
Description
While an extraordinarily clever idea, the Eye Toy is balanced on the cusp of gimmicktude. The petite black camera captures your image live a video camera and sends a mirrored version of it back to your television. The Eye Toy was released with Play when it first came out and while the game disc was chockfull of fun little mini-games it really didn't offer a cohesive gaming experience.
Eye Toy: Groove, the second Eye Toy to hit game shelves, goes far to improve on that offering up a game with a single concept, but still doesn't fully realize the Eye Toy's potential. As you could probably guess by its title, Eye Toy: Groove is a rhythm game and comes packed with 28 songs ranging from disco to oldies to club and rock from some pretty big names aiming to get you out of your chair to shake your Groove thing.
The basic concept of the title is pretty simplistic, during most of play the screen is lined with four circles (Two on the top, one on each side and one in each bottom corner). As the music plays, floating little colored heads appear in the center of the screen and start heading toward one of the circles ' the goal is to wave your hand in front of the circle as the face passes through it. Timing is key. Sometimes the faces appear in waves, forcing frantic, quasi-rhythmic finger pointing and hand waving, other times the circles are replaced by wide bars that stretch the side of the screen. As the song progresses other modes, including a section that pays off the capture of two bouncing balls with an in-game photo op, and a psychedelic freestyle mode, keep you on your music toes. The game also includes several multiplayer modes that allow you to compete head-to-head with friends or dance on the same screen cooperatively.
The music is great, with enough variety to please just about everybody some of the time. I would have loved to see the programmers have a little more fun with the graphics however and perhaps some more varied dance modes would have been nice.
Overall, Eye Toy: Groove is an enjoyable experience; something that feels mostly like a stand-alone game, but still doesn't quite close the deal.