Far Cry New Dawn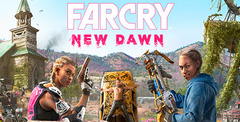 Click the "Install Game" button to initiate the file download and get compact download launcher. Locate the executable file in your local folder and begin the launcher to install your desired game.
Far Cry New Dawn is a colorful spin-off in the Far Cry franchise, which offers an intense first-person shooting experience in a beautiful open-world map. Taking place after the events of Far Cry 5, Far Cry New Dawn thrusts players into a dangerous post-apocalyptic wilderness of Montana, packed with bandits, deadly animals, and low resources. By building up their home-base called the Prosperity and reclaiming outposts around Montana, you'll become a fiercer fighter with an impressive arsenal of weapons. You can play the game either solo or with a friend in online co-op, letting you run around the Montana wilds, wreaking havoc the entire way. For fans of crafting mechanics, post-apocalyptic stories, and generally fun FPS gameplay, Far Cry New Dawn has a lot to offer.
Main Game Features
Colorful post-apocalyptic open-world map
Mixture of first-person shooting and crafting
Base-building and online cooperative play
Story
Far Cry New Dawn is set in the fictional rural region of Hope County, Montana, taking place over a decade after the events of Far Cry 5. Following a nuclear disaster that destroys most life in the area, survivors have started to rebuild homes and communities.
Unfortunately, a large chunk of Hope County has been overtaken by a group of bandits named the Highwaymen. Led by twin sisters Mickey and Lou, the Highwaymen continue to violently scavenge everything in the area. Playing as a custom-created character nicknamed "the Captain", it's your job to explore Hope County and disrupt the Highwaymen's operations. In order to put a stop to the threat, you'll battle across the surprisingly lush and beautiful land in over 20 unique story missions. Ultimately, the battle between the Captain and the Highwaymen is predictable and straightforward, but is interesting enough to keep you moving from mission to mission.
Gameplay
This spin-off in the Far Cry franchise offers more of the series' signature mix of open-world exploration and first-person shooting action. Like Far Cry 4 and Far Cry: Primal, you must work your way across Hope County, completing missions, liberating outposts, and collecting crafting supplies. There's a big emphasis put on crafting this time around, with everything from weapons to base upgrades requiring supplies to create. As you kill enemies and complete missions, you'll earn experience points that can be spent on various perks and upgrades. These upgrades include things like more ammo, higher damage, and even wacky abilities like double-jumping and invisibility. Generally speaking, Far Cry New Dawn is more cartoon-like and ridiculous, with the main character possessing god-like levels of strength and speed towards the end of the game.
In addition to the 20-plus main story missions, there are tons of other activities to enjoy in Hope County. You can enjoy roughly 10 side missions, recruit 8 different companions to help you out, or try to complete the list of over 100 challenges. There are over 100 different locations to loot, bonus hidden treasures to find, and dozens of hidden collectibles to discover too! If you're ever looking for something a bit slower-paced, you can even relax with some hunting and fishing. As you explore Hope County and enjoy this long list of activities, you'll increase the power of your home-base, unlocking better weapons, new vehicles to use, and much more. There's also an extra mode called "Expeditions", where you and your friends can battle against enemies online in self-contained bonus areas. Simply put, there's no shortage of fun stuff to do in Far Cry New Dawn, offering dozens of hours of open-world enjoyment.
Conclusion
Far Cry New Dawn is arguably one of the best Far Cry games ever, whether we're talking about spin-offs or main series entries. Although the game uses the same map as Far Cry 5, the post-apocalyptic setting and great use of color help the environment feel new and fresh. The focus on crafting and survival mechanics might put off some players, but it's easy to learn and there are plenty of supplies once you start finishing missions. The weakest part of the package is the story, but even then, the narrative is simply forgettable, not bad. If you've played some of the previous Far Cry games or you're looking for a first-person shooter to enjoy in co-op with a friend, Far Cry New Dawn is an adventure well worth your time.
Pros:
Realistic and colorful graphics
Loads of side-activities and bonus challenges
Useful and game-changing upgrades
Cons:
Grinding for crafting supplies gets repetitive
Reuses a lot of elements from previous games
Forgettable story
Download Far Cry New Dawn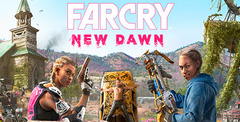 System requirements:
PC compatible
Operating systems: Windows 10/Windows 8/Windows 7/2000/Vista/WinXP
Similar Games
Viewing games 1 to 6