FIFA 23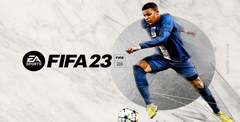 Download FIFA 23 and experience the pinnacle of football gaming! Take control of your favorite teams and players, and dominate the field with precision and skill. Are you ready to score? Play now!
We welcome the undeniable king sporting franchise in video games; FIFA 23 has returned for this year's edition of a premium home console football experience. One would usually cherish the moment when what's one of the biggest titles in the world makes its comeback. Still, the series has been marred in controversies over the last few releases. So what's bogging this titanic title down?
On the surface, the outstanding visuals, gameplay diversity, and dedication to real football ensure FIFA 23's place as a solid gold sporting game. But the problem with colossal franchises is you start getting dedicated fans who pick out the small details that impact their experience. Over the past few years, these identified nuances can't help but be noticed and built to a boiling point where players have started to turn on the game.
Booked for Simulation
Let's make a crucial point first; FIFA 23 will be the series's last, running for under 30 years. The years of loyal players pointing out issues that bog down their game experience would be on the list of priorities to fix. In theory, FIFA 23 should be the best title yet, going out with a bang and ensuring the fanbase has a replayable football title for years.
Unfortunately, it's business as usual for EA Sports, meaning they've churned out yet another title with standard procedure. That means rinse and repeat the same game, adding minor visual improvements and a few irrelevant features that make it look like they've done something to appease a growing subset of furious fans. But have they fixed the technical glitches in real-time skill execution? No. Are some of the physics still broken? Yes.
It doesn't feel like it would be a lot of effort to refine FIFA 23's gameplay to suit the enormous hardcore player base. Yet, in typical publisher fashion, there is more focus on putting in little and taking more out for the last game rather than leaving a solid legacy. The obnoxious pay-to-win mechanics are still there, there have been no significant improvements in the career modes, and pro-club crossplay is still non-existent.
FIFA 23 is still a top-notch footballing experience and probably the best. However, those who've been playing FIFA for three decades will undoubtedly feel disappointed that there's been no effort to sign off the franchise with the most glorious entry yet. The same formula applies to the final game; it's the same game as the previous entry, with a few additions here and there.
A Kick in the Groin
The small things matter because of the significant number of players that base their careers and lives around FIFA games. Paid tournaments exist, substantial communities bond over video games, and young footballers find heroic inspiration from gameplay. The fact that FIFA 23 has done nothing to fix issues for a sizable hardcore fanbase is quite a letdown.
7
But we can't argue with FIFA 23 still being the king of football games, especially with the Pro Evolution Soccer series drifting out of the fray. Don't get us wrong; casual players and even footballing enthusiasts can still enjoy the game. It's more just the frustration that there's no interest to fix anything repeatedly fed back from the last entry.
Round-Up - Pros & Cons
Pros:
A solid, dramatic footballing experience
Different game modes feel neglected
No crossplay for pro clubs
Cons:
Still mostly the same game as the last entry
New features don't add to a better footballing experience
Community feedback in bugs ignored
Download FIFA 23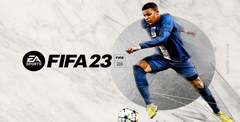 System requirements:
PC compatible
Operating systems: Windows 10/Windows 8/Windows 7/2000/Vista/WinXP
Game Reviews
The final iteration in a 30-year behemoth franchise, EA's FIFA 23 is an impressive combination of new features and improvements on its predecessor. It is clear from the gameplay that the intended effect was to incorporate a significant amount of community feedback and create an enjoyable, memorable experience for video game football fans worldwide.
In an effort to consistently improve on the standard gameplay loop until playing FIFA becomes indistinguishable from really being on the pitch (without any of the physical requirements or drawbacks), EA has greatly improved the game's machine learning algorithm and has made ambitious changes to their physics engine.
Overall, the new features provide a fresh experience on an established genre that are sure to delight.
Gameplay
A large portion of FIFA 23s improvements and new game mechanics fall under the Hypermotion 2 feature. This new and improved physics system has been optimized for the new generation of consoles that FIFA is playable on, and is highly likely to set your PC on fire.
Hypermotion 2 includes characteristics such as detailed technical dribbling where delicate hairline motions can have a significant impact on ball placement and movement for attackers. In the spirit of balance, improvements to jockeying allow defending players to engage in more creative methods of keeping the attacker in sight and intercepting the ball at the optimal time.
Acceleration has also received an overhaul, with three different modes assigned to the available football players based on their individual real world play styles. Tactically, this can have a notable impact on the way individual players choose to manage their teams, allowing for far more varied gameplay styles than ever before. Finally, in a move that draws away from the intensive realism, power shots are a new and flashy feature exclusive to FIFA 23. Once a power shot in engaged, the camera focuses in on the football player being controlled and a wind-up sequence starts, highly reminiscent of Mario Strikers: Battle League. Its dramatic but engaging and drives home the delicate balance between authenticity and frenetic fun gameplay that EA strives to perfect in the game.
Whether playing online with friends or strangers, or by yourself against the AI, the new mechanical improvements are sure to delight diehard and casual fans alike.
Visuals
Similarly, to FIFA 22, FIFA 23 pays a great deal of attention not only to the appearance of each football player but also the way they interact and move on the pitch, lovingly recreating each individual play style and personality. Unlike its predecessor however, FIFA 23 makes full use of the capacity of next-gen technology to produce crisper more and advanced visuals that include the way muscles and joints naturally move.
Additionally, a new set piece system for corner kicks and free kicks provides a user interface with clear visual cues that allow players to see and decide exactly where and how they strike the ball for an unprecedented level of control over the game mechanics.
Woman's Club
In a historic move that has been widely lauded, FIFA 23 features two women's football clubs, England's Women's Super League and France's Division 1 Feminine. The Women's Super League features 12 distinct teams and Division 1 Feminine features 4.
Conclusion
The addition is an incredibly welcome one, as previously players were only able to play women's teams in international rather than domestic sides.
9
FIFA 23 may mark the end of a long and very famous era, but it definitely goes out with a bang. It's a must play both for long-standing fans and for gamers who may have never felt the pull of football video games before now.
Pros
Amazing updates to the physics engine
Freedom to engage in more interactive and unique playstyles
Cons
Could have included more women's football clubs
The set piece system is quite complex
See Also
Viewing games 1 to 8